Ham, Brie & Fig Sliders
Football Friday Series is here, we are starting the series off with the gosh darn best mini sammie around Ham, Brie and Fig Sliders!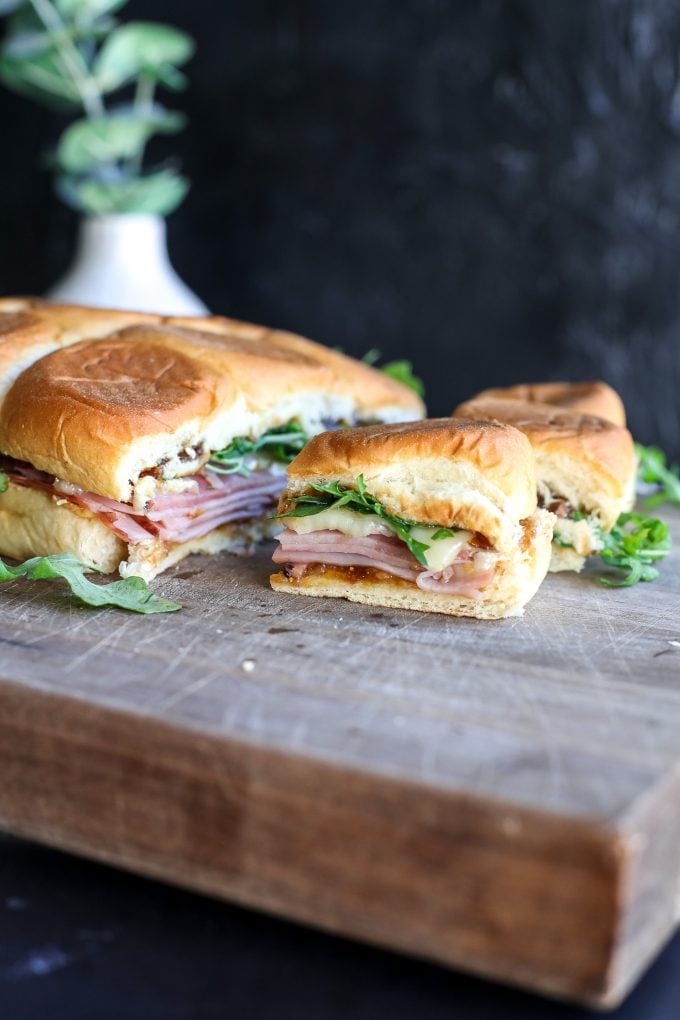 Football Friday Series
We are here to introduce the first recipe in the new series for this year. Each week we will be posting a new recipe that's perfect for any football party you will be attending. Wether its Friday Night Lights with high school football and needing to feed a van of hungry 15 year old boys. Saturday College Football gamedays and you are having all the old room mates and new neighbors over the house for a homecoming game. Or a Sunday NFL game with your favorite team and all your fellow fantasy football league friends, this series is going to cover it all.
Starting strong with a sandwich that was teased on Instagram last week and reviewed lots of inquiries wanting the details. We love these little Sammies because they are not only super easy to make, but can also be prepped a bit before hand and cooked right before you are serving. With simple ingredients Ham, Brie, Fig Jam and arugula this is the sandwich that both kids, teens and parents are going to love.
What else can we expect with the Football Friday Series?
So many things amazing and delicious things are going to be in this series. Everyone knows that football season is maybe the best sports season. The air is crisp, the jersey's are bold colors, the chants are load and the food is abundant. Football games are more then just getting together to watch men run into each other at full speed, it's also a change to catch up with friends that we have missed during summertime. It's community coming together to cheer on their favorite team wether they are the champions or not. Football season is also the time to try new recipes and indulge in some fun items you may have never tried before. We will have dips, sandwiches, drinks, appetizers and maybe something from the grill. Get ready for a fun fall season and start planning your weekends so you know who you are sharing these delicious recipes with.
Any other football recipes you have on your site? YES check these out:
Pulled Pork Sandwich Casserole
Print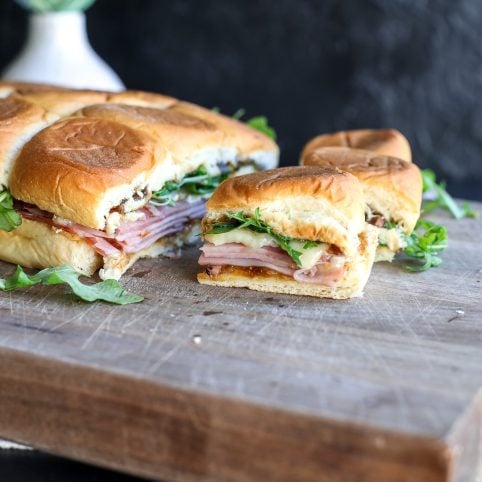 Ham, Brie & Fig Sliders
---
Description
These Ham, Brie & Fig Sliders and perfect for football season!
---
1 package of 12 hawaiian rolls
1 jar fig jam
1/2 lb sliced ham
1 wheel of brie, sliced
3 handfuls of arugula
2 tbsp balsamic vinaigrette
---
Instructions
Preheat oven to 350 degrees.
Slice the hawaiian rolls in half lengthwise.
Spread a thin layer of fig jam on both of the insides of the rolls. You probably won't use the whole jar but measure this with your heart.
On the bottom side of the rolls, layer ham.
On top of the ham, layer the brie slices to fill the area (you won't use the whole wheel of brie either).
Place both halves on a cookie sheet and bake at 350 for 20 minutes or until brie has melted.
While that is cooking, in a bowl mix together arugula and balsamic vinaigrette.
Once the brie is melted, remove from oven and top the brie side with arugula then add the top of the rolls on top.
Slice into sliders and serve immediately.
We are participant in the Amazon Services LLC Associates Program, an affiliate advertising program designed to provide a means for us to earn fees by linking to Amazon.com and affiliated sites.