Roasted Delicata Squash w/ Pine Nuts & Dried Cherries
The wonderful world of squash brings me so much happiness! Zucchini, butternut squash, and now…. DELICATA SQUASH! I have seen these plenty of times but never made the leap to try them out. While walking through TJs produce today they caught my eye as I was grabbing a massive bag of sweet potatoes for the week. I thought, yeah it's time! I didn't really have a plan for them yet but some dried cherries also caught my eye in the ever tantalizing dried fruit section. Coming home to see we still had some kale in the fridge and pine nuts from when I made pesto awhile ago… recipe made! To be completely honest… I ate this entire plate after I photographed it. I went into tasting it thinking "i hope this tastes good…" AND OH BOY. I couldn't stop. But luckily it was my lunch for the day and oh so nutritious! Once I fell in love with this squash I started researching it a bit more. Get this – 40 calories in a cup. 0 grams of fat and 9 grams of carbs. Did I mention that when you roast it it gets all caramelized and sweet? Yep. These bad boys are going to have to compete with cauliflower for my food obsession at the moment. Later this week you will get an ear-full about the cauliflower obsession. For now, enjoy this recipe as well as my very first blog video!!! I taped myself making this to show you how easily it comes together! Pardon the not perfectly HD video, still figuring this thing out! Oh and in case you didn't believe that I ate the whole plate in 5 minutes…
A simple vinaigrette…
Easy peasy roasted goodness!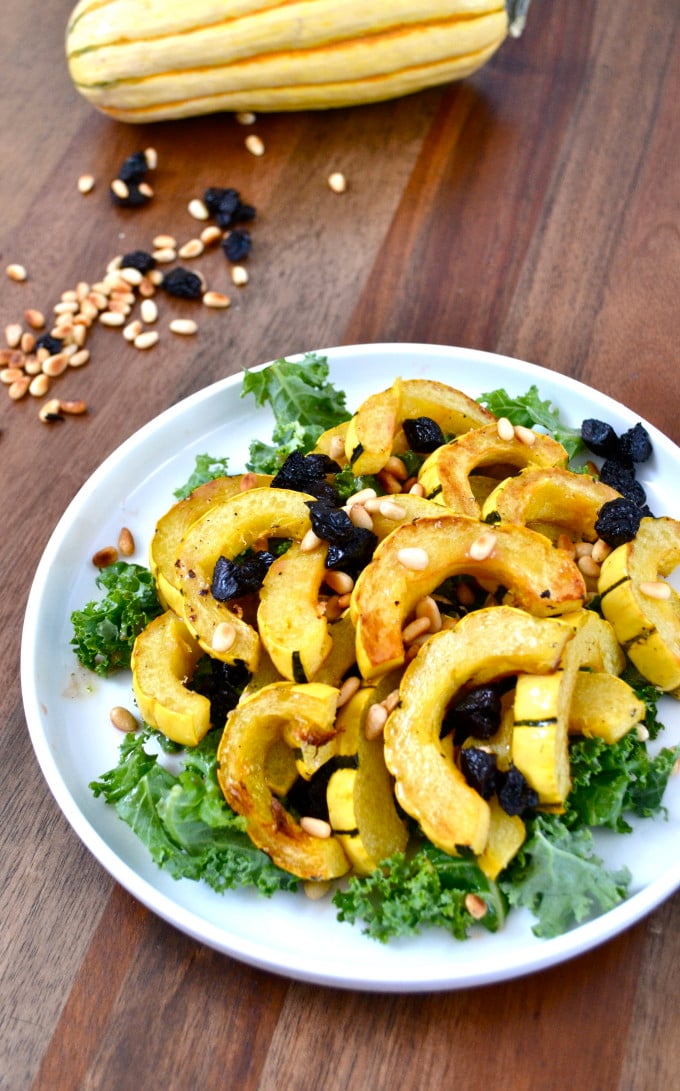 Here it is!
Thoughts?? Let me know if you like the addition of video in the comments below!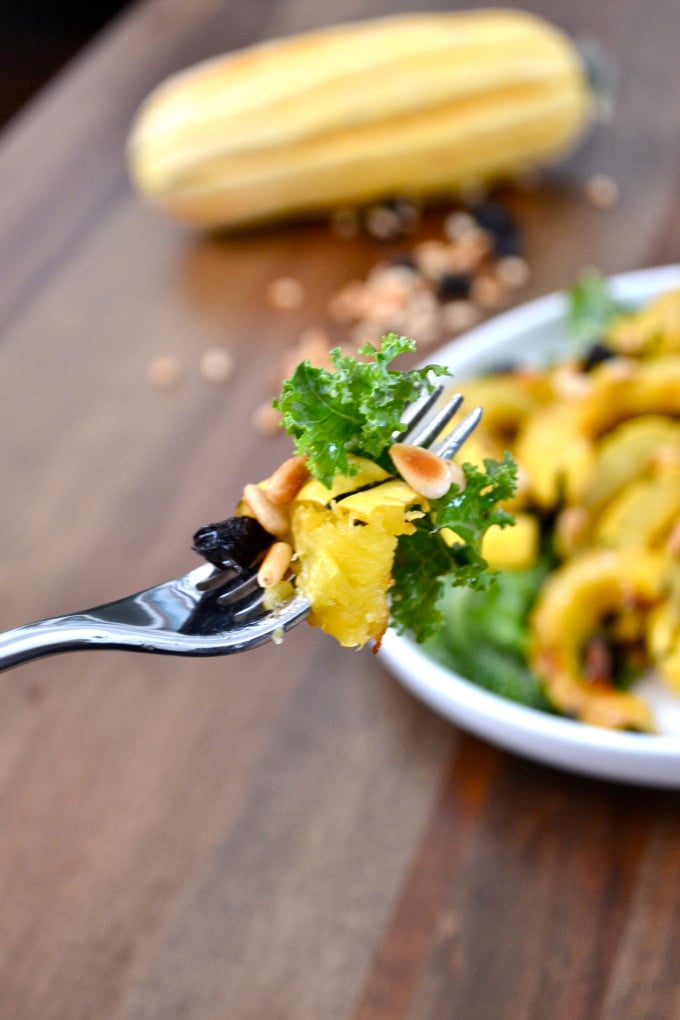 Print
Roasted Delicata Squash w/ Pine Nuts & Dried Cherries
---
1 delicata squash
1 tablespoon organic olive oil
1 tablespoon toasted pine nuts
about 5 dried bing cherries, chopped
2 cups chopped kale, ribs removed
1 tablespoon organic olive oil
2 tablespoons red wine vinegar
1 teaspoon hot & sweet mustard (or dijon)
salt & pepper
---
Instructions
Preheat oven to 400 degrees. Chop delicata squash in half lengthwise then scoop out the pulp and seeds. Then slice each half into 1/2 inch pieces. Place squash onto a cookie sheet lined with foil and toss with 1 tablespoon of oil and some salt and pepper. Lay them in one even layer and roast for 20 minutes, flipping them over halfway through.
For the vinaigrette: In a small bowl whisk together 1 tablespoon olive oil, red wine vinegar, mustard and salt and pepper to taste.
On a plate toss together the kale with 1-2 tablespoons of the vinaigrette, then top with squash, remaining vinaigrette, pine nuts & dried cherries.
Serves 2 as a side or 1 as an entree!
We are participant in the Amazon Services LLC Associates Program, an affiliate advertising program designed to provide a means for us to earn fees by linking to Amazon.com and affiliated sites.