Cinnamon Roasted Sweet Potatoes & Cranberries
Why aren't more things cinnamon roasted?!  When eating clean you find out that your spice cabinet is your very best friend.  Most nights consist of Matt and I just testing out new flavor combinations by throwing any old spice into a dish and seeing if it tasted good.  One thing I have learned to be true is that cinnamon and sweet potatoes go together.  I have added cinnamon to my sweet potato fries before and always love it. Cinnamon is the perfect spice to compliment the sweetness of the sweet taters and adding cranberries was necessary!  Not only does it scream fall, but when you roast cranberries they become so perfectly tart, release their juices and become little pockets of flavor. I also added just a little maple syrup for additional sweetness and coconut oil to get those crispy edges on the taters.  I envision this on your thanksgiving table and all of your relatives going "oooooooooh!!" and "ahhhhhhhhh!!!"  Trust me, dishes with beautiful colors get the most love.  Much prettier than those boring mashed potatoes (not that those aren't amazing).  Thanksgiving is just one of those holidays you gotta be a show stopper.  Best part?  It's SO simple.  See…..?
Throw it all together!
Coat those babies in love (coconut oil = love…obvi).
See what I meant about those colors?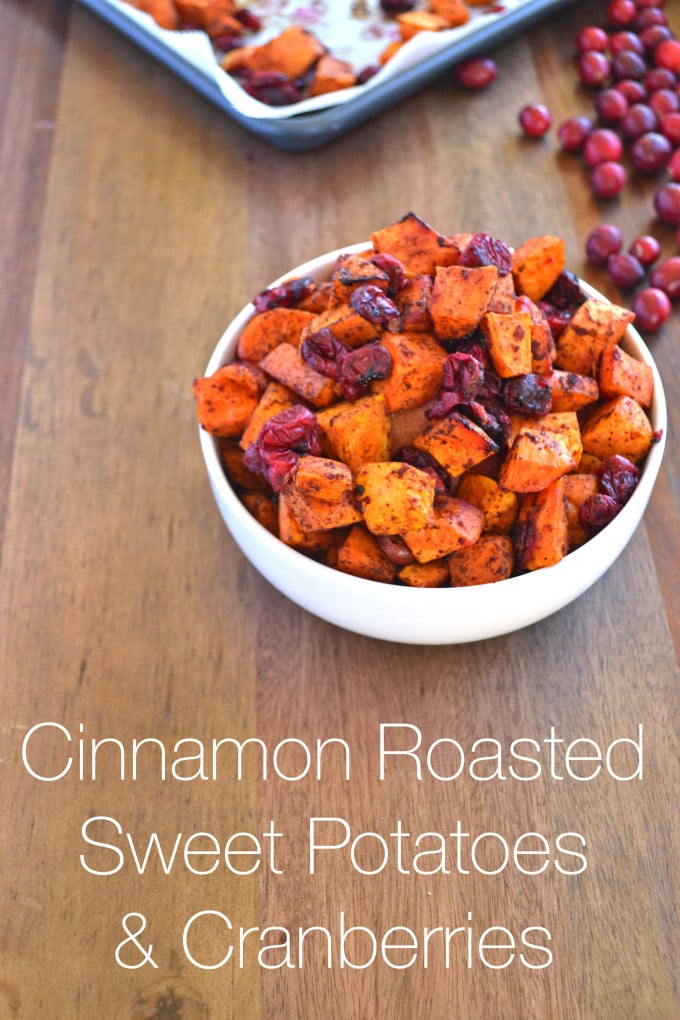 Let's impress people friends!
If you love this recipe we have lots more Cranberry recipes for you to try:
Cranberry Grapefruit Meatballs
Herb Crusted Pork Tenderloin w/ Cranberry Chutney
Cranberry Pecan Brussel Sprouts
Pecan & Cranberry Pastry Wrapped Brie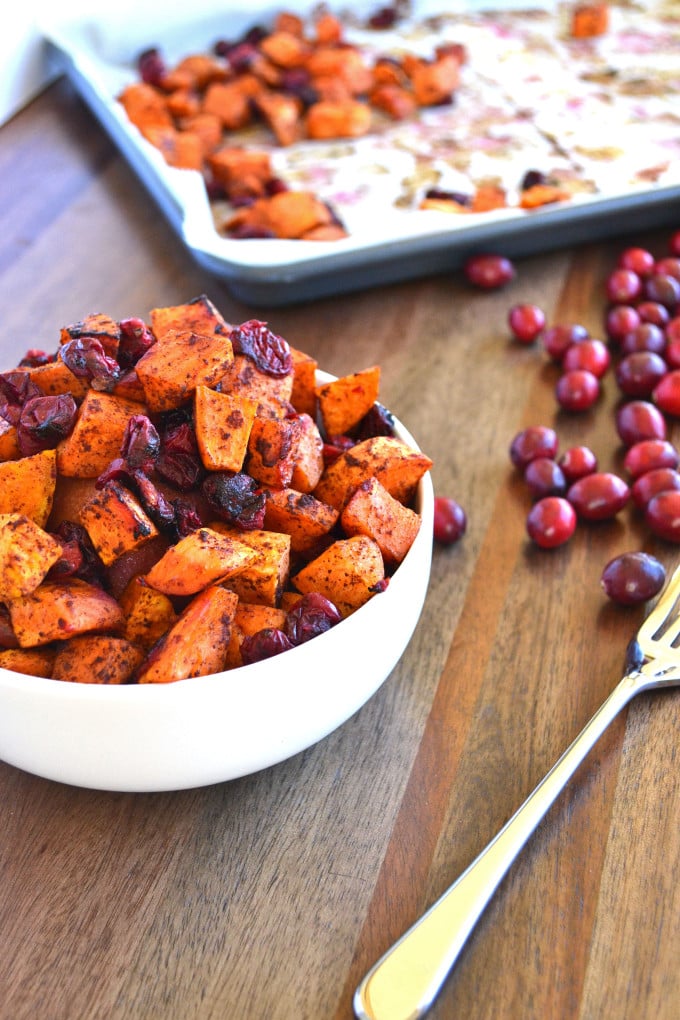 Pin it!
Print
Cinnamon Roasted Sweet Potatoes & Cranberries
---
6 cups chopped sweet potatoes
8 ounce bag of cranberries
1 tablespoon coconut oil (melted)
1 tablespoon maple syrup
2 teaspoons cinnamon
1 teaspoon salt
---
Instructions
Preheat oven to 400 degrees. In a large bowl combine sweet potatoes, cranberries, coconut oil and maple syrup. Stir mixture until potatoes and berries are evenly coated. Then sprinkle on cinnamon and 1/2 teaspoon of salt and stir to coat evenly. Pour onto a cookie sheet lined with parchment paper. Roast for 40 – 50 minutes for until a fork easily pierces through the sweet potatoes. Remove from oven and sprinkle with remaining 1/2 teaspoon of salt. Enjoy!
We are participant in the Amazon Services LLC Associates Program, an affiliate advertising program designed to provide a means for us to earn fees by linking to Amazon.com and affiliated sites.