Healthier Chili Potato Skins
Crispy edges, filling beef and bean chili and a dollop of sour cream on top, these Healthier Chili Potato Skins are the perfect addition to your football spread.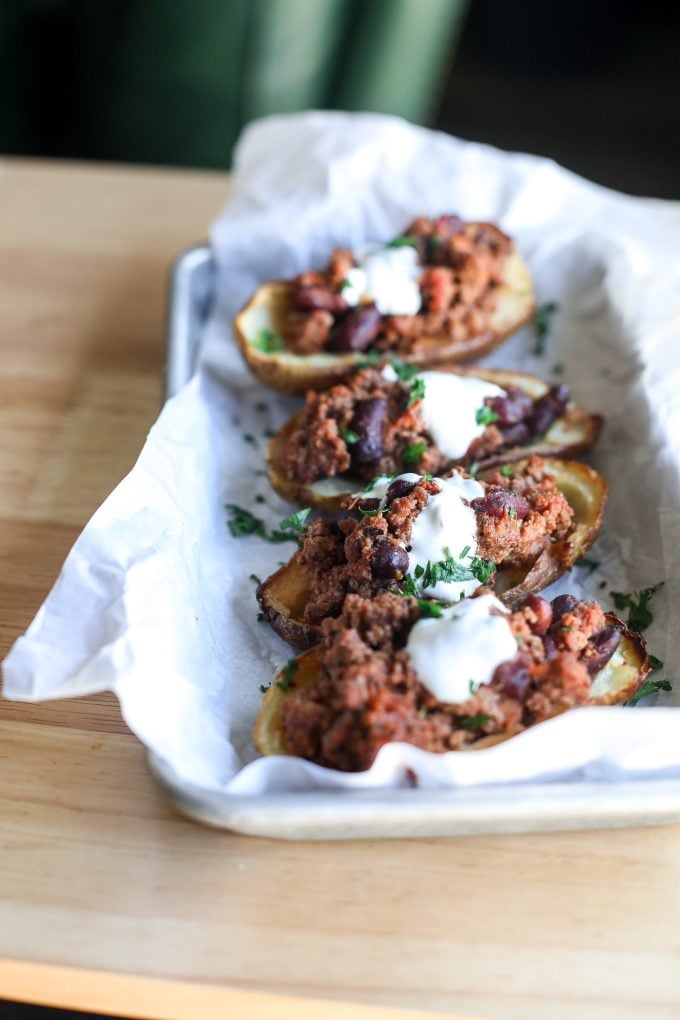 Football Friday Week 4
Welcome back to another week of football goodness. We hope you are enjoying the series and getting a chance to make these recipes and share with friends, or enjoy in your own living room. This week comes another banger with Healthier Chili Potato Skins. If your first reaction to a potato skin are the ones you would order when you went to a chain restaurant in the early 2000's and you ordered the potato skins and they were drenched in cheese and bacon and grease? Well these Healthier Chili Potato Skins takes the essence of those same potato skins but pump up the volume. 
This recipe comes together relatively quickly and easily, and can even be made a day ahead so you can throughly enjoy your football party! First step is to poke a fork all over the potato (this is to ensure that steam can be released during baking)  throughly cover your potatoes in olive oil or avocado oil and sprinkle generously with salt, these will go into a 375 degree and cook for around 45 minutes. Next these Healthier Chili Potato Skins really get exciting when you mix up the chili portion. Ground beef, kidney beans, fire roasted tomatoes, tomato paste, garlic powder, onion powder and paprika call come together in a large skillet (I prefer a Lodge skillet if possible.)
This next step is very crucial you need to make sure the potatoes are completely cooked before you pull them out. You should be able to stick a knife through ad have it come out clean and easily, if they are not cooked all the way through it will be harder to scoop the flesh out and they make break easier. Once you know they are cooked throughly slice your potatoes and start to scoop the flesh out leaving a small amount on the skins. This gives you the taste and feel of having a baked potato and not actually eating the whole potato. Win Win!!

Can I make this vegetarian?
YES!! Just omit the ground beef and toss another can of bean in to increase the protein and make sure you have enough chili to cover all the potato skins. You can also just substitute for any other protein you would like to use.
Can I make this ahead of time?
Yes, this recipe will still work wonderfully if you need to make it a day ahead. Cook and potato and chili cool and store separately, you can also scoop the flesh out of the potatoes while they are still hot. The next day just warm the chili mixture on the stove and pop the skins in the oven to warm up a bit. Enjoy!
There is no such thing as too many potato recipes, here are a few others to try:
Chicken Sausage, Potato & Broccoli Foil Packet
Chicken Bacon Ranch Potato Salad
Caesar Chicken Salad on Sweet Potato Toast
Print
Healthier Chili Potato Skins
---
Description
These healthier chili potato skins are perfect football food or can be a full meal any night of the week!
---
6 russet potatoes
2 tbsp avocado oil
1 pound ground beef
1 can kidney beans
1 can diced and fire roasted tomatoes
3 tablespoons tomato paste
1 tablespoon chili powder
1 teaspoon garlic powder
1/2 teaspoon paprika
Salt and pepper
Chopped Parsley
Greek yogurt or sour cream (to garnish)
---
Instructions
Preheat oven to 375 degrees.
Scrub, dry and poke the potatoes 8-10 times using the tines of a fork.  Using your hands rub the potatoes with a little avocado oil or olive oil and sprinkle generously with salt. Place them on a baking sheet covered in parchment paper. Bake potatoes for 50-60 minutes or until they are cooked through.  Let them sit until cool enough to handle.
When the potatoes are in the oven, make the chili.
Add ground beef to the pan and cook, breaking up the meat, until it is cooked through (about 5-8 minutes).
Add kidney beans, tomatoes, tomato paste, water, chili powder, garlic powder and paprika and stir to combine.  Let simmer for 5 minutes for all the flavors to combine and thicken. Season with salt and pepper to taste.
When potatoes are done, preheat oven to 450 degrees. Cut potatoes in half lengthwise.  Using a spoon scoop out the flesh out leaving 1/4 to 1/2 inch around the inside of the skin.
Use avocado oil spray and spray the tops and bottoms of the of the potato skins.  Using the same baking sheet that you cooked the potatoes on place in oven for 10 minutes.  Flip and bake for another 10 minutes.
Remove the skins from the oven and fill each with some chili then cook for another 5 minutes to warm it all together.
Top with a dollop of greek yogurt or sour cream and parsley to garnish!
Notes
If you want to prep the day before, make the potato skins and chili and store separately in the fridge.  When you want to serve, preheat the oven to 450 degrees and assemble the skins with the chili and bake for about 15 minutes to heat and crisp them.
We are participant in the Amazon Services LLC Associates Program, an affiliate advertising program designed to provide a means for us to earn fees by linking to Amazon.com and affiliated sites.