Chicken Pot Pie Twice Baked Potatoes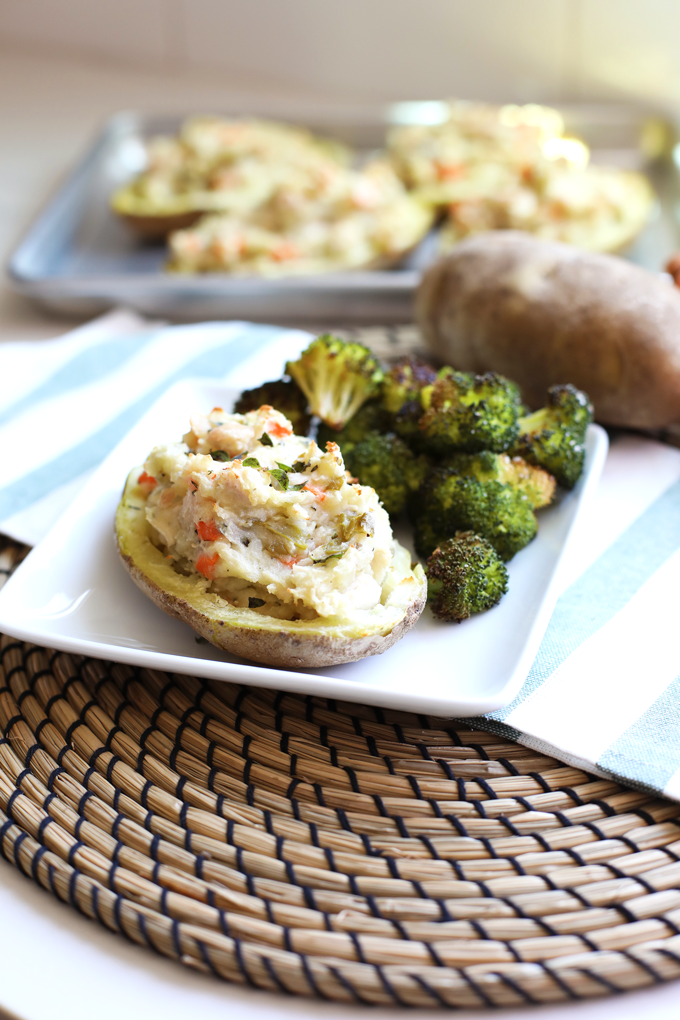 It's officially time for some fall comfort food!  To be honest I have never been a HUGE potato person – sweet potatoes have my heart.  BUT I do love mashed potatoes and my hubby is the BIGGEST potato lover, so it has been a happy week in our house.  One thing I absolutely do love is Chicken Pot Pie.  The flavors of thyme and rosemary make me the happiest – even when chicken is not in the picture like for this Tuna Pot Pie I made last year!  So get ready for lots of fall comfort goodness coming your way because I have planning up a storm over here.  My sister was just in town visiting for my moms birthday and we all huddled up and thought of all our our favorite indulgent fall meals and how I could healthify them!  And now that the temperature is in the low 70s in orange county (yes thats "cool weather" for us) I am super excited about all of the casseroles, chilis and soups!
Speaking of the weather change, I think I am experiencing my first ever ALLERGIES!!  I am been so lucky in my life to not be allergic to foods, objects or seasons but I knew it had to end some time!  I was talking about feeling like I had a cold on Instagram and someone said it could be allergies as the pollen count is high!  So after I finish writing this blog post to you I am heading to the store to get some allergy meds and will see if they help.  I also heard having some local honey every day helps with locational allergies so I will definitely keep you posted if it does!  Okay okay enough life updates, let's fall into this dish FACE FIRST shall we?
Just serve it with lots of VEGGIES (that you should totally make from my eBook) and enjoy!
We have a few more renditions of baked potatoes and such!
Whole30 Twice Baked Chipotle Chicken Sweet Potatoes with Cashew Lime Crema
Paleo Chili Stuffed Sweet Potatoes
Curried Turkey Sloppy Joes in Sweet Potato Bowls
Instant Pot Garlic Rosemary Cauliflower Potato Mash
Pin the image below to save this Chicken Pot Pie Twice Baked Potato on your Pinterest page!
Print
Chicken Pot Pie Twice Baked Potato
---
3 russet potatoes
¼ cup full fat Coconut milk
¼ cup+ 1 tablespoon chicken stock
2 cups chopped cooked chicken
½ cup chopped Carrots
½ cup chopped green beans
1 ½ teaspoons fresh chopped thyme
¾ teaspoon fresh chopped rosemary
Salt and pepper to taste
½ teaspoon Onion powder
---
Instructions
Preheat oven to 425 degrees.
Pierce the potatoes with a fork about 8 times and place in a microwave safe dish.  Microwave for 15-17 minutes, flipping halfway through or until a fork can easily be pierced through.
When the potatoes are cooked, slice in half length wise and let sit for a few minutes to cool down slightly.
Scoop out most of the potato out of the skin, leaving about ¼ inch of a potato layer. Tip – I used a melon baller to take out the potato and it worked wonders!
Place all of the potato insides in a large bowl and mash them with a fork or potato masher. Add in coconut milk and chicken stock and stir to combine.
Add in chicken, carrots, green beans, thyme, rosemary, and onion powder and stir to combine evenly.
Season the potato mixture with salt and pepper to taste. Scoop the mixture back into the potato skins evenly and place on a parchment paper lined baking sheet that has been sprayed with some oil.
Bake for 15 minutes to heated through.
We are participant in the Amazon Services LLC Associates Program, an affiliate advertising program designed to provide a means for us to earn fees by linking to Amazon.com and affiliated sites.