One-Pot Chicken Pot Pie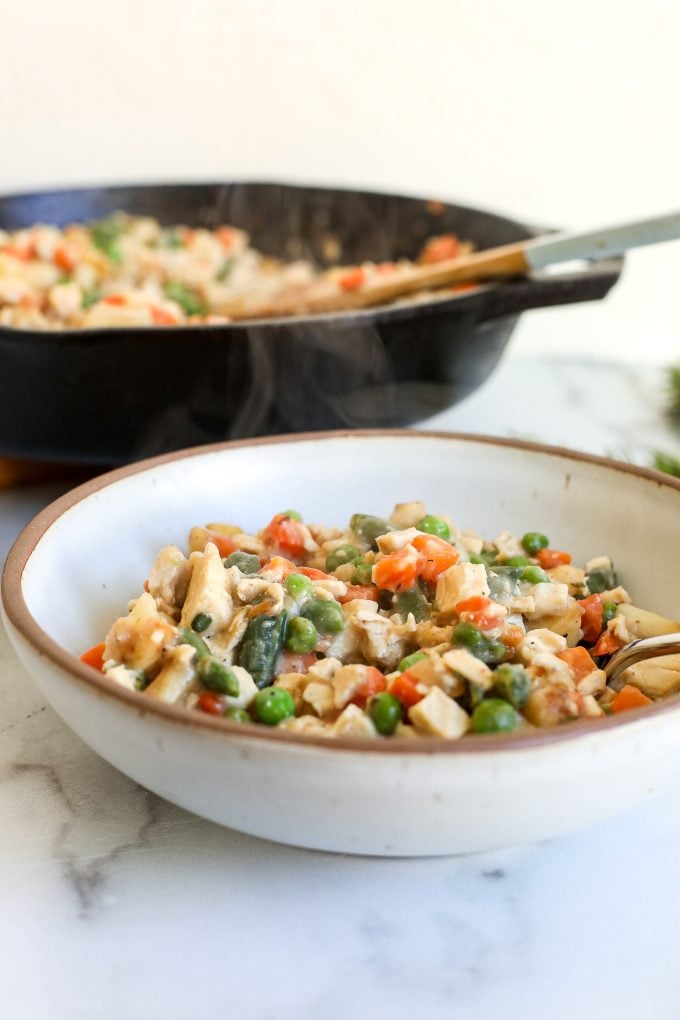 Is there truly anything better than Chicken Pot Pie?  The crust is okay but the best part for me is the creamy inside filled with chicken, potatoes, peas, carrots and my favorite rosemary and thyme.  A traditional pot pie is made creamy from a standard roux of butter flour and milk, but the creaminess of my version is just from cooking some potatoes in broth and blending it with some nutpods or coconut milk for extra creaminess.  Mix that with the chicken, veggies and herbs and it's and easy, healthy and delicious version!  I also use frozen veggies in this because I wanted it to be as easy as possible.  I packed it with those veggies to make it a full meal in one bowl!  It is a total crowd pleaser so I hope you love it too!
Ingredients we will use:
Avocado Oil
Onion
Russet potatos
Chicken broth
Original Nut Pods (or coconut milk!)
Kosher salt
Black pepper
Cooked chicken
Peas & carrots
Green beans
Thyme
Rosemary
How to make one-pot chicken pot pie
Start with the skillet– With your skillet start with the avocado oil and the finely chopped yellow onion, you will sauté those for about 5-7 min or until translucent.
Add to the skillet– Add about half the chopped potatoes to the skillet and all the chicken broth, bring to a boil then lower the heat to a simmer. Cover and cook for 6-8 min until the potatoes are fork tender.
Food processor– add the cooked potatoes and the nut pods (or coconut milk) to the food processor and blend until smooth, set aside.
Back to skillet– Add the remaining potatoes, avocado oil and salt and pepper back to the skillet and cook for 7 min stirring occasionally.  Now add the frozen peas, carrots and green beans
Final addition– Last step raise the heat to medium and cook for 5 min to soften all the veggies. Add the chicken, creamy potato mixture, chopped thyme and rosemary. Cook all together for another few minutes and finish was more salt and pepper.  Enjoy!
We are all about cooking dinner in one pot, here are a few other recipes to try out:
One Pot French Onion Soup Rice
One-Pot Chicken Bacon Ranch Rice
One-Pot Chicken Enchilada Rice
Pin the image below to save this One-Pot Chicken Pot Pie recipe for later!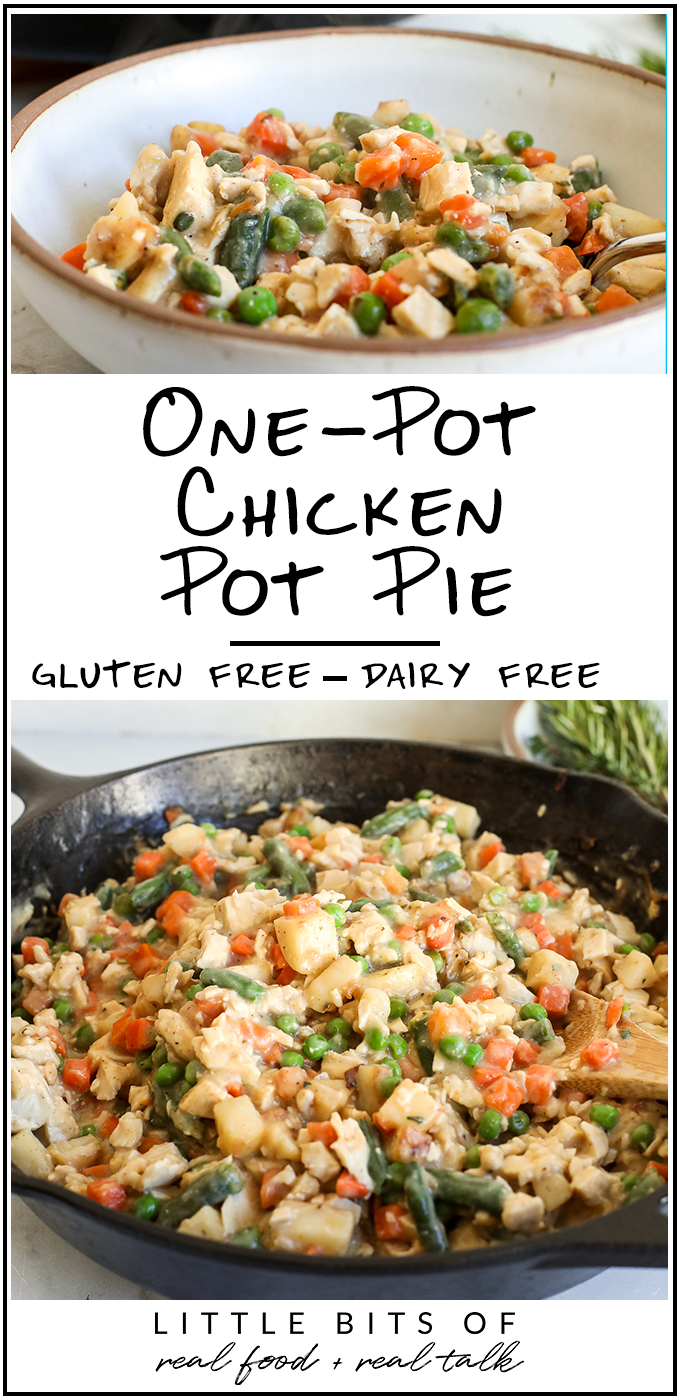 Print
One-Pot Chicken Pot Pie
---
Author:
Total Time: 35 minutes
Yield: 6 servings 1x
2 tbsp avocado oil
1 large yellow onion, finely chopped
1 pound russet potatoes, divided (peeled and cut into 1/2″ dice)
1 1/2 cups chicken broth
1/3 cup original nut pods (or full fat coconut milk from a can)
1 teaspoon kosher salt
1/4 teaspoon freshly ground black pepper
1 pound cooked and chopped chicken breasts
3 cup frozen peas & carrots
1 cup frozen chopped green beans
1 teaspoon finely chopped fresh thyme
1/2 teaspoon finely chopped fresh rosemary
---
Instructions
Heat a large skillet over medium heat until hot. 
Add 1 tablespoon of oil and then onions. Saute 5-7 minutes until soft and translucent, stirring occasionally. 
Add 1/2 of the potatoes and chicken broth. Raise heat to high until broth is boiling. Immediately lower to a simmer, cover and cook 6 to 8 minutes or until potatoes are just fork tender.
Transfer the potato mixture from skillet to a blender or food processor. Add the nut pods to the blender and process until smooth and creamy the set aside.
Add the other tablespoon of oil as well as remaining potatoes to pan along with salt, and pepper. Cook for 7 minutes, stirring occasionally.  Then add frozen peas, carrots and green beans.
Raise heat to medium and cook for 5-7 minutes until vegetables are just starting to soften. Add chicken, creamy potato mixture, chopped thyme and rosemary. Cook 1 to 2 minutes to heat through. Season to taste with some salt and pepper.
Notes
If you want a full chicken pot pie with a crust, use an ovenproof skillet and when the recipe is done, lay a pie crust over the top, brush with some egg and poke holes in it with a fork then bake at 400 for 25-30 mins.
Prep Time: 10 minutes
Cook Time: 25 minuts
Keywords: gluten free, dairy free, pot pie, one-pot
We are participant in the Amazon Services LLC Associates Program, an affiliate advertising program designed to provide a means for us to earn fees by linking to Amazon.com and affiliated sites.