Carrot Whiskey Cocktail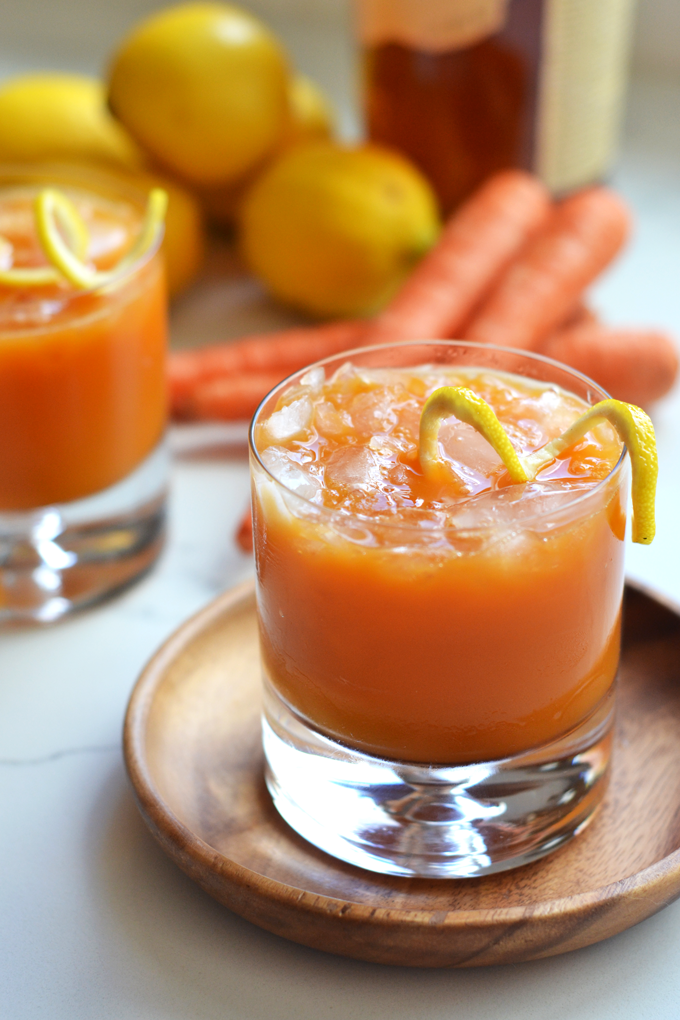 It's about time for a cocktail, am I right??? A Carrot Whiskey Cocktail at that! A couple of weeks ago Matt and I decided to have our weekend be Monday and Tuesday because he has a weird schedule and I can make my own schedule! So on a Tuesday afternoon we found ourselves going to a 1:30 PM movie – La La Land!  We got to the theater about an hour and a half early and headed over to the Whole Foods across the street… only to realize they had a bar!! This made us very happy because who doesn't like a little buzz going into a movie… let's just be honest.  So we sat at the bar and I had a cocktail just like this one – filled with whiskey, carrot juice, lemon and honey!  It was so mind blowingly good.  So of course the next day I had to recreate it.  I knew I probably couldn't add straight honey in the drink so I made a honey simple syrup and it was perfection.  Such a simple alternative to refined sugars!  Also, I make it super simple by using boiling water with honey instead of doing it over the stovetop.  Now that this cocktail is in my life I am wondering what other vegetable juices would work in a cocktail… and that I need to go find some sweet potato juice STAT.
But if you were wondering, we LOVED La La Land!! I don't know if Matt would use caps on the love part but I swear he liked it too!  I am such a sucker for any musical and this modern day + older/jazz music combo was incredible.  When we lived in Long Beach we saw them filming a scene on a street by our house all day and were so excited to see that part.  Only when we finally saw it, it was maybe 5 seconds of them driving down our alley!! Haha oh the movies!  Okay now back to this cocktail which I know you need to get you through the rest of this week!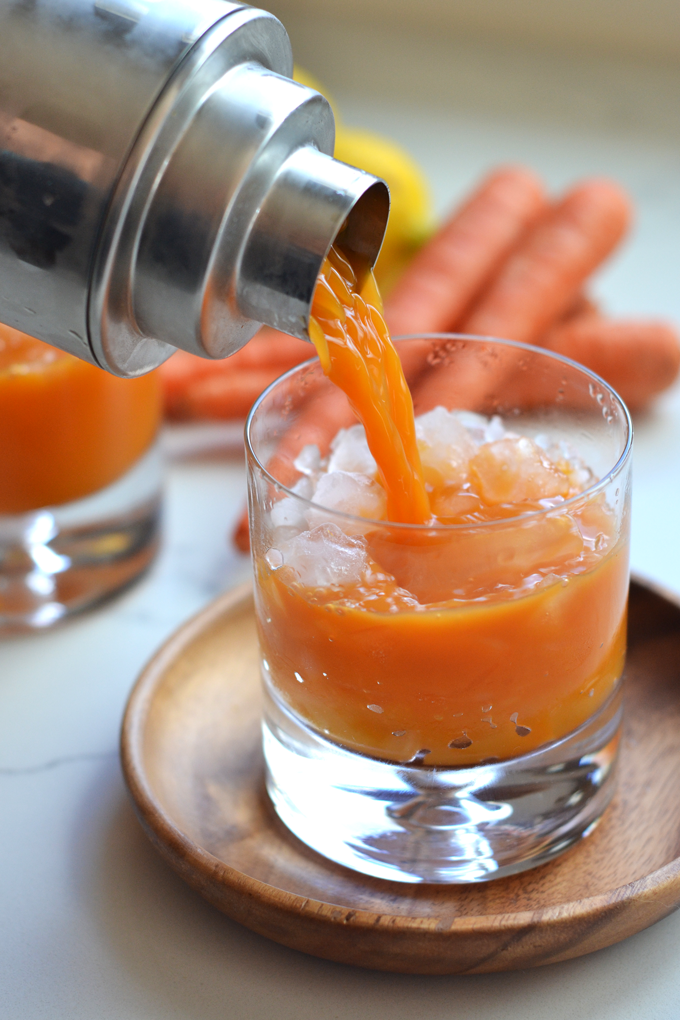 Also, did you know that I shared how I made these lemon twists on a cocktail post of a Sparkling Sidecar almost 4 years ago!!
Here are links to a few more of our favorite cocktail recipes: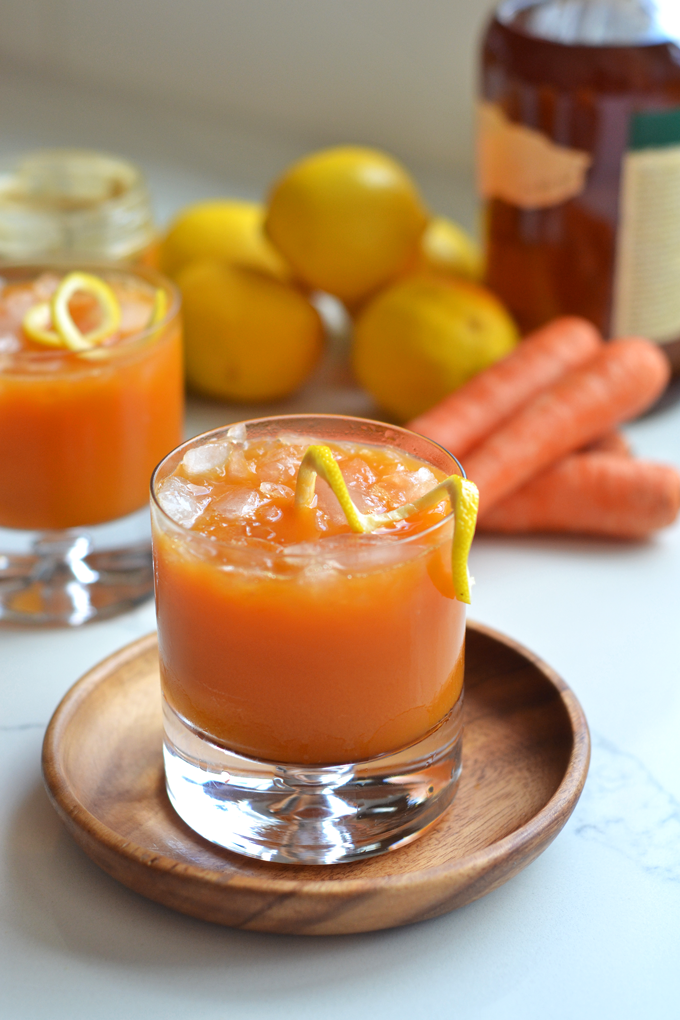 Pin the image below to save my Carrot Whiskey Cocktail!

Print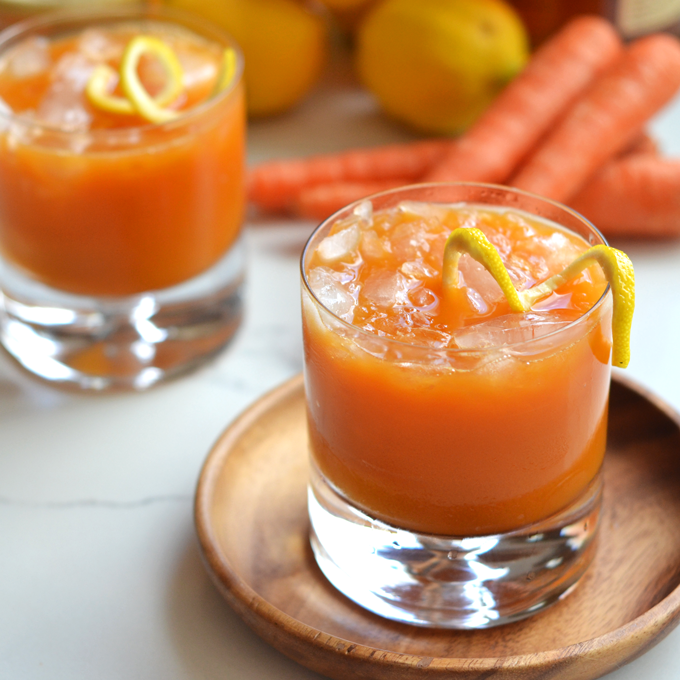 Carrot Whiskey Cocktail
---
1 tablespoon boiling water (I use a tea pot)
1 tablespoon honey
juice of 1 lemon
2 ounces whiskey
4 ounces carrot juice
Ice
---
Instructions
In a small bowl combine honey and boiling water and stir until combined and honey is in liquid form. In a cocktail shaker combine lemon, whiskey, carrot juice and honey mixture. Add a few cubes of ice and shake, then pour over ice in whiskey glasses. Serve with a lemon peel or wedge.
We are participant in the Amazon Services LLC Associates Program, an affiliate advertising program designed to provide a means for us to earn fees by linking to Amazon.com and affiliated sites.