Caramelized Onion & Mushroom Burger with Grain Free Bun
Friendsss! So many things are happening right now!! Labor day is just around the corner and football season is kicking off too!  Now I am not the biggest football fan but I do love a good football game on TV for the pure fact that there is always delicious food around.  Football games are also the reason that grilling bleeds all the way into fall from summer! I LOVE burgers and they are just the best tailgate food too. And yes you can totally call your house party a tailgate – FYI.  You know I preach balance and not being too strict with clean eating, but if football is every week (and if your really love it, multiple times a week) it can be easy to slip off track with finding clean options!  To make things easier on all of us, I've teamed up with my FAVORITE grain free snack and boxed mix brand – Simple Mills to bring you an epic grain free burger bun that you are going to flip over.  Using their Artisan Bread Mix made with only 6 super clean ingredients makes it so simple to make the perfect grain free burger bun.  I also added some dried minced onion to the top of mine because I'm a sucker for an onion bun – but you can top it with sesame seeds, everything bagel seasoning… or leave it plain! You do you, boo.  
So obviously the bun is an important part of any burger, but next up is the toppings!  Let's be like Simple Mills and pack tons of flavor with minimal ingredients shall we?  I'm talking onions, mushrooms and coconut aminos.  Caramelizing down the onions and mushrooms then splashing them with just a touch of the salty &  sweet coconut aminos makes for an umami powerhouse that completes this perfect burger!  Oh and obvi added mayo and avocado because… BURGERS.  Now it's your turn to make this simple burger on this holiday weekend!  Check out where you can get this Simple Mills mix near you and get cookin!!
This post is sponsored by Simple Mills! I was compensated and all opinions are 100% my own. Thank you so much for supporting Little Bits Of!
Gotta have the bite shot right??
Need some sides with these burgers:
Chicken Bacon Ranch Potato Salad
Sweet Potato Tater Tots with Honey Mustard Dipping Sauce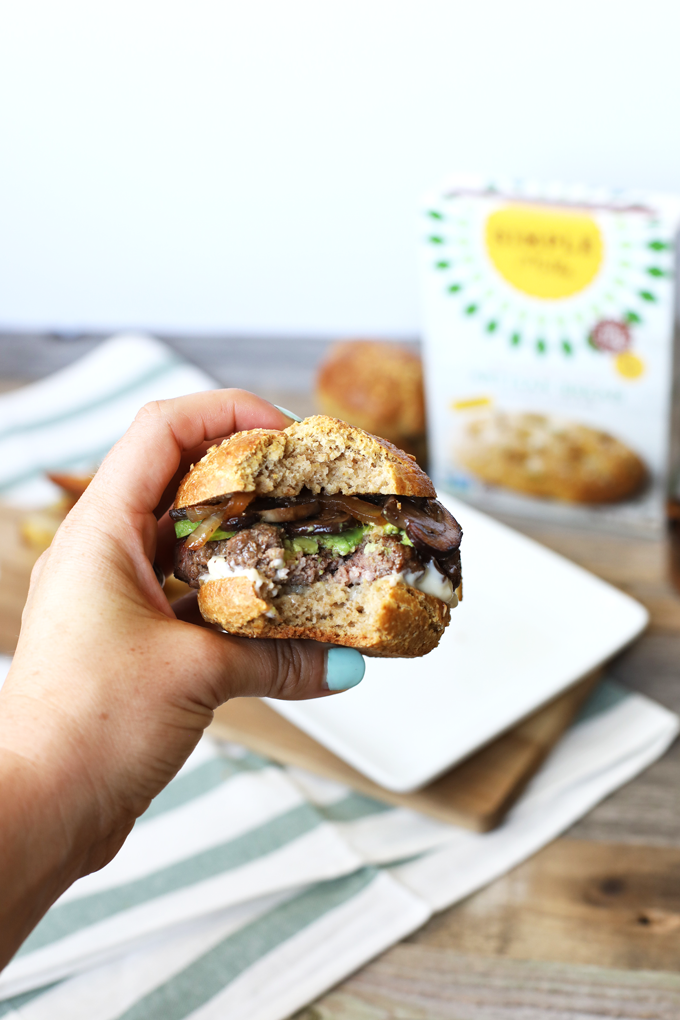 Pin this Caramelized Onion & Mushroom Burger with Grain Free Bun to save the recipe for later!
Print
Caramelized Onion & Mushroom Burger with Grain Free Bun
---
Buns:
1 box Simple MIlls Artisan Bread Mix
1 tablespoon olive or avocado oil
¼ cup unsweetened applesauce
2 eggs
1 tablespoon dried minced onion
1 additional egg for egg wash
Burger:
1 pound grass fed ground beef
1 tablespoon olive or avocado oil
1 yellow onion, sliced thinly
2 cups sliced mushrooms
1 teaspoon coconut aminos
Salt and pepper
Avocado
Mayonnaise
---
Instructions
Preheat oven to 350 degrees and line a baking sheet with parchment paper.
In a medium sized bowl combine Simple Mills Artisan Bread Mix, oil, applesauce and eggs and stir until combined.
Separate dough into 4 or 5 pieces (depending on how big you want your buns)
Dab a little bit of water in your hands and roll each dough ball in your hands then place it on the baking sheet and press down just a little.
Crack the extra egg in a small bowl and stir to combine.  Take a pastry brush or BBQ brush and brush a little egg wash onto the the dough balls. This will help it get nice and golden brown.  Then sprinkle each with a little dried minced onion.
Bake buns for 25 minutes.
While the buns bake start on the toppings.  Place a large skillet over medium heat and add 1 tablespoon of oil to the pan. Then add sliced onions and cook, stirring occasionally for 5 minutes.  Once they start to soften add sliced mushrooms, stir, and place a lid on top for 10 minutes, stirring occasionally.
Once they are nice and caramelized add in coconut aminos and season with salt and pepper.
To make burgers, divide the pound of meat into 4 even pieces and form them into patties.  Sprinkle each side with salt and pepper and cook on a hot grill or stovetop for about 3-5 minutes per side depending on how you like your burger cooked.
To assemble the burger, slice your bun in half and on the bottom put some mayonnaise, the patty, avocado, onion mix and top with the other half of the bun.
We are participant in the Amazon Services LLC Associates Program, an affiliate advertising program designed to provide a means for us to earn fees by linking to Amazon.com and affiliated sites.