Sweet Potato Tater Tots with Honey Mustard Dipping Sauce
Back in action and so excited to share this recipe!  I love myself a tater tot but the fried crispy goodness is not something that is great to eat a ton.  The good thing is we can make a much healthier version with sweet potatoes and bake them instead of frying!  You might look at this recipe and think really? It's just sweet potatoes with a little salt and arrowroot?  Will this work?  Well it does!! Now baking doesn't get them as crispy as a fried tater tot would be but if you want a quick pop of sweet potato goodness, these are the ticket.
Also, truth table – blog posts might be a bit short for the next month or so because baby snuggle are wildly distracting.  Be sure to follow along on instagram for all of the sweetness and how i am navigating mom life!
This dipping sauce though…
Some extra arrowroot never hurt nobody!
If you love there Sweet Potato Tots we have a few other recipes you will love:
Garden Herb Crusted Chicken Tenders
Pin the image below to save these sweet potato tater tots for later!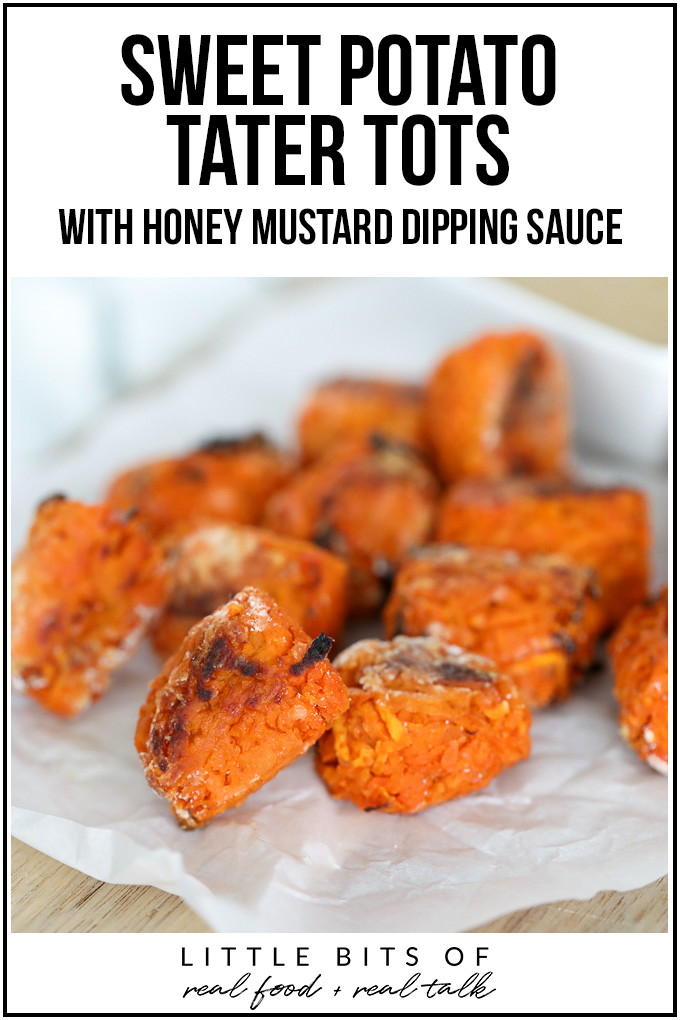 Print
Sweet Potato Tater Tots with Honey Mustard Dipping Sauce
---
2 medium sweet potatoes
1 teaspoon salt
1 tablespoon arrowroot powder (also called flour or starch)
Cooking spray
¼ cup dijon mustard
1 tablespoon honey
Salt and pepper
---
Instructions
Preheat oven to 450F. Line a baking sheet with parchment paper .
Bring water to a boil in a medium size pot. Peel sweet potatoes and cook for approx. 12-15 min. (you want potatoes to be par boiled, soft enough to pierce with a fork but still slightly firm). Drain and cool.
Once potatoes are cool to touch, grate on a box grater. Sprinkle with salt.
Form into "tots" approx. 1 inch in size.
Place on lined baking sheet. Drizzle (or spray) tots with olive oil the toss with a little bit of arrowroot. I put the arrowroot in a mesh sieve and lightly tapped it over the top of them, then turned them to coat. Then spray or drizzle with a tad more olive oil.
Cook 30 min., turning tots half way through cooking.
For dipping sauce mix together dijon mustard and honey then season to taste with a little salt and pepper.
We are participant in the Amazon Services LLC Associates Program, an affiliate advertising program designed to provide a means for us to earn fees by linking to Amazon.com and affiliated sites.