Cantaloupe & Salami Salad w/ Balsamic Glaze
The simple pleasures in life are the best aren't they?  A cool breeze coming through your house on a hot day, a great song on the radio you can rock out to, and one of my favorites, ripe fruit & cured meat!  I've been a long time lover of cantaloupe & prosciutto but something about salami was screening out to me this weekend.  Maybe its a combination of the fact that cantaloupe is now in season and my recent love for salami.  Now don't get me wrong, I have always loved salami, but it wasn't until my parents seemed to have it at their house every time I visit that I really started to CRAVE it.  You could look at this as bad for your health… but let's be real, you could do a lot worse!
The salty salami mixed with the sweet ripe cantaloupe is out of this world.  I also made a basic balsamic vinaigrette for the salad, but then made a super simple balsamic glaze that added even more sweetness and rich flavor to the dish.
This spring has been beautiful so far and I am SO excited for all of the yummy salads and ripe fruit that will no doubt fill our fridge in the next few months.  So the next time you have people over, serve up this salad and everyone will say:
"WOW THIS IS AMAZING!!!"
And you will say:
"oh my gosh stop it was a sinch to throw together!"
And everyone will be impressed. The end.
The drizzle might be the most important part of this game.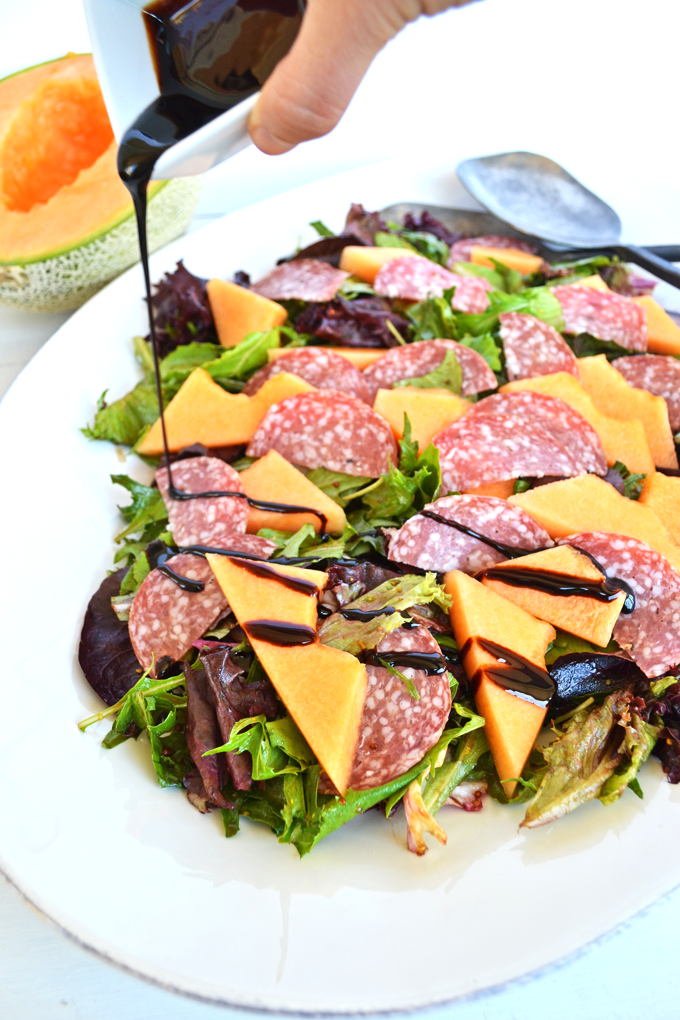 How could this view not impress people?  PRO TIP: Wait to do the drizzle in front of your guests for optimal impressing.
If you love this recipe we have more impressive appetizers to serve and impress with:
Crispy Baked Lemon Garlic Chicken Wings
Dairy Free Cashew Spinach Artichoke Dip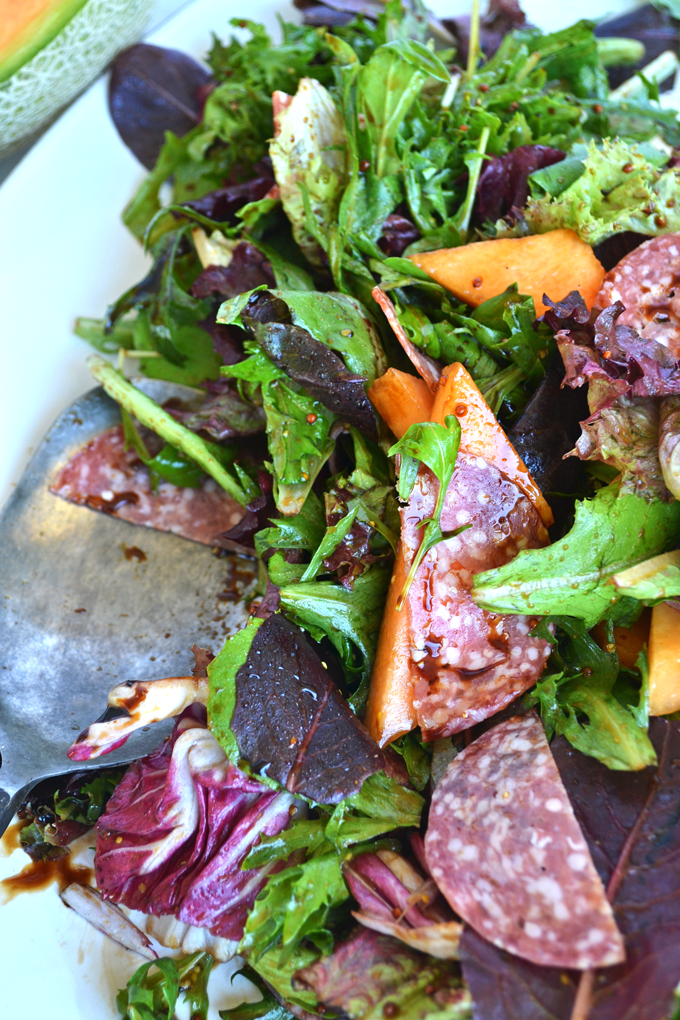 Pin it!


Print
Cantaloupe & Salami Salad w/ Balsamic Glaze
---
1/2 a ripe cantaloupe, seeds & peel removed & chopped
2 ounces salami, chopped
5 ounce bag mixed greens
salad dressing:
2 tablespoons olive oil
3 tablespoons balsamic vinegar
1 teaspoon dijon mustard (regular or whole grain)
pinch of salt and pepper
balsamic glaze:
---
Instructions
Place mixed green in a large bowl. In a small bowl combine salad dressing ingredients and whisk until combined. Pour dressing over greens and toss to coat. Pour dressed greens onto a serving platter and top with cantaloupe and salami.
Place a small skillet over medium high heat. Once pan is hot, add 1/4 cup of balsamic vinegar. Swirl pan as the vinegar bubbles and cook until it reduces and covers the back of a spoon, about 8-10 minutes. Drizzle glaze on top of salad.
Enjoy!
We are participant in the Amazon Services LLC Associates Program, an affiliate advertising program designed to provide a means for us to earn fees by linking to Amazon.com and affiliated sites.