Birthday Cake Granola
Happy Birthday to meeeee! What a better way to celebrate than with some delicious birthday cake granola!  This granola is so good that I just eat it by the handful.  I love that you can break it up into small pieces or large chunks.  The key to proper birthday cake granola is the natural sprinkles!  There are two that I like and get on amazon, these India tree sprinkles or these Supernatural rainbow pop sprinkles. I did a combo on here because why not? The more sprinkles the better I say.  Making this recipe was inspired by the safe and fair birthday cake granola that is so good and combines oats, puffed millet and rice krispies.  I love the variation of grains in this granola not only for the flavor and crunch but also the nutrition. So come celebrate my birthday with me and make some granola!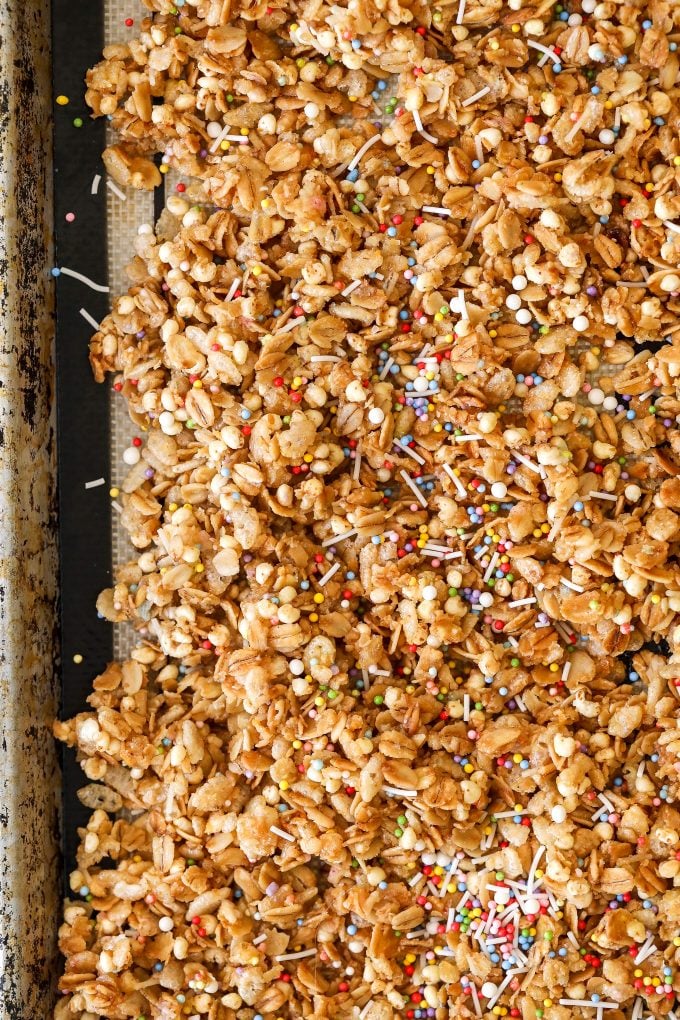 We know you are going to need a few more recipes to use these sprinkles on:
Peanut Butter Coffee Energy Balls
Peanut Butter Bars with Chocolate Ganache Icing
Pin the image below to save this Birthday Cake Granola recipe for later!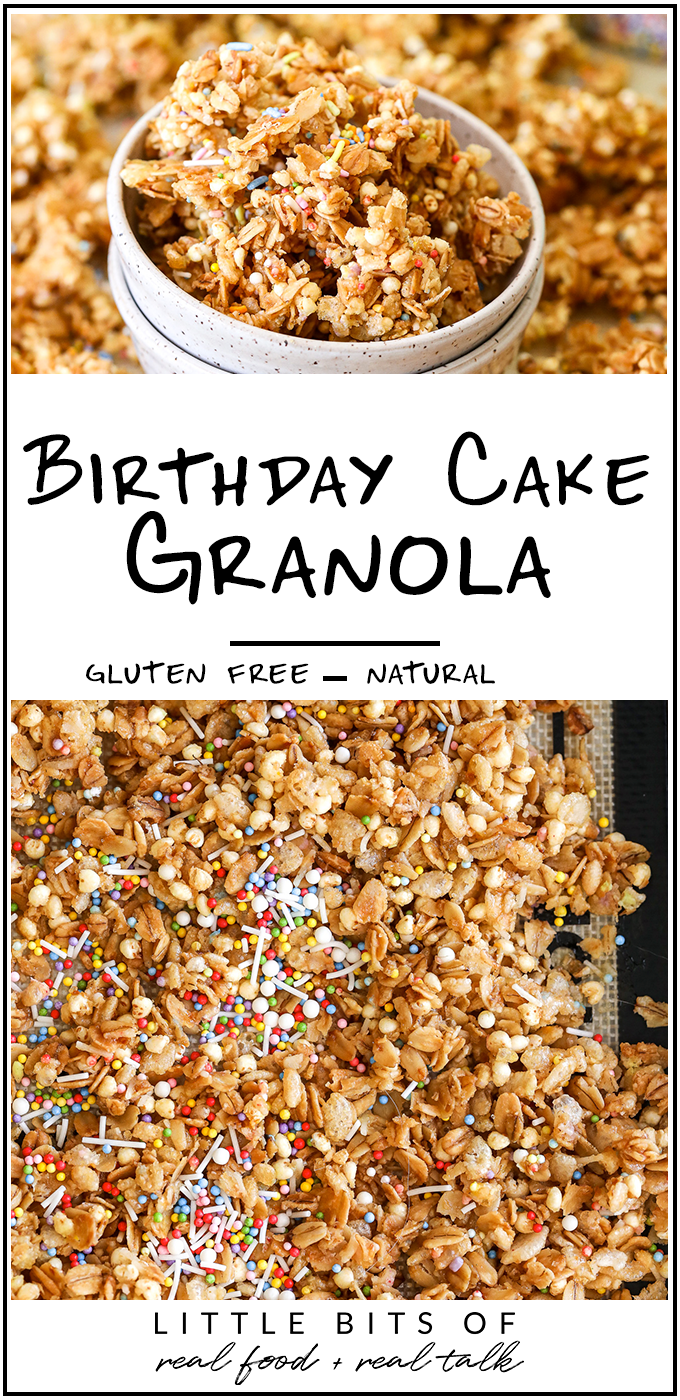 Print
Birthday Cake Granola
---
⅓ cup honey
⅓ cup organic cane sugar
¼ cup refined coconut oil 
1 tsp vanilla extract
¼ tsp almond extract
Pinch of sea salt
2 cups oats
⅓ cup natural color sprinkles 
1 cup crisped rice cereal 
½ cup puffed millet
---
Instructions
Preheat oven to 300 degrees.
Combine honey, cane sugar and coconut oil in a glass bowl and microwave for 1 minute and 30 seconds.  Add vanilla and almond extract as well as a pinch of salt and whisk to combine.
In a large bowl combine oats, sprinkles, crisped rice and puffed millet, then pour the sugar mixture over and stir to combine well.
Line a baking sheet with parchment paper and pour the granola mixture onto the pan in a single layer.
Bake for 40 minutes, stirring halfway through.
Let cool then break apart!
We are participant in the Amazon Services LLC Associates Program, an affiliate advertising program designed to provide a means for us to earn fees by linking to Amazon.com and affiliated sites.