Avocado Chimichurri
Hello! How are you today?  I am writing this post from a super chic, trendy, hipster fabulous coffee shop drinking the most REDIC almond milk latte.  It's one of those places that is so perfectly decorated and the music is so on point you feel like you want to just move in and never leave.  I would totally come here everyday if this redonkulous latte wasn't $4.50.  The struggle is real!  BUT! It is even more motivation to work extra hard to one day I can make my own home feel exactly like this coffee shop.  I will have beautiful white granite counters, one brick wall and wood/ metal chairs.  Oh and obviously there are wood beams exposed on the ceiling.
When 80% of my brain power seems to revolve around food and 10% revolves around planning my future house, it is amazing I get anything else done.  But I make the other 10% count – PROMISE!  Anyways.  Part of my food thoughts last week revolved around this dip.  I am calling it a dip now because I originally made it to dip chicken tenders in.  I did and it was amazing, but since then I also used this to mix with chicken for a chicken salad and definitely see it being perfect to pour on steak or even on my eggs in the morning.  It's basically a perfectly herby avocado spread with a fabulous brightness from the red wine vinegar.  I can't wait to try even more herb combos in the future but this parsley/ cilantro situation is SUPA FRESH.   Okay time to check out this creamy swirl action…
See that creamy goodness?! Make sure to find perfectly ripe avos… very importante!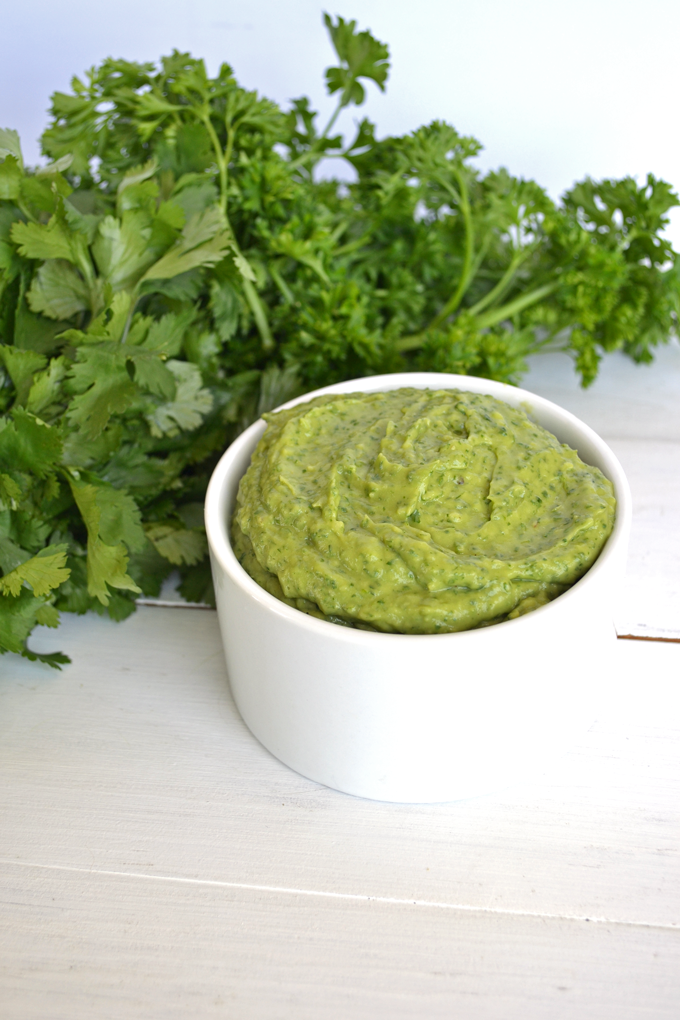 You will need a few recipes for things to dip in this Avocado Chimichurri:
Print
Avocado Chimichurri
---
1 cup packed parsley leaves (some stems ok)
1 cup packed cilantro leaves (some stems ok)
2 avocados, pits and skin removed
¼ cup red wine vinegar
3 small or 2 large cloves of garlic
Salt and pepper to taste
---
Instructions
Add all ingredients to a food processor and blend on high for 1 minute until creamy! Serve as a dip for chip, chicken tenders, a spread on a sandwich or drizzled on steak.
We are participant in the Amazon Services LLC Associates Program, an affiliate advertising program designed to provide a means for us to earn fees by linking to Amazon.com and affiliated sites.