Everything Crackers
Let's talk about bagels.  I have never made them before but I think about it a lot.  It's just a bit intimidating.  And going to your local bagel shop is so much easier.  I don't know about you but I have 2 favorite bagel combos.  Everything with plain cream cheese, or chocolate chip with strawberry cream cheese.  You may catch me with a cinnamon sugar bagel on occasion if i'm feeling caaaaraaazzzy!  But I would probably eat any bagel you gave me.  Just being real…. I love bagels.
Aaaanyways…  Everything bagels are just that… EVERYTHING! Everything that is right in the world…. every flavor that is right for my taste buds…. every flavor that pairs perfectly with carbs! So why not put those flavors on a cracker and add some whole wheat flour and call it a snack?  Let's do it!
First make your dough.
 Roll it out and cut into any shape you like!
 Then brush with a little egg wash and your everything mix.
 Once golden brown they are done!  I served mine with hummus!
 Enjoy!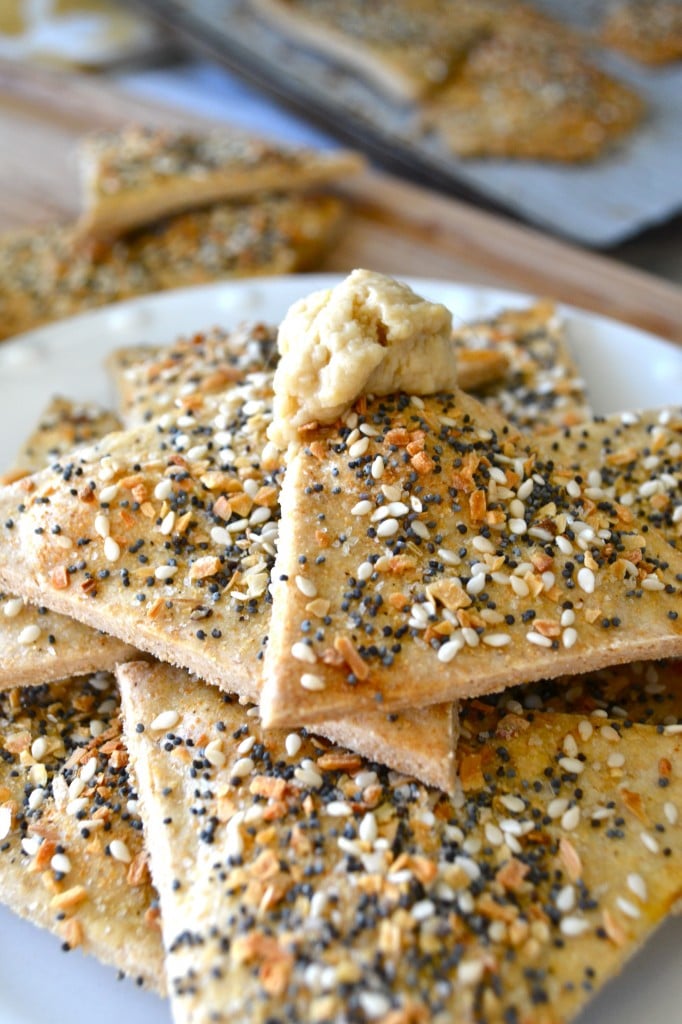 Print
Everything Crackers
---
1 cup whole wheat pastry flour
1 cup all purpose flour
1/4 teaspoon salt
1 teaspoon sugar
1 ½ tablespoons cold butter
½ cup milk
1 egg, beaten
2 tablespoons poppy seeds
2 tablespoons sesame seeds
2 tablespoons minced onion
1 tablespoon garlic powder
1 teaspoon sea salt
freshly cracked black pepper
---
Instructions
Preheat oven to 350.
In a food processor, pulse flours, salt and sugar until combined. Add in cold butter and pulse until mixture is combined and the butter is in course crumbs. Stream in milk slowly while pulsing the food processor until the dough forms.
Form dough into a ball with your hands and chill in the refrigerator for about 30 minutes.
After 30 minutes, flour surface and a rolling pin, and roll out dough until it is very thin. Cut dough into whatever size and shape crackers you would like.
Beat egg in a small bowl, and brush onto dough. In a small bowl combine remainging ingredients for everything mix. Sprinkle mix over crackers.
Bake for 5 minutes, rotate pan, and bake for 5 minute more. Check crackers and bake in 3 minute intervals until crisp and golden brown.
Serve with hummus, your favorite dip, or by themselves!
We are participant in the Amazon Services LLC Associates Program, an affiliate advertising program designed to provide a means for us to earn fees by linking to Amazon.com and affiliated sites.