Ninja CREAMi Dole Whip (dairy free)
Welp I got a Ninja CREAMi after seeing it all over the internet and holy moly it is truly incredible!! In this new year I have been committed to working out and with that I have been trying to get more protein in my day to day.  The main reason I wanted to get this is because people were making amazing looking protein ice creams and they seemed like such a tasty thing to add into our routine.  I will be sharing protein ice cream recipes on here soon but the first one I had to share is dole whip!  This just tastes like summer and I can't get enough.  If you haven't heard of a Ninja Creami answer some questions you might have!
How is the Ninja CREAMi different than a blender?
With a blender, even a high powered one, you need to add a decent amount of liquid for it to blend.  With the CREAMi you get super thick ice cream and sorbets that is unmatched!
Do you have to freeze the base for 24 hours?
The Ninja CREAMi guide says you must freeze for 24 hours but I have tried to use it after they have only frozen for 6-8 hours and it still works great just slightly less thick.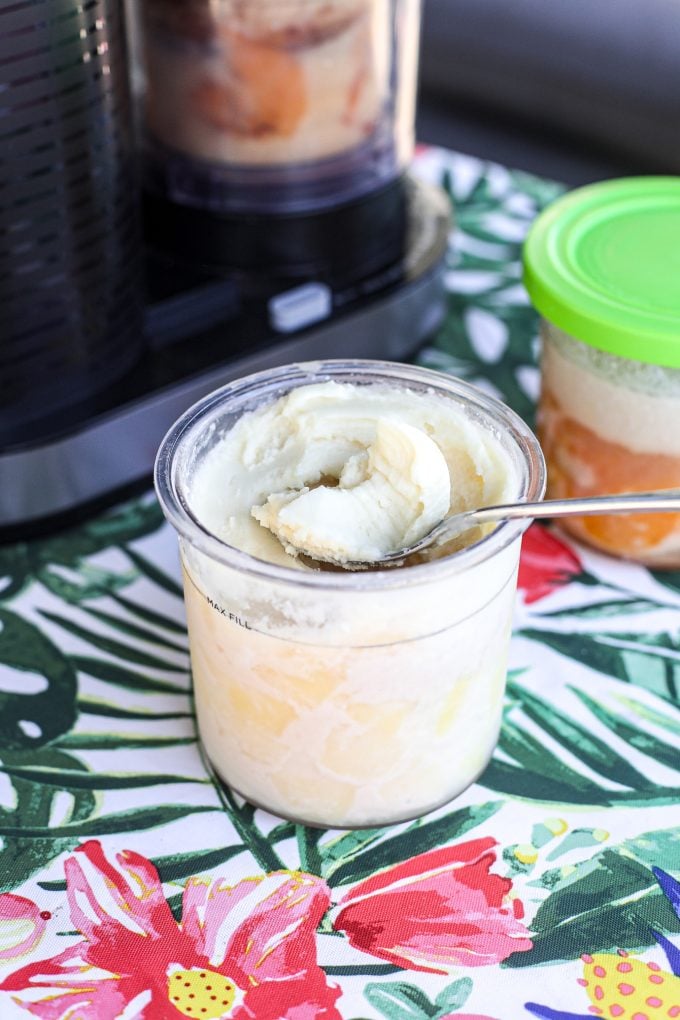 Can I use fresh, frozen and canned fruit in the Ninja CREAMi?
You can fresh, frozen or canned in the CREAMi but for this recipe you need to use fresh or canned to be able to get some juice out of the fruit.
Can I refreeze the leftovers?
Yes! If there are leftovers you can refreeze them but of course they will be rock solid again so you can either take it out and let sit on the counter for 15 minutes or run it back through the Ninja CREAMi on respin once.
Is Dole Whip healthier than ice cream?
YES! Using just pineapple, coconut milk, vanilla and agave, this recipe is much healthier and just as delicious as ice cream!
Pin the image below to save this Ninja Creami Dole Whip recipe for later!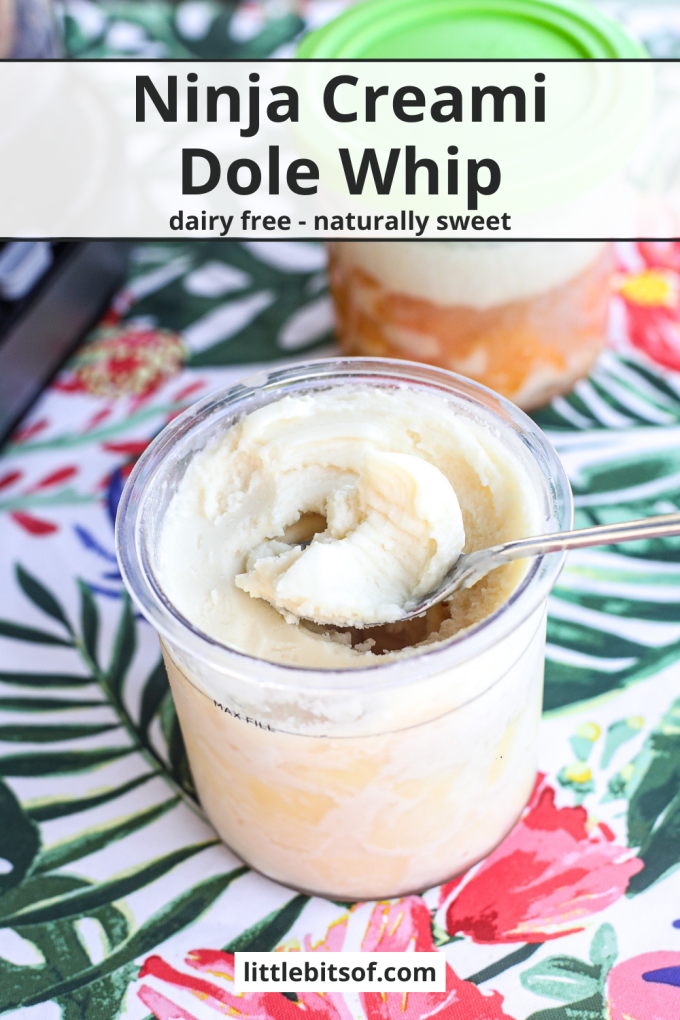 Print
Ninja Creami Dole Whip (dairy free)
---
Description
This Ninja Creami makes the best dole whip ever that happens to be dairy free and refined sugar free!
---
20 oz. can pineapple chunks, strained
full fat canned coconut milk
1 tsp vanilla extract
1–3 tablespoons agave
---
Instructions
In your ninja creami container add the pineapple chunks and press them down (i used a potato masher) so they go below the fill line. (this will squeeze some juice out)
Then add coconut milk until it reaches the fill line.
Add in vanilla and 1 tablespoon of agave.
Place the lid on the container and shake it to combine.
Freezer upright on a flat surface for 24 hours.
Once frozen, place in your ninja creami and hit the Light Ice Cream button.
 Once it runs through it will be crumbly, at this point you can taste a little and add more agave as you like. None if you like it or up to 2 tbsp more if you want it sweeter.
Then put it back in and hit respin.
After that it should be good but if you want it softer you can add 1 tbsp of water or coconut milk and respin one more time!
Enjoy the incredible dole whip!
We are participant in the Amazon Services LLC Associates Program, an affiliate advertising program designed to provide a means for us to earn fees by linking to Amazon.com and affiliated sites.