Ahi Lime Fajita Casserole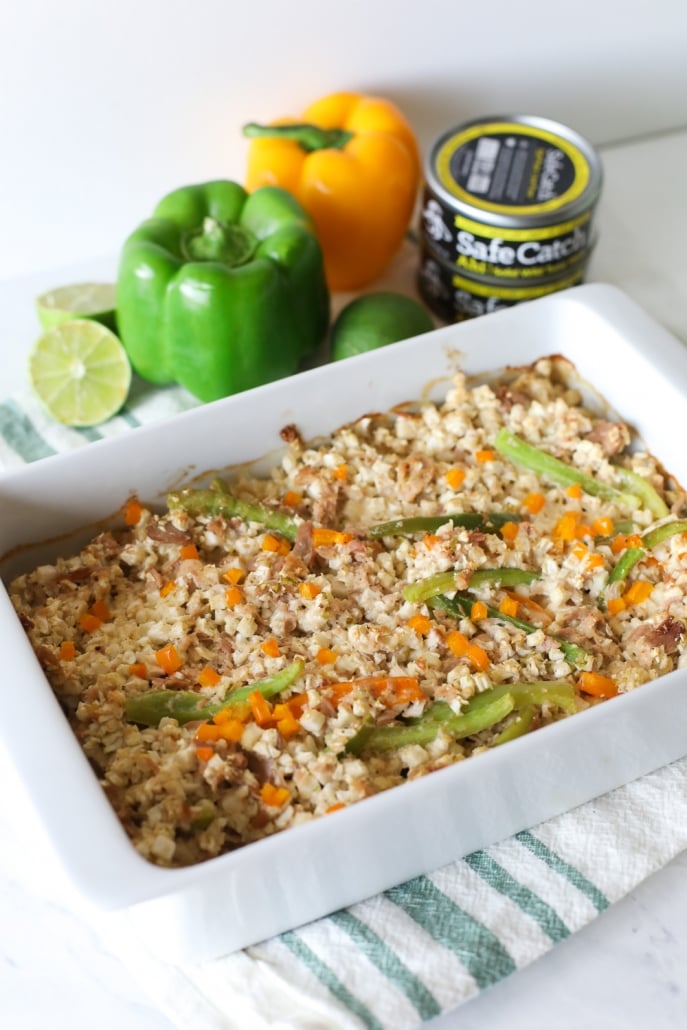 Who doesn't love a super quick weeknight meal?  This one is packed with veggies and tons of protein from Safe Catch Ahi tuna! Now we all know about my love for tuna but can we also talk about how much I love cauliflower rice?  I use it as my go to veggie to keep on hand at all times and throw into any dish to up the nutrition. It is luckily in most grocery stores now, either fresh or frozen, both of with I keep on hand!  I swear the key to being healthy is figuring out the simplest way to add veggies into meals. I can't even explain how excited I am for Ruthie to start eating and trying all of my favorite foods.  I want to teach her to love vegetables and all things healthy.
It would be extra nice if she also liked tuna, because having a hubby that doesn't love it is a real drag!!  Every time he goes to work I basically run to the pantry to grab some tuna because I only eat it when he is gone.  I love Safe Catch so much and their newer Ahi tuna is next level.  I get asked where you can find Safe Catch all the time and I am so happy to say that I have been seeing it on more and more store shelves!  I have seen it at Albertsons, Vons, Sprouts and Mother's Market in my area, but check this locator to see where it is near you.  I honestly don't think I would have survived some days of pregnancy without a Safe Catch tuna melt.
This post is sponsored by Safe Catch but all views are 100% my own!
If you love this recipe we have tons more using Safe Catch products:
Pin the image below to save this Ahi Lime Fajita Casserole for later!
Print
Ahi Lime Fajita Casserole
---
½ cup mayonnaise (i use primal kitchen)
3/4 cup full fat coconut milk (make sure the cream and liquid are combined)
1 teaspoon arrowroot powder
1 teaspoon garlic powder
½ teaspoon cumin
¼ teaspoon paprika
1 – 1.5 teaspoons salt (depending on how salty you like things)
¼ teaspoon black pepper
4 cups raw cauliflower rice
2 bell peppers (any color) chopped into slices then cut in half
3 cans Safe Catch Ahi
Juice of 1 lime
1 tablespoon lime zest
---
Instructions
Preheat oven 400 degrees.
In a large bowl combine mayonnaise, coconut milk, arrowroot powder, garlic powder, ground cumin, paprika, salt and pepper. Whisk until combined.
Add in cauliflower rice, bell peppers, Safe Catch Ahi (with its liquid), lime juice and lime zest.  Stir to combine evenly.
Pour the whole mixture into a casserole dish (9 x 13) and spread it out evenly.  I chopped up the scraps of my bell peppers to place on top but that is optional.   
Bake for 30 minutes to cook the cauliflower and it is bubbling on the sides.
We are participant in the Amazon Services LLC Associates Program, an affiliate advertising program designed to provide a means for us to earn fees by linking to Amazon.com and affiliated sites.