Lemon Tahini Salmon Salad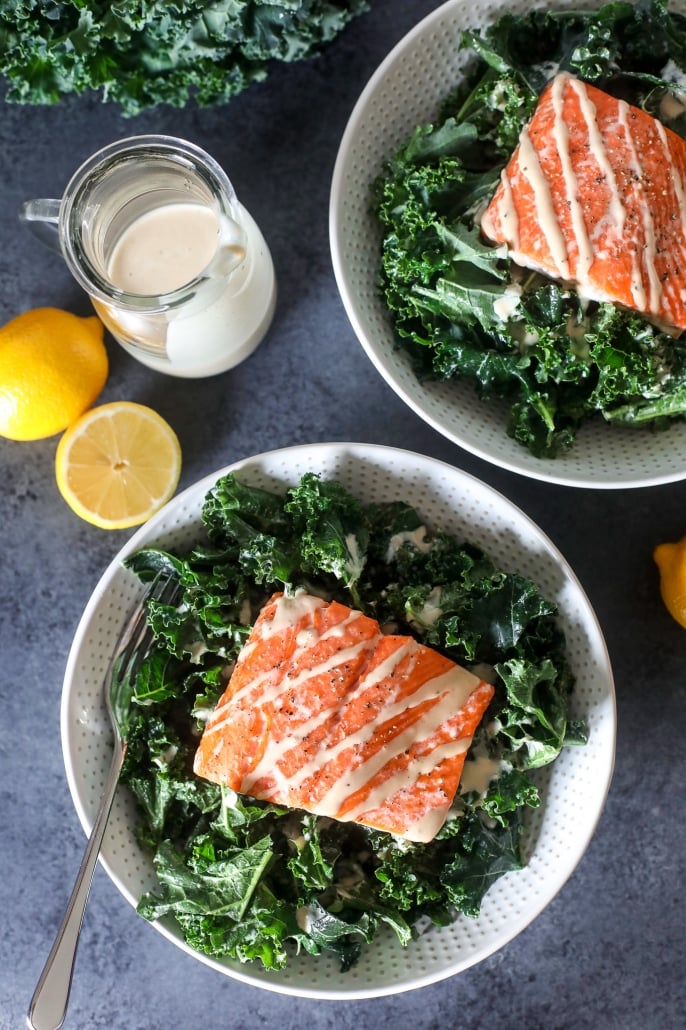 A salmon recipe… say what!  Yes it's true.  And this recipe is so so easy and delicious.  A ridiculously simple dressing recipe with 4 ingredients that will make you love kale so very much.  This recipe could totally be your full meal but my favorite way to enjoy it is adding some crispy potatoes on the side. Pure perfection!  Matt doesn't love fish so we don't eat it super often but I know i want Ruthie to be exposed to lots of seafood as she grows up.  It is so great for you and has tons of omega 3s which are great for anyone but especially growing little minds!
Poor little Ruthie is sick this week with a runny nose, cough and the saddest red and watery eyes ever.  I am doubling up on elderberry syrup and liquids this week to hopefully keep from getting sick myself but it's so hard not to give her a million kisses, or dodge her coughing in my face! So we are going to stay home this week, eat good food, get extra cuddles and hope she gets better by Friday when we have a wedding to go to.  If you are in the same boat it's time for extra nutrients so let's KALE IT!
Aren't these salads just beautiful?!
We are not partial to one kind sea creature, here are a few more for you to try:
Cashew Coconut Crusted Salmon over Creamy Curry Pasta
Pin the image below to save this Lemon Tahini Salmon Salad recipe for later!
Print
Lemon Tahini Salmon Salad
---
Author:
Yield: 4 servings 1x
¼ cup Tahini
4 tablespoons lemon juice
3 tablespoons avocado oil (or olive oil)
1 tablespoon water
4 Salmon Filets
2 bunches of kale
Salt & pepper
---
Instructions
Make the tahini dressing by combining tahini, lemon juice, oil and water together in a bowl using a fork.
Preheat oven to 375 degrees. Place foil on a baking sheet and spray cooking oil spray.
Place Salmon filets on foil and sprinkle with salt and pepper then bake in oven for 10 minutes.
While Salmon bakes, rinse Kale and pull leaves from stems off of two bunches.
Break leaves apart into small pieces.
Drizzle 6 tablespoons of dressing over kale and massage throughout for 1 minute until dressing coats all leaves and bundle reduces slightly in size.
Divide up salad into 4 bowls. Place salmon on top of salad and drizzle with remaining dressing.
Enjoy!
We are participant in the Amazon Services LLC Associates Program, an affiliate advertising program designed to provide a means for us to earn fees by linking to Amazon.com and affiliated sites.