Sweet Potato & Chicken Apple Sausage Quinoa Bake
Friends. This heat is inappropriate. If you live in southern california you know what I am talking about. If you live in another place where it is actually brisk and feeling like fall… I'M JEALOUS! Normally I love being warm, but when it is 95 degrees in your condo and you don't have AC… you start to crave the cold! This weekend I wanted to bring a little fall feeling into our place so I got some decorations up and lit a maple candle! Just because it feels like summer doesn't mean I won't enjoy the best parts of fall! If you know me you know I love myself some sweet potato all year round, but this is the time of year when I really go full force and add the stuff to everything! Last week I saw this post on Fit Food Finds and thought, YUM that looks easy and delish! We had chicken apple sausage, apples, sweet potatoes and kale on hand though so I thought I would make a one pan fall plan! I also take full advantage of adding apples into everything I make in the fall. Adding sweetness to dinner? Count me in! The best part about this meal is how simple it is. You just throw everything into a 9 x 13 pan and bake for 50 minutes!! My kind of dinner!
First chop up all of those ingredients!
Pour the 1 cup of quinoa and 2 cups of chicken broth into your pan.
Then add your apples and sweet taters and sprinkle on some salt and pepper.
Next layer your kale and chicken sausage.
Drizzle on a touch of olive oil then bake for 50 minutes! I also added some sage at the end!!
A plate of tasty fall goodness is ready to go!!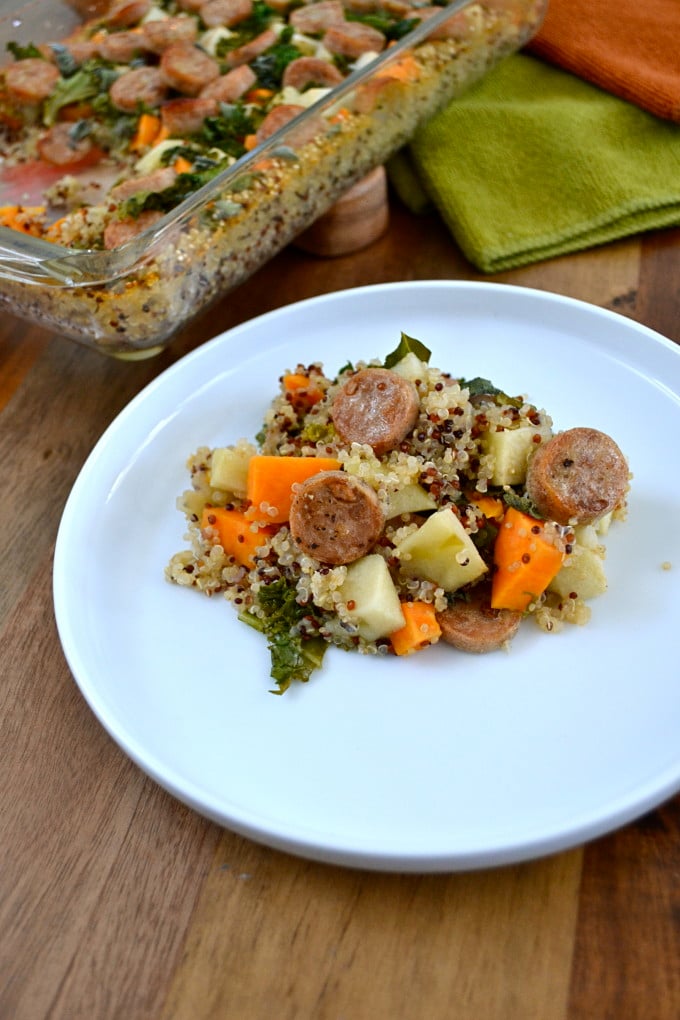 Print
Sweet Potato & Chicken Apple Sausage Quinoa Bake
---
1 cup quinoa
2 cups chicken broth
1 cup peeled and chopped apple (i used granny smith but any apple would work!)
1 1/2 cups peeled and chopped sweet potatoes
1 packed cup chopped kale (ribs removed)
3 chicken apple sausages, chopped into bite size pieces (make sure these are the fully cooked ones)
1 tablespoon organic olive oil (or coconut oil)
1 tablespoon chopped sage
1 teaspoon sea salt
1/2 teaspoon pepper
---
Instructions
Preheat your oven to 350 degrees. In a 9 x 13 pan combine quinoa and chicken broth and stir to combine. Then add apples and sweet potatoes and stir, dispersing evenly in the pan. Season with salt and pepper. Top with the chopped kale, then the layer the chicken apple sausage on top. Drizzle the oil over the whole dish and bake for about 50 minutes or until quinoa is cooked. Top with chopped sage and enjoy!
We are participant in the Amazon Services LLC Associates Program, an affiliate advertising program designed to provide a means for us to earn fees by linking to Amazon.com and affiliated sites.