Strawberry Thyme Spritz
Earth Day is tomorrow!! Did you get my email I sent on Sunday?  If not, take a look at it RIGHT HERE. I can't wait to celebrate with you guys by making some delicious food and going on a few adventures.  To end the day I would love to share a cocktail (or mocktail!) that combines fruit and herbs – in this case, strawberries and thyme!  I was so excited when I tried this cocktail because it is just so fresh and full of flavor, all from things that are 100% natural. The earth gives us such amazing gifts it is so nice to take a second to appreciate them.  If you saw the email by now you would have seen the app Picture This that I said to download.  This app is so cool because you can point your camera at any plant and it can tell you what it is, what environment it likes, how best to care for it and so much more!  I used this app when we moved into our house because I didn't know what most of the plants were in our yard.  It is so fun to learn about plants and also to know when things will bloom or how they should be looking at different parts of the year.  I do not have a green thumb at all but I am hoping to learn more and more as the years go on!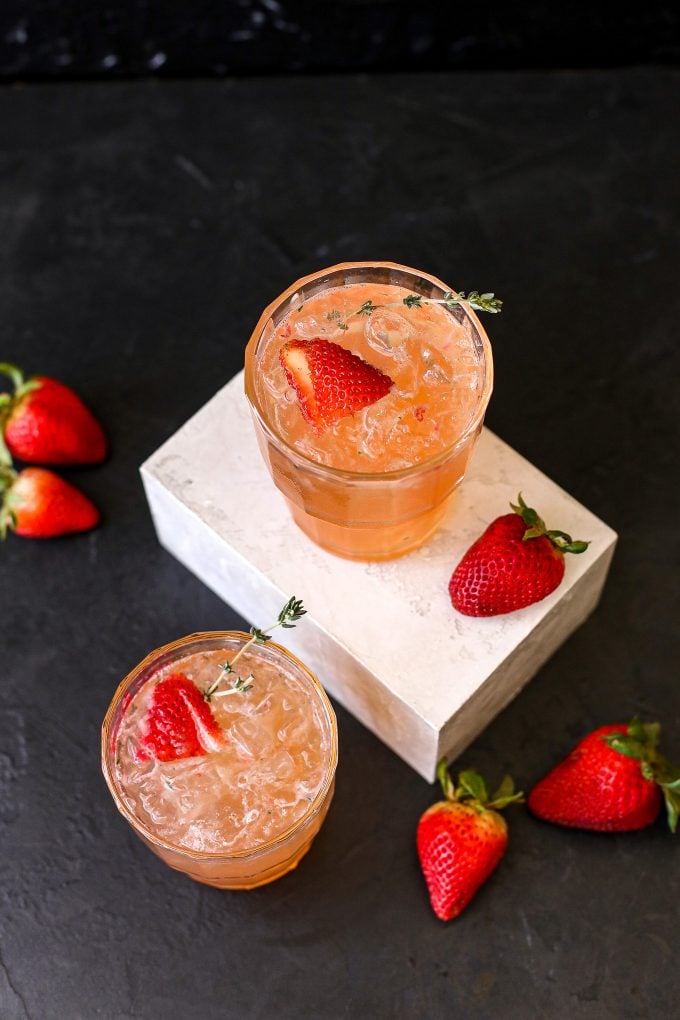 We have a few more Strawberry recipes for you to try:
Strawberry Lemonade Cashew Cheesecake Bites
Pin the image below to save this Strawberry Thyme Spritz recipe for later!
Print
Strawberry Thyme Spritz
---
3 shots vodka
½ cup chopped strawberries
1 sprig of thyme*
1 shot honey syrup
1/2 shot lemon juice
Sparkling water
Thyme & a few strawberry slices for garnish
---
Instructions
In a cocktail shaker combine vodka, strawberries, thyme, honey syrup and lemon juice.
Muddle the mixture so the strawberries break down.
Fill 2 glasses with ice and strain the mixture evenly between the glasses and top each with sparkling water!
Garnish with a sprig of thyme and a few strawberry slices.
Notes
*thyme should be smushed a bit between your fingers before adding to bring out the flavor
*Vodka can be omitted and ½ shot of lemon juice added for a mocktail!
We are participant in the Amazon Services LLC Associates Program, an affiliate advertising program designed to provide a means for us to earn fees by linking to Amazon.com and affiliated sites.