Spiralized Sweet Potato Casserole w/ Maple Pecan Crumble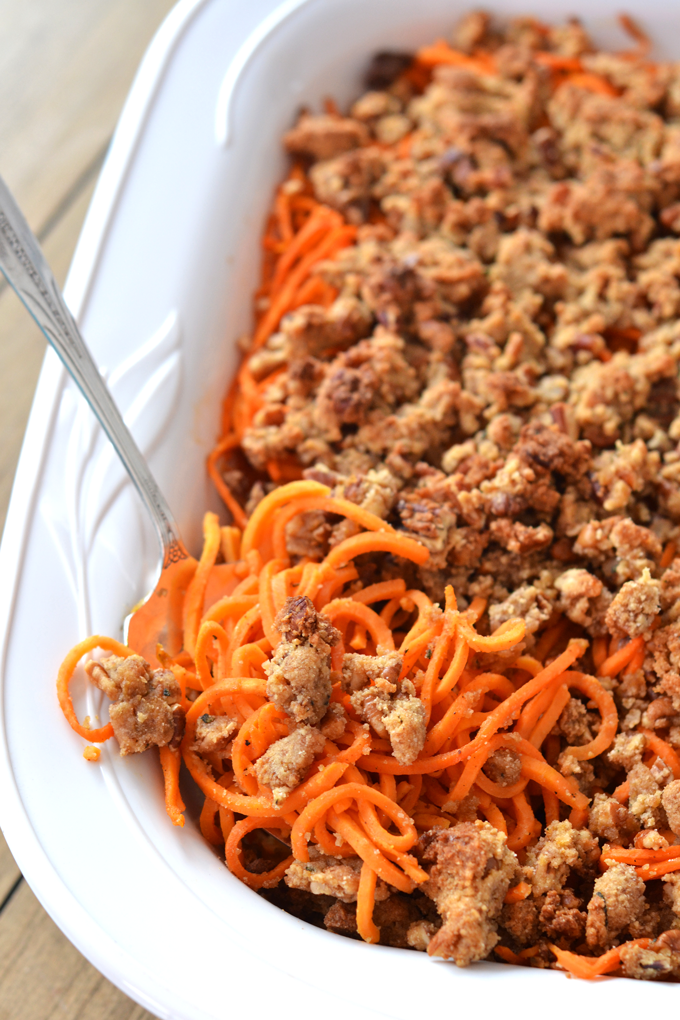 HOLA!  I have been SO excited to share this Spiralized Sweet Potato Casserole recipe with you.  I tested it for the first time 2 weekends ago and was so excited to perfect it and share the wealth with you.  If you follow along with me at all you know that I LOVE sweet potatoes and when you add fresh sage to them I could do unspeakable things for a bite!! Luckily we have been stocked with sage and sweet taters lately so I have been a happy camper.  I also get inspired on the daily by Ali over at Inspiralized. She really makes me want to spiralize everything and be a major girl boss like her.  So to channel my inner Ali, I wanted to make a sweet potato casserole with these spiralized beauties!  I have a Paderno
spiralizer which works well but I really want to get the Inspiralizer that Ali makes.  Maybe on my Christmas wish list!
So now after having this bad boy 2 weekends in a row (which with leftovers turned into many meals), I am convinced you could eat it for any meal at any time of the year.  It is so tasty and a great option for a healthy yet comforting side dish for thanksgiving!  It is officially November so we have to be in full Thanksgiving recipe mode! I also have a grain free stuffing recipe that is coming soon you will love.  What kind of thanksgiving dishes do you want remade into a healthier and possibly paleo version?  Would love any other ideas! Until then, I am off to get some more shirt options for Dr. Oz… who knew it would be so hard to find jewel toned tops?! 🙂
Still want to face plant in this dish RIGHT NOW.
That is the size scoop you need! Pin it!!
If you love this maple sweetened dish then we know you will love these other recipes with maple:
Maple Thyme Roasted Sweet Potatoes
Maple Almond Butter Bacon Cookies
Maple Roasted Asparagus with Pecans
Print
Spiralized Sweet Potato Casserole w/ Maple Pecan Crumble
---
Casserole:
1 teaspoon ghee or coconut oil
5 large sweet potatoes, peeled and spiralized
1 egg, whisked
¼ teaspoon cinnamon
⅛ teaspoon nutmeg
1 teaspoon chopped fresh sage
½ teaspoon salt
Crumble:
1 cup chopped pecans
¼ cup maple syrup
¼ cup coconut sugar
½ cup almond flour
2 tablespoons coconut flour
3 tablespoons ghee coconut oil, melted
½ teaspoon salt
1 teaspoon chopped fresh sage
---
Instructions
Preheat oven to 375 degrees. Place a large skillet over medium high heat and add ghee or coconut oil to the pan. Then add spiralized sweet potatoes to the pan and cook covered, tossing occasionally for 8-10 minutes or until softened. Place them into a casserole dish and let sit for about 10 minutes to cool down. Add the egg, cinnamon, nutmeg, sage & salt to the sweet potatoes and toss with your hands or tongs to evenly coat the sweet potatoes.
In a medium bowl combine all crumble ingredients and mix with hands until fully combined. Pour the crumble mix evenly over the casserole and bake for 30-40 minutes or until sweet potatoes are cooked through and crumble has browned. Be sure to check it at 30 minutes and if the crumble starts to burn at all, cover it with foil.
We are participant in the Amazon Services LLC Associates Program, an affiliate advertising program designed to provide a means for us to earn fees by linking to Amazon.com and affiliated sites.