Salsa Verde Chicken and Cauliflower Bake
Okay I warned you on Monday about my cauliflower obsession. It's one of those things that I can't believe I hadn't done sooner and don't see an end in sight! Matt and I have been making cauliflower rice with out food processor for months now and go through at least 2 heads of the stuff a week. A weekly staple is cauliflower "fried rice" because it comes together so quickly and is packed with veggies and good nutrition! Large quantities of tamari help too!! But a couple of weeks ago I saw this salsa verde rice casserole situation on pinterest that looked divine! Only problem was that it was packed with rice, sour cream and TONS of cheese. I thought I would attempt to recreate it with every healthy swap I could think of. Assuming it would turn out just okay or even really bad, I went for it anyways! To my surprise it was SUPER tasty, full of flavor and the cauliflower made a perfect substitute for most of the rice. I still kept 1 cup of brown rice in the whole dish just to keep its substance. The chicken marinates in this sweet honey lime sauce, then all you do is add everything into a bowl and mix! This makes for a perfect weeknight dinner. I made this on a Sunday and we actually had leftovers for a few lunches throughout the week. Best part? Aside from being tasty and nutritous, it is only 218 calories a serving!! I made a serving be 1/8 of the 9×13 pan too! Hallelujah.
Most of the ingredients I used: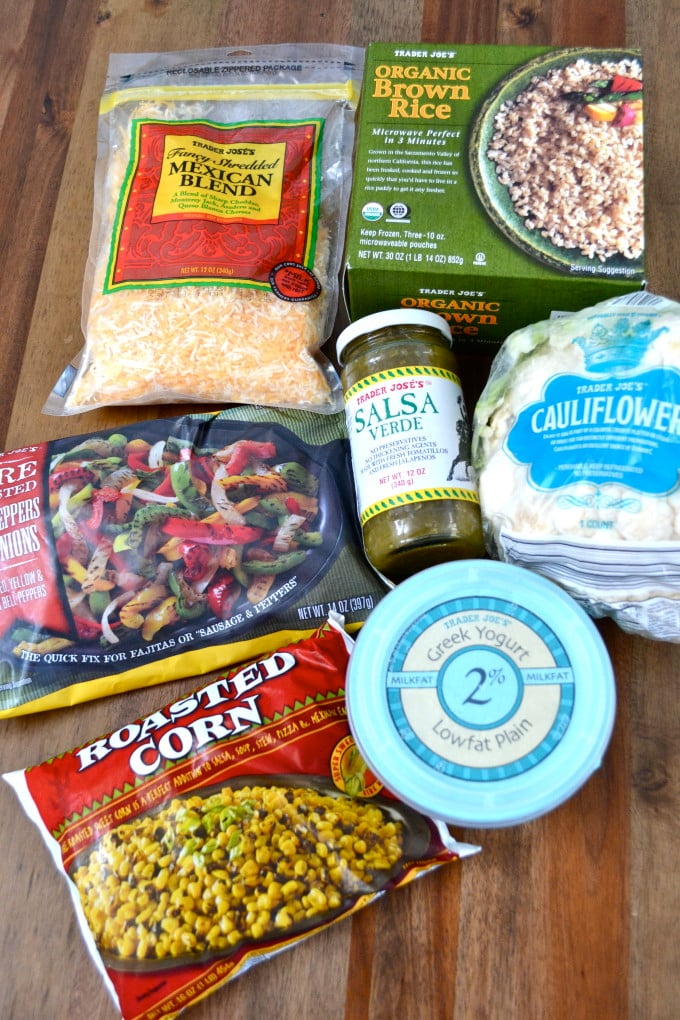 Chopped and already cooked chicken is added to this marinade. You can use leftover chicken from another meal, or even a rotisserie!
Cauliflower, brown rice, greek yogurt, corn, fajita veggies & a little cheese!
Stir and add to a baking dish topped with a bit more cheese.
Bake until golden and bubbly!!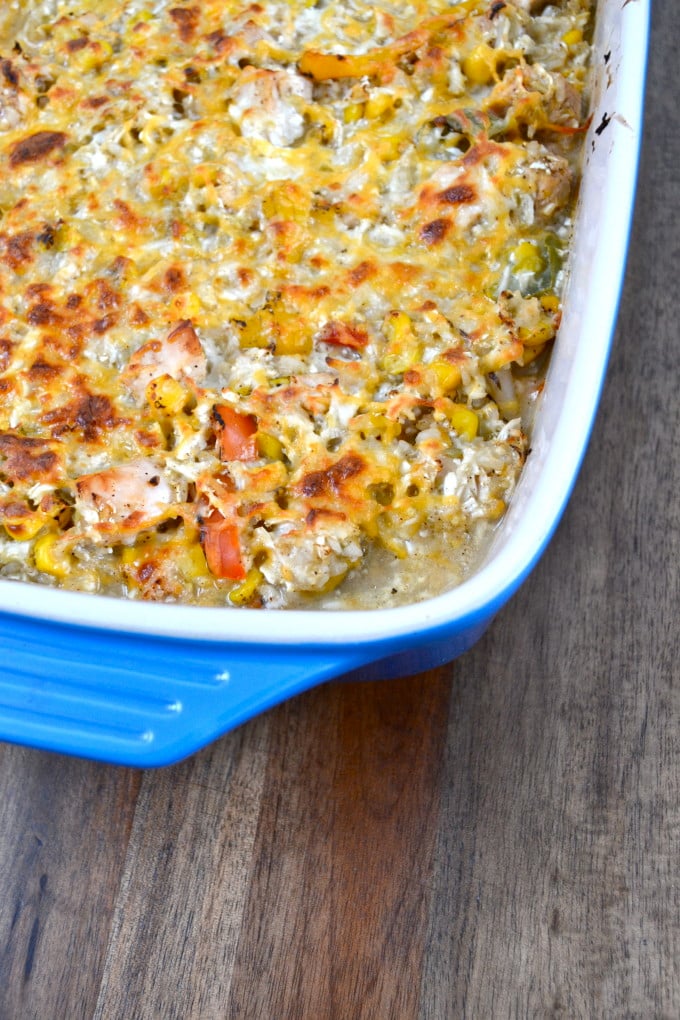 PIN IT TO WIN IT!
Print
Salsa Verde Chicken and Cauliflower Bake
---
1 pound chicken breasts, cooked and chopped
1 cup brown rice, cooked
3 cups cauliflower rice
1 12 oz. bottle salsa verde
1/2 cup Greek yogurt
1 cup Mexican cheese blend
1 cup frozen roasted corn, thawed
1 cup frozen roasted onions & peppers, thawed
10 Minute Marinade
2 tablespoons honey
1/2 cup lime juice
2 teaspoons chili powder
1 teaspoon garlic powder
1/2 teaspoon salt
1/2 teaspoon smoked paprika
1/2 teaspoon cumin
dash – 1/4 teaspoon cayenne pepper (optional for more heat)
guacamole (optional topping)
---
Instructions
Preheat oven to 350 degrees Fahrenheit.
In a large bowl, whisk together the 10 Minute Marinade ingredients. Add cooked chopped chicken and let marinate 10 minutes.
Then add 1/2 cup of cheese, salsa verde, brown rice, cauliflower rice, greek yogurt, peppers & onions, and corn to the chicken and marinade. Stir until evenly combined. It will seem a little "wet" which is normal. Add chicken/rice mixture to a 9 x 13 casserole dish and top with remaining cheese.
Bake for 30 minutes or until hot in the center then broil until cheese is golden.
Serve with guacamole if desired!
Nutrition
Serving Size: 1/8 of dish
Calories: 218 per serving
Fat: 6.1
We are participant in the Amazon Services LLC Associates Program, an affiliate advertising program designed to provide a means for us to earn fees by linking to Amazon.com and affiliated sites.