Golden Oreo Crust Raspberry Cheesecake
I love birthdays.  They just make people happy.  They make waiters sing and bring you free dessert!  They also make you (well at least me) make people treats that they love. I am not particularly a "cheesecake person", but it is my boyfriends favorite dessert.  It was his birthday this weekend and I always try to make him something new that he will love.   One of his favorite cookies are Golden Oreos, so what better cookie to make a crust out of?! Golden Oreo Crust…cheesecake? Um Yes.  Adding a raspberry swirl made this golden oreo crust cheesecake amazing!  Thankfully he loved it!  This cheesecake is easy to whip together, but try to make it the night before you plan to eat it so it can set up in the fridge!
I just bought my first spring form pan!! Very exciting day for me.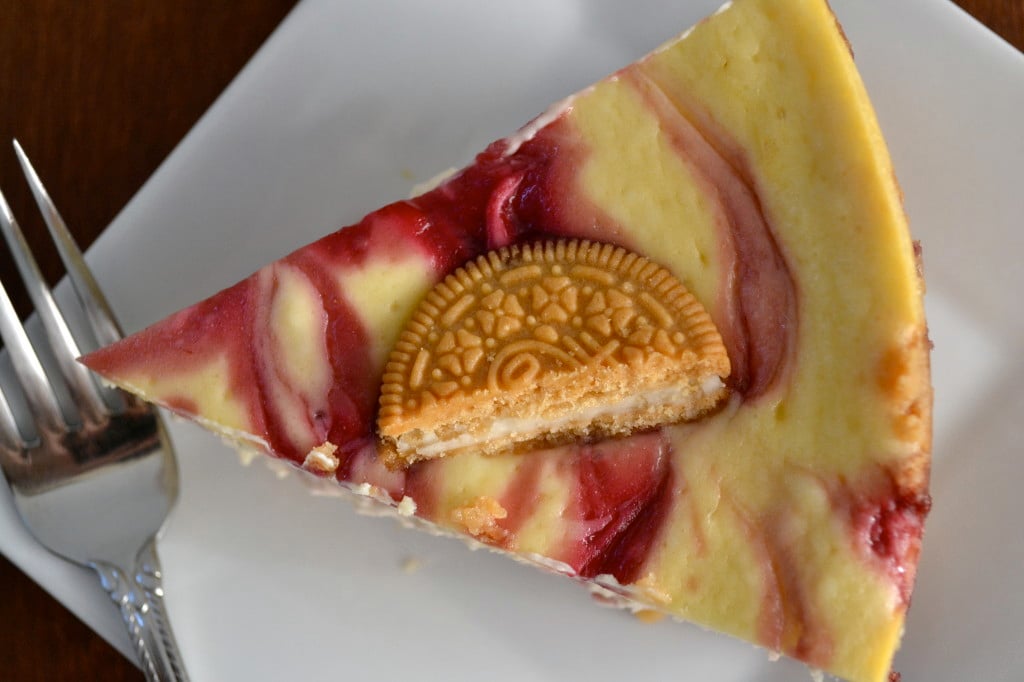 If you eat a few Oreos while baking… no judgement.
Nutrition for Golden Oreo Crust Raspberry Cheesecake
For this one, treat yourself and don't worry about the nutrition here!  This is one for the books!
Print
Raspberry Cheesecake w/ Golden Oreo Crust
---
1 pkg. Golden Oreo Cookies
1/3 cup butter, melted
3 – 8oz. packages cream cheese, softened
3/4 cup sugar
1 cup sour cream
1 teaspoon vanilla
4 eggs
1 – 10oz. package frozen raspberries
2 tablespoons sugar
2 teaspoons cornstarch
1/2 cup water
---
Instructions
Heat oven to 350°F.
Crush 30 cookies finely, and roughly chop remaining cookies. Mix crushed cookies with butter; press onto bottom and 2 inches up side of 9-inch springform pan. Bake crust for 10 minutes.
In a small saucepan combine raspberries, 2 tablespoons sugar, cornstarch and water. Bring to boil, and continue boiling 5 minutes, or until sauce is thick. Strain sauce through a mesh strainer to remove seeds. Set aside.
Beat cream cheese and sugar in large bowl with mixer until blended. Add sour cream and vanilla; mix well. Add eggs, 1 at a time, mixing on low speed after each just until blended. Pour half of batter into crust, then top with half of raspberry sauce. Add the rest of the batter, then drizzle the remaining raspberry sauce and swirl with a toothpick. Top with chopped cookies.
Bake 55 min. to 1 hour or until center is almost set. Run knife around rim of pan to loosen cake; cool before removing rim. Refrigerate at least 4 hours.
We are participant in the Amazon Services LLC Associates Program, an affiliate advertising program designed to provide a means for us to earn fees by linking to Amazon.com and affiliated sites.