Pumpkin Spice & Chocolate Chip Blondies
Hi friends!  This hiatus has gone on long enough.  I am finally moved into the beautiful beach house in Laguna and could not be happier.  Yesterday was the first chance I got to bake in my new kitchen!  It was divine.  The view is breath taking and ocean breeze ain't bad either.
I know.  I have to pinch myself everyday and soak up every minute of this bliss!!  Anywho,  to add some bakers charm to this delightful little kitchen by the sea, I bought some cute tins to store my flour, sugar, and coffee!
Thank you Pier 1!  I am also so excited to share this recipe with you.  Joy the Baker posted a recipe the other day for blonde brownies that she added Jam and Brittle to.  I was intrigued because she said that you can really add anything to this blondie recipe and make it your own.  With fall in full swing I immediately thought of pumpkin.  Not wanting a full on pumpkin brownie, I decided to just add some pumpkin pie spice, and chocolate chips.  Let me tell you, these things are deadly.  So delish with just a hint of fall flavor.  First I got out my ingredients.
Now don't forget!  Preheat that oven to 350 and grease and flour your pan.  You could use parchment paper, but I didn't have any.
Measure out your dry ingredients.
Then melt some butter and mix it with brown sugar.
Mix it up!
My nana left behind some awesome kitchen supplies.  This wooden spoon is sturdy and makes me think of all of the things it has seen. Thanks Nan!! Then you will add egg and vanilla to this, and add it to your dry ingredients.
Stir that until just combined.
Fold in those chips!
And spread into your prepared pan.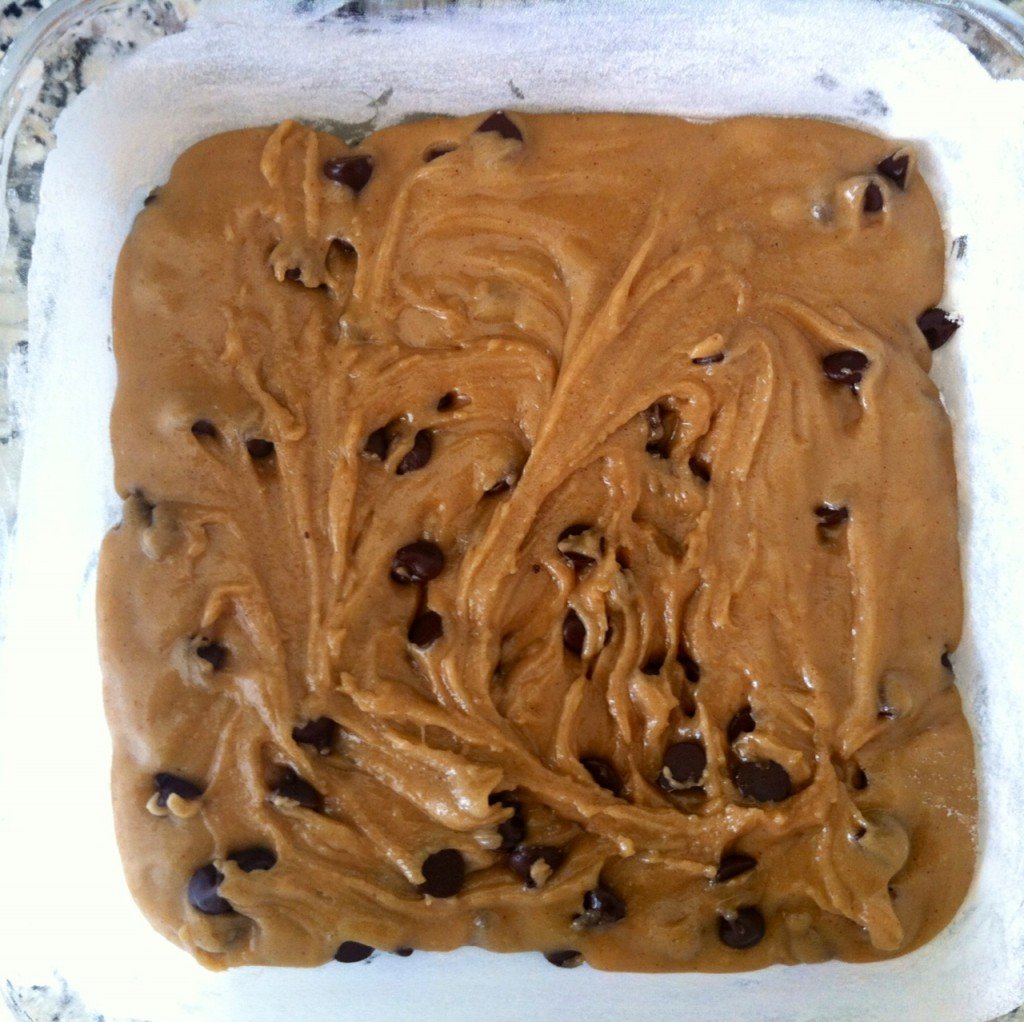 And bake for 20-25 minutes, rotating half way, until gold brown on the top.
Smell them.  Smile. 🙂  Then wait for them to cool and cut them up.
Then I suggest taking them to work the next day.  Or you WILL eat them ALL. Trust me.
Print
Pumpkin Spice & Chocolate Chip Blondies
---
1 cup all-purpose flour
1/2 tsp baking powder
1/4 teaspoon baking soda
1/4 tsp salt
1/4 teaspoon ground cinnamon
1/2 teaspoon pumpkin pie spice
1/2 cup (1 stick) unsalted butter
1 cup packed light brown sugar
1 large egg
1 tsp pure vanilla extract
1/2 cup chocolate chips
---
Instructions
Grease with butter and sprinkle with flour, an 8 x 8 square pan.
Place rack in the upper third of the oven and preheat oven to 350 degrees F.
In a medium bowl combine flour, baking powder, baking soda, salt, cinnamon and pumpkin pie spice.
Melt butter in a medium saucepan or in the microwave. Measure brown sugar into a bowl and stir in melted butter. Thoroughly mix in the eggs and vanilla extract. Stir in the flour mixture until just incorporated. Fold in chocolate chips. Spread the batter in the pan.
Bake for 20-25 minutes rotating pan half-way through. The top should be a golden brown.
Let cool completely in pan on rack. Cut into squares.
Recipe adapted from Joy the Baker
We are participant in the Amazon Services LLC Associates Program, an affiliate advertising program designed to provide a means for us to earn fees by linking to Amazon.com and affiliated sites.