Peach, Brie & Turkey Melt on Cinnamon Raisin Sprouted Bread
Everyday I am trying to think of new recipes. Whether it's for dinner that night, a side dish to bring to a party or something for the blog (all 3 usually interchangeable), I am always thinking about food. But sometimes the best recipes don't come from stalking my favorite blogs or hours on pinterest, they come from me being hungry and looking at what we have in the fridge. Insert this magical melt I made this weekend. We don't have any regular bread in the house, just the Ezekiel Cinnamon Raisin Sprouted Grain Bread. I use it for breakfast with some kind of nut butter or PB2 and it is to die for. I think the people at my office get pretty jealous when they smell it in the toaster and I haven't gotten sick of it yet! Tastes like a special treat every morning but with 2 tablespoons of PB2 at 45 calories and a slice of that bread at 80, the sinful tasting treat is a nutritious 125 calorie breakfast! Sometimes I have 2 slices and even add banana if I am really feeling crazy.
For this sando I thought about a few things. 1) Peaches are almost out of season and I need to eat as many as possible. 2) Sliced Turkey is the best (even if the all natural ones at the grocery store cost an arm and a leg… totally worth it!) 3) BRIE!!!!!!
That creamy brie next to the turkey and sweet peach on crispy sweet bread is unreal. It may seem like a simple sandwich but believe me… it could change your world a little bit.
BRIEEEEE. The creamy cheese of all cheeses.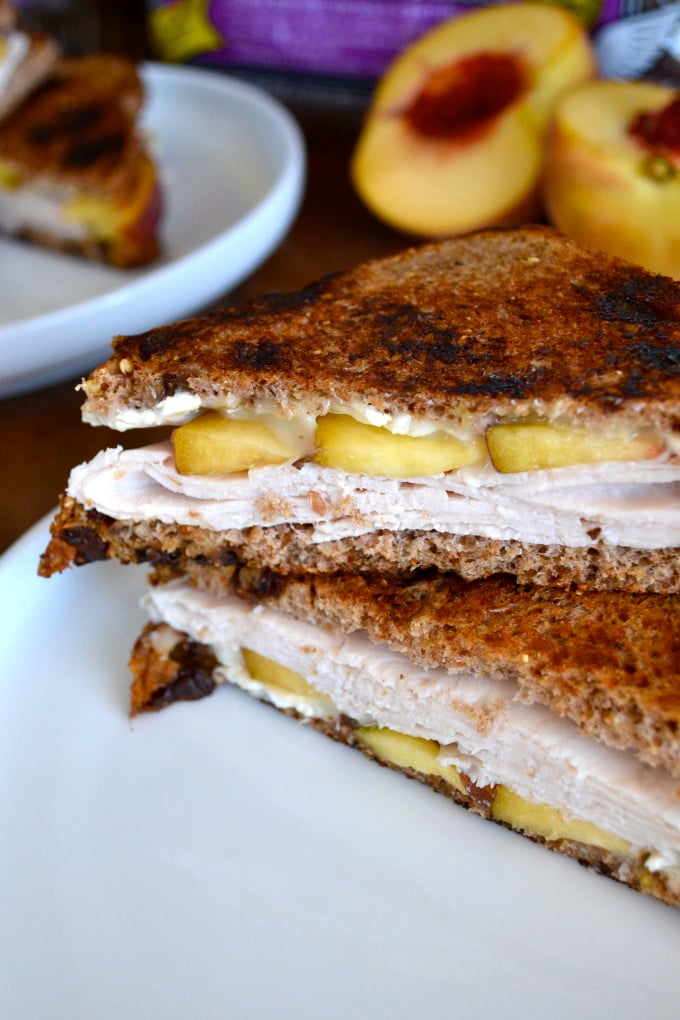 Those charred bursts of raisin are NEXT LEVEL.
Ezekiel Bread fo life!
Print
Peach, Brie & Turkey Melt on Cinnamon Raisin Sprouted Bread
---
2 pieces of cinnamon raisin sprouted bread
1 oz brie cheese
4 slices of peach
2–4 slices of 100% natural deli turkey
coconut oil cooking spray
---
Instructions
Heat a pan to medium high heat. Assemble the sandwich and spray both sides of the external bread with coconut oil spray. Place on the hot pan and cook for about a minute on each side, or until perfectly browned and toasty! Enjoy!
We are participant in the Amazon Services LLC Associates Program, an affiliate advertising program designed to provide a means for us to earn fees by linking to Amazon.com and affiliated sites.