Patty Melt Sliders
Love a burger for game day, but make it bitesize and can bee cooked all at once introducing Patty Melt Sliders. Small but mighty, pure perfection.
Football Friday Week 5
Hello my friends and welcome back to another banger week of Football Friday. We took a few weeks off of posting a slider recipe but we we could not wait another week to share there Patty Melt Sliders. These have all the highlights of a traditional burger, just in a more compact delivery. Not sure if everyone has a fantasy football team this year, but Matt, Britt, Mom and I decided to start one. So far this is making weekly games much more exciting to watch. It also could be a certain new couple alert that is making each week VERY exciting (Tay ❤️  Trav!)
This recipe is another relatively simple recipe where you can substitute where need be. If you don't love ground beef feel free to substitute with turkey or ground chicken. If Swiss cheese isn't your jam use any cheese your family loves. The star of the show is a tie between the caramelized onions and the thousand island dressing. Both stand out in their own right but each add just the right amount of sweetness and tanginess to take these Patty Melt Sliders.
Can I make this ahead of time?
If you don't have time to make the sliders all at one time I suggest making the ground beef and onion mixture ahead of time and warm it up when you are ready to serve the sliders. This will cut down on the amount of time you are in the kitchen prepping and more time chatting and have chips and dip!
In case at the last minute you are asked to bring a few more munchies to the party, here are a few yummy links:
Charred Brussels Sprouts & Corn Salad
Click below to save this Patty Melt Sliders recipe for later!
Print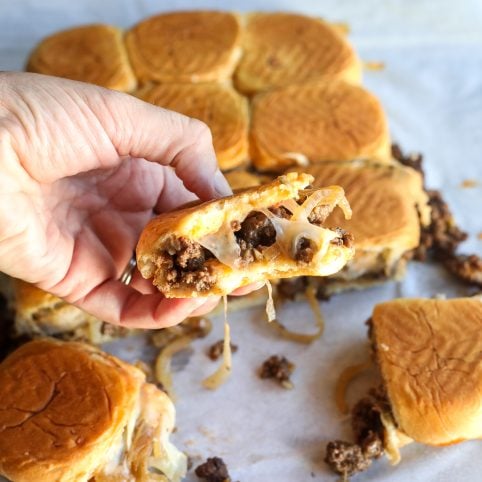 Patty Melt Sliders
---
Description
These Patty Melt Sliders are perfect for any gathering and are absolutely delicious!!
---
2 tbsp avocado oil (separated)
1 lb ground beef
1 packet Lipton Beefy Onion Soup Mix
1 yellow onion, sliced
1 tbsp worcestershire sauce
1 12 pack hawaiian rolls
Thousand island (or favorite burger sauce)
6 slices swiss cheese
---
Instructions
Preheat oven to 425 degrees.
Place a pan over medium heat and add 1 tablespoon of oil to the pan.
Cook ground beef in pan, breaking it up until browned.
Add packet of beefy onion soup mix to the pan and stir to combine. Set ground beef aside.
In (another or the same) pan, add the other 1 tablespoon of oil to the pan with sliced onions. Cook for 10 minutes on medium low heat, stirring occasionally.  Then add in 1 tbsp worcestershire sauce and cook for 2 more minutes until soft.
To assemble sliders, slice hawaiian rolls in half lengthwise.
Spread just enough burger sauce to coat on both sides.
Add ground beef to the bottom half and spread evenly. Then spread onions across the beef.
Lay the swiss cheese slices on top then add the top layer of rolls.
Place sliders on a parchment paper lined baking sheet. Spray the top with baking spray then place another piece of parchment paper on top followed by another baking sheet and a heavy pan (i used an 8 inch cast iron skillet).  This pushes the sliders down like a patty melt but not necessary if you don't want them pressed down!
Bake in the 425 degree oven for 12 minutes.
Remove from oven and enjoy!
We are participant in the Amazon Services LLC Associates Program, an affiliate advertising program designed to provide a means for us to earn fees by linking to Amazon.com and affiliated sites.