Paleo Cinnamon Pecan Butter Banana Bread
BEST DAY EVER!!! For so many reasons – number one being this banana bread. And number two being that it is the start of all of the fun holiday festivities going on for the next week.  One of my sisters lives in Montana and has a 3 month old baby I have yet to meet, and they are all coming into town tomorrow for a little over a week!  So of course we are jamming lots of fun into this week – and lots of baking.  If you are getting together with family and want a healthyish baked good/snack around, this banana bread is the ticket.  It's SUPER easy to whip together in your blender and pour into your pan, and features my new favorite nut butter, Pecan Butter!!
Purely Pecans makes their pecan butter with no added oils or refined sugars and have 4 incredible flavors.  Two of them are Whole30 compliant and 2 are fun and lightly sweetened with natural sweeteners.  I recommend getting yourself one of each and using the code "littlebitsof20" for 20% off!  Head to their site here to snag some so you can make this epic bread.  Oh and quick side note on pecans – did you know they contain more than 19 vitamins and minerals—including Vitamins A, B, and E folic acid, calcium, magnesium, phosphorus, potassium and zinc?!  I know, mind blown!  So now you can officially have your banana bread and eat it too. ENJOY!!
This glaze on top might be my best work yet.
Extra toasted pecans just make this bread!!
If you love this Banana Bread we have a few more variations for you to try:
Orange Clove Almond Flour Loaf Cake
Paleo Gingerbread Banana Bread
Grain Free Double Chocolate Banana Bread
Grain Free Toasted Coconut Carrot Cake Loaf
This post was sponsored by Purely Pecans but all views are 100% my own!
Pin the image below to save this Paleo Cinnamon Pecan Banana Bread recipe for later!
Print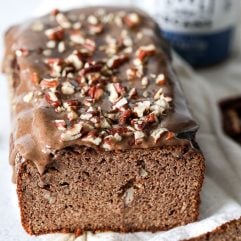 Paleo Cinnamon Pecan Butter Banana Bread
---
2 cups mashed ripe bananas (about 4 bananas)
4 eggs
1/2 cup Purely Pecans Pecan Butter
4 tablespoons melted ghee or coconut oil
1/4 cup coconut flour
1/4 cup + 2 tablespoons almond flour
3 teaspoons cinnamon
1 teaspoon baking soda
1 teaspoon baking powder (look for gluten free to make paleo)
1 teaspoon vanilla
pinch of sea salt
⅓ cup chopped raw pecans
⅓ cup Purely Pecans Pecan Butter
1 tablespoon maple syrup or honey
3 tablespoons refined coconut oil, melted
¼ cup chopped toasted pecans
---
Instructions
Preheat your oven to 350 degrees. Combine your bananas, eggs, and pecan butter, and ghee in a high powered blender or food processor and mix well.
Once all of your ingredients are blended, add in your coconut flour, almond flour, cinnamon, baking soda, baking powder, vanilla, and sea salt and mix well.
Pour your batter in a 8×4 inch loaf pan that has been greased with oil spray and sprinkled with a little almond flour. Place in your preheated oven and bake for 30 minutes, then add some foil to the top and bake for another 20 minutes. (50 minutes total) or until a toothpick inserted into the center comes out clean.
To make frosting, combine ⅓ cup pecan butter, maple syrup and coconut oil.  Drizzle all over cooled banana bread then top with some toasted pecans.
It can sit on the counter for a day but then I would store in the fridge to preserve it up to a week.
We are participant in the Amazon Services LLC Associates Program, an affiliate advertising program designed to provide a means for us to earn fees by linking to Amazon.com and affiliated sites.