Grain Free Double Chocolate Banana Bread
This was the second time I made this banana bread & DANG it is super delish!!  It is grain free and I love that I just throw everything in a blender to mix it up then pour it into the pan.  Easy peasy.  I also love that I gave this to two of our neighbors (hey hey if you're reading!) and they LOVED it!! That is what baking is all about right?  Making people happy?  I think there is nothing better than baking a friend a loaf of banana bread or some cookies.   I think I have been liking to bake more and more lately from my new addiction of watching the Great British Baking Show on Netflix.   It is so flipping delightful and everyone is nice and British and the hosts are hilarious.  They also make crazy decadent breads, cookies, pies, cakes and i'm not gonna lie, it gives me inspiration!! I always watch and think, how can I make that healthy??  I haven't seen them do banana bread yet but I'm still only on season 2 so we shall see!
Now let's talk about chocolate.  In this bread I used Enjoy Life Chocolate chunks because they are pretty clean and allergy free, but if you want super paleo banana bread I suggest using Eating Evolved or Hu Kitchen Chocolate that is sweetened with coconut sugar and chop it up!  I've done that before too and it is so delish!  Then all you need is a good slather of almond butter for the most delicious treat of your week…. or month? Life?   I mean I don't want to get your expectations too high but trust me, it's good!  Okay on to our next piece of business – I got a new camera!! Now I will have to tell you more about it next week when I actually have photos using it because these are still with my old one, but trust me, it is amazing!! I am so excited to have upgraded and can't wait to keep pumping out great content for you!
The chocolate chunks make life so much better!
Have a chocolate craving that needs to be filled:
Peanut Butter Bars with Chocolate Ganache Icing
Chocolate Raspberry Swirl Cookies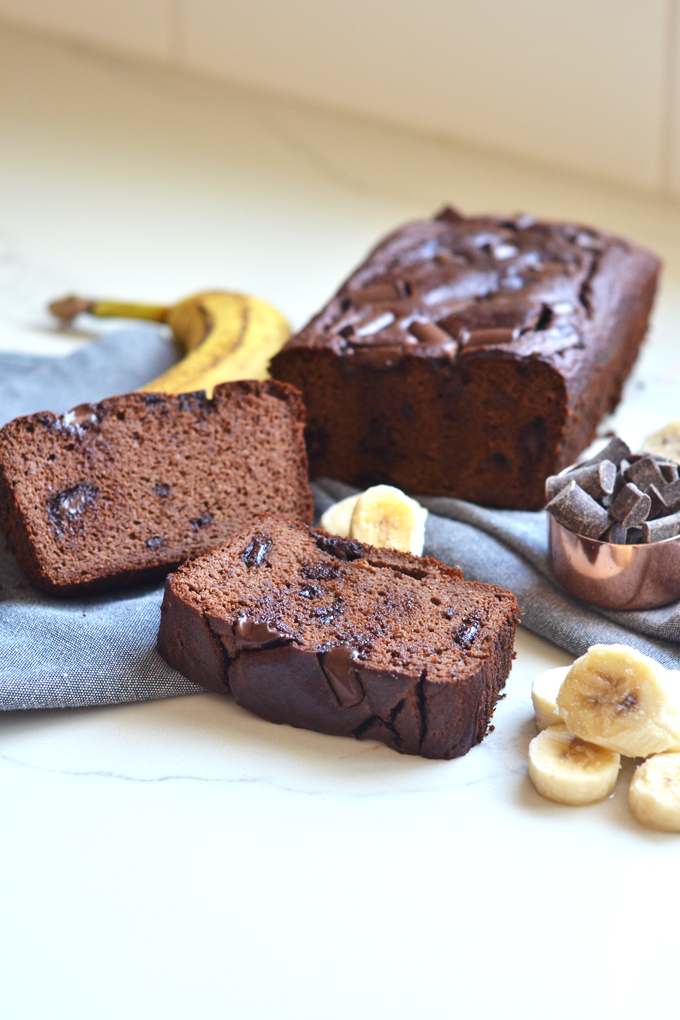 Pin this Grain Free Double Chocolate Chunk Banana Bread recipe for later!
Print
Grain Free Double Chocolate Banana Bread
---
2 cups mashed ripe bananas
4 eggs
1/2 cup almond butter or cashew butter
4 tablespoons melted ghee
1/4 cup coconut flour
1/4 cup almond flour
¼ cup + 2 tablespoons cacao powder
1 teaspoon baking soda
1 teaspoon baking powder (look for gluten free to make paleo)
1 teaspoon vanilla
pinch of sea salt
½  cup chopped chocolate chunks
---
Instructions
Preheat oven to 350 degrees.  In a blender or food processor combine mashed bananas, eggs, nut butter and ghee.  Blend for 10 seconds or until combined.
Add in coconut flour, almond flour, cacao powder, baking soda, baking powder, vanilla and salt. Blend again until completely combined.
Add in chocolate chunks and pulse once or twice just to incorporate.
Pour into a greased 8 x 4 inch loaf pan and top with a few extra chocolate chunks.
Bake for 45 minutes or until a toothpick inserted comes out with just few crumbles.
If you are looking for another fabulous banana bread to try, check out this one from The Whole Smiths!
We are participant in the Amazon Services LLC Associates Program, an affiliate advertising program designed to provide a means for us to earn fees by linking to Amazon.com and affiliated sites.