Paleo Chocolate Syrup
I am so excited to get this recipe to you!! I have been doing chocolate milk Friday with Ruthie for a month or two now and it's our favorite day.  It all started this summer when I once bought hershey's chocolate syrup for a dessert and then thought I would introduce Ruth to the beauty of chocolate milk.  Then she loved it so much that she started asking for it almost every day and I would give her a cup.  Then I realized that we couldn't go on drinking chocolate milk every day, so chocolate milk Friday was born!
Now it's a super special day of the week that she loves and wakes up on Fridays saying "IT'S CHOCOLATE MILK FRIDAY!"  So of course I had to make my own cleaner version of chocolate syrup and it turned out so so well.  This stuff is a simple mix of cacao powder, coconut sugar, almond milk, vanilla and salt.  You can use any non-dairy milk you like to make this too. I hope you make some and keep it in your fridge to last you the holiday season and beyond!  It's great in chocolate milk but HELLO amazing on ice cream too. I have these plastic squeeze bottles and if your syrup gets a little thick you might just have to cut a bit off of the top!
How to make Paleo Chocolate Syrup
This recipe could not be any easier even if I tried. That is what's soo amazing about it, comes together quickly and you feel great giving your kids chocolate milk. As will any recipe be sure to get all the ingredients out on the counter before you start.
Cacao powder– Cacao power is less processed coco powder and has a higher antioxidant content then classic coco powder.
Almond milk– regular dairy milk works great here as well.
Coconut sugar– a great exchange for white sugar and you do not get the coconut taste from it.
Vanilla extract– gives the syrup a touch of sweetness.
Salt– you always need a just a pinch of salt to level out the sweetness.
We have a few other yummy mix-ins to jazz any drink up:
Maple Pumpkin Spice Simple Syrup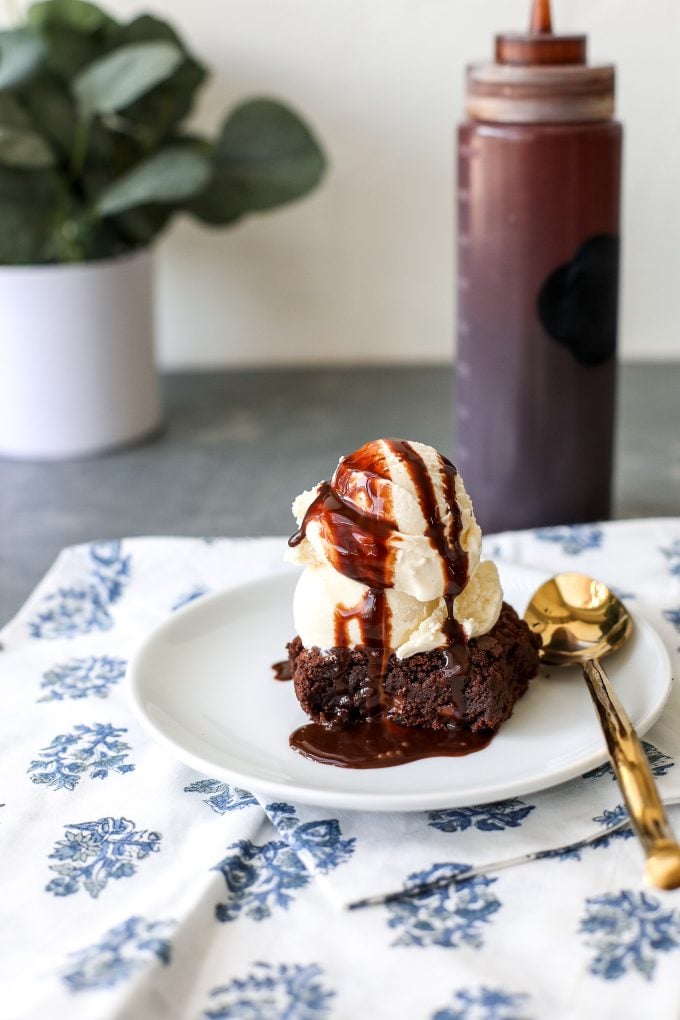 Pin the image below to save this Paleo Chocolate Syrup recipe for later!
Print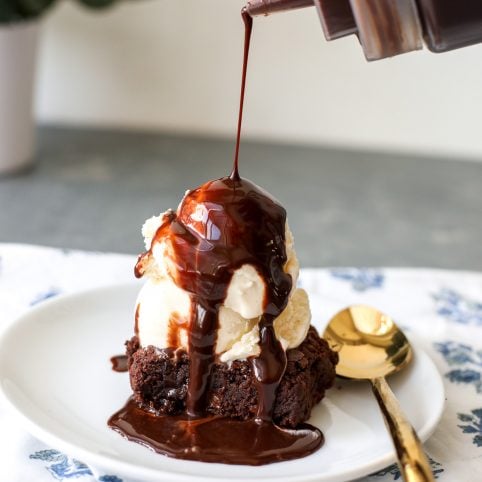 Paleo Chocolate Syrup
---
Author:
Yield: 32 tbsp 1x
½ cup cacao powder
1 cup unsweetened almond milk*
2 cups coconut sugar
½ tsp vanilla extract
Pinch of salt
---
Instructions
Combine all ingredients in a medium saucepan and place over high heat.
Whisk to combine while cooking and bring to a boil.
When it comes to a boil it will rise, if it looks like it is going to boil over, take it off the heat quickly to stir and come back down, then return to the heat.  Boil for about 3 minutes (starting the timer when bubbles start) until the coconut sugar has dissolved.
Let cool slightly then transfer to a squeeze bottle and store in the fridge.
Notes
Any non-dairy milk works!
We are participant in the Amazon Services LLC Associates Program, an affiliate advertising program designed to provide a means for us to earn fees by linking to Amazon.com and affiliated sites.