Orange Creamsicle Cake
Happy First Day of SUMMER!!!!!  It is going to be an amazing summer.  Full of trying new things.  I have been trying to think of a summer bucketlist, but every time I think of something I just do it instead of writing anything down.  For awhile now I have wanted to make an ombre cake.  I probably couldn't pull off the hairstyle, so at least if a cake doesn't look good, I could get rid of the evidence.  I saw this cake on pinterest (of course) and thought it would be the perfect way to start the season.
So many warm days ahead… *sigh*…. 🙂
Back to this cake.  Now when I first saw the cake I new it would be pretty but I had no idea it would taste so good.  And if you like a moist cake, this one is for you.
Start out mixing the cake ingredients (in recipe below)  together, and dividing the batter into 4 bowls.  Then each bowl gets an increasing amount of orange food coloring.  Bake for 15 minutes.
The lighting in my kitchen is not great, but you can tell that each cake gets darker than the one before.  Then I made the creamsicle frosting and frosted the cake like I would any other, starting with the darkest layer at the bottom.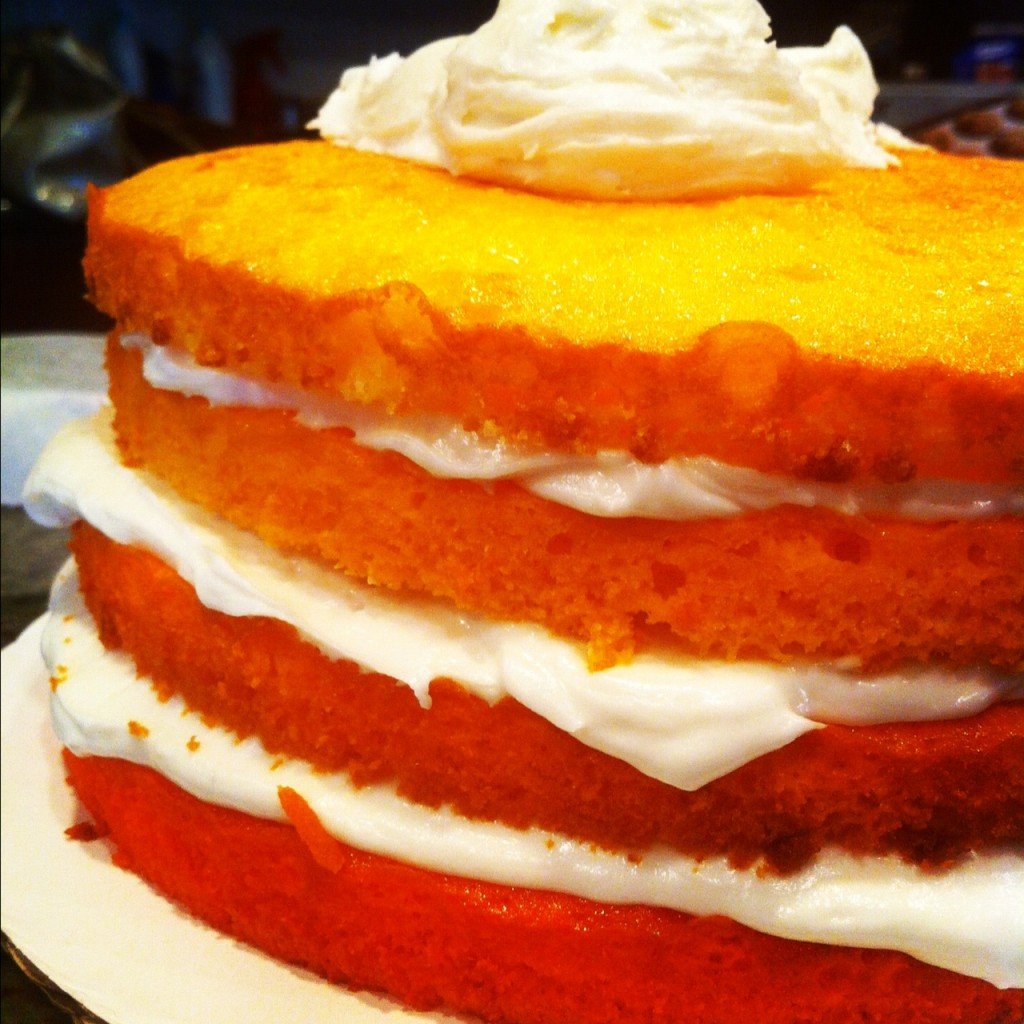 These cakes are very thin, therefore, when I was stacking them, one was off center and there was no moving it back or it would break.  Normally I would probably be upset, but summer is starting and I am just too mellow to let it bring me down.  Thats when you say, "It's supposed to be lopsided! I'm going for the Doctor Seuss look!"  Then I divided up the remaining frosting and dyed it three shades of orange.
Then I frosted it, light orange of the tops, darker in the middles, and dark on the bottom.  Then I just lightly blended them together with a frosting spatula.
I think imperfection is beautiful on this cake!  I kept it in the fridge overnight and brought it to work! They loved it!!
 Such a crowd pleaser both in sight and taste!  Going to a summer party?  Make this cake! 
Print
Orange Creamsicle Cake
---
Cake
1 package white cake mix
1 (4 serving size) package vanilla or cheesecake instant pudding mix
1 1/4 cups orange juice
1 3 oz. package orange flavored Jello
4 eggs
1/3 cup vegetable oil
1 teaspoon vanilla
orange food coloring gel (optional)
Frosting
1 8 oz. package cream cheese, softened
1/2 cup butter, softened
5 1/2 to 6 cups powdered sugar
1 teaspoon orange extract
1 teaspoon vanilla extract
orange food coloring (optional)
---
Instructions
Cake
Preheat oven to 350 degrees. Line bottoms of four 8-inch cake pans with wax paper. Spray pan sides with cooking oil. Mix all ingredients in a large bowl.
For ombre effect: Divide batter evenly into four bowls. Add food coloring gel to three of the bowls, in increasing amounts. Pour into cake pans. Bake for 15-17 minutes, or until toothpick inserted in center comes out clean.
Frosting
In a large mixing bowl, beat cream cheese, butter, orange extract and vanilla. Gradually beat in powdered sugar until desired consistency. If desired, add food coloring and beat to combine.
We are participant in the Amazon Services LLC Associates Program, an affiliate advertising program designed to provide a means for us to earn fees by linking to Amazon.com and affiliated sites.