My Whole30 Experience – Week 2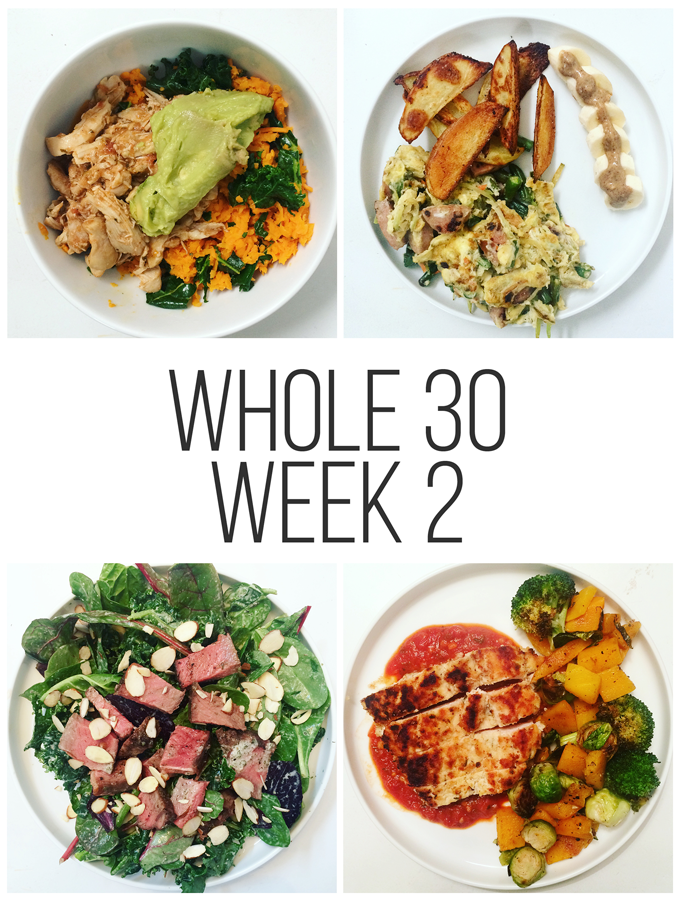 Hey friends! Half way done!! Let's be real. If you are anything like me you do things like this Whole30 or any other way of eating in order to get to an end result. Although I hopefully plan to eat mostly this clean for the rest of my life, the restriction has ROCKED my world. If you are going to take on a challenge like this it is super important to do your research and be mentally prepared. If I hadn't read about it and known how I was "supposed" to be feeling throughout, I am sure I would have given up. 2 things have helped me get through it. 1 – remembering that I am doing this for my health and body. 2 – IT'S ONLY 30 DAYS! Here is how my 2nd week went down.
Day 8: This was a Friday and I woke up SICK! Had a terrible headache, stuffed nose and was exhausted. I called in sick to work and stayed in bed most of the day. Also my hubby was working (he works 24 hour shifts) so I had to muster up the strength to make all of my meals. I was so happy that I did though and just made simple meals that didn't take long. At Trader Joes I got the frozen mashed sweet potatoes and love that you can just pop little discs in the microwave and you are done. For lunch this day I had some of that in a bowl topped with chopped Chicken Apple Sausage and a salad on the side. Simple and effective! Then dinner was Mahi-Mahi, roasted brussels sprouts and sweet potato fries… so good! I also lived on tea this day. Echinacea, ginger lemon and sleepytime vanilla saved me!
Day 9: Woke up still sick but Matt was home so yay! We made a frittata for breaky with crispy hashbrowns and bacon… weekends are for fun breakfasts okay! We finally took down our Christmas decor today and put it all away in storage. We also finally went out and got a filing cabinet to put all of our paperwork we have had in piles for years. Felt so good to organize it! Then for lunch we made this incredible slow cooker salsa chicken with sweet potato rice. I was so good and I plan on sharing the recipe here soon! Then we hung around the house, got powerball tickets, and made a yummy dinner. The pre-cooked sliced beef at Costco is BOMB. We had that with mashed sweet potatoes and green beans.
Day 10: This day I woke up feeling a bit better but still just kind of BLAH. This is the day the whole30 peeps say you are most likely to quit. I was feeling ready to crush it even though I wasn't feeling great. This is when I reminded myself it will be worth it and I only had 20 days left! We had a scramble for breakfast with crispy potato wedges and a banana with almond butter. YUM. This was a day full of blogging new recipes so I made some great stuff! For lunch we had this Ranch Steak Salad and it was so yummy!! You have to try it out. Then we went to see Joy in theaters – it was great! Love J. Law. I can't tell you how hard it is to be in a theater and smell that popcorn and not eat anything! It is crazy how much you realize there is food temptation EVERYWHERE. But I was proud that we only had water and came home to this tasty Chicken Pot Pie Soup I had made that day. We went to bed that night excited for what was to come!
Day 11: Just another manic Monday. Haha had to! The weekdays aren't as exciting as they are full of ya know, work! Ate some yummy stuff once again but this day I had a dentist appointment after work. I had lunch at 12:15ish and didn't think about the fact I wouldn't be home till around 8 PM! I was so surprised I wasn't hungry for about 7 hours of not eating! Before whole30 I would have been starving but my meals have really been keeping me full for so long. I got home and was so happy to see my wonderful hubby made dinner! We ate then went to bed to start watching Making a Murderer – love it!
Day 12: Tuesday was another regular work day, scramble for breakfast and leftovers for lunch. Slowly feeling better by now and definitely noticing that I have solid energy throughout the day which is so nice!! Leaving work with energy is a very nice feeling so today I headed to the gym and did some arms and abs. Dinner was what I call Cheese-less Chicken Parmesan! Basically my Chicken Tenders recipe but with Chicken Breasts and served with marinara!
Day 13: This day I finally felt like my cold was going away! The steady energy continued and we were in the groove! Made it through the day with yummy and easy meals and finished out the day with lots of roasted veggies and pulled pork with rosemary! Another crucial part of Whole30 is making your meals tasty. It makes the process so much more doable and keeps it from getting boring!
Day 14: This day I woke up and there were no eggs in the house! A travesty. So I took a chicken apple sausage and some raw broccoli to work. I cooked them in the microwave and had some guac on the side and a banana too! You gotta make it work. Then leftover pork for lunch and for dinner I made Chicken Thighs coated in my Ranch Mix and roasted brussels. So yummy, i want to put that mix on ERRRYTHANG. By this point I am just dying to get to the tiger blood stage cause I don't think I am there, but good thing take time! Ready to tackle week 3!
To stay up to date on my day to day follow along on Instagram!
We are participant in the Amazon Services LLC Associates Program, an affiliate advertising program designed to provide a means for us to earn fees by linking to Amazon.com and affiliated sites.