Roasted Cornbread Mini Muffins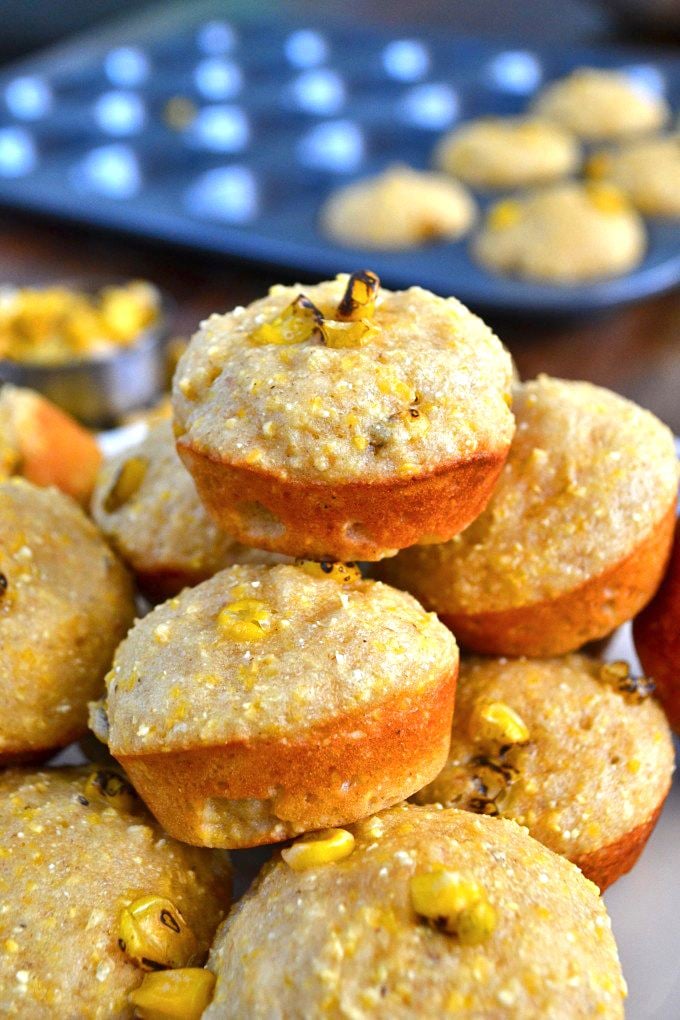 TGICS!!! You know that one right?  Thank God It's Cornbread Season? I don't know about you but there is something about a big hunk of cornbread with a bowl of chili or on the table at thanksgiving dinner that makes it feel like fall.  Warm and sweet, like an acceptable way to eat cake as a side dish.  Well I have been longing for some good cornbread and couldn't find any recipe that didn't have refined sugars, oil or butter, and lots of white flour.  Sometimes I make every healthy switch possible in a recipe and it just turns out awful… but not these!  The only thing I would recommend is eating them warm and fresh out of the oven.  I tried these a few days later and they dried out a bit, but fresh out of the oven they were PERFECT!!  I used Bob's Red Mill Cornmeal and whole wheat flour, greek yogurt instead of oil and honey to sweeten!  And I love the flavor of roasted corn so of course I had to add that.  I also think cornbread is 10x better in mini muffin form.  These are just my beliefs… if you want to dump this in a 13 x 9 and slice it up, be my guest!  But something about the perfectly browned edges on every bite, as well as a perfection portion size, just seems like the best option!
Before —- and —— After
If you love this recipe, we have a few more yummy muffin recipes for you to try:
Lemon Poppyseed Spelt Mini Muffins
Paleo Blueberry Muffin Pancakes
Pin it!
Print
Roasted Cornbread Mini Muffins
---
1 cup whole wheat flour
1 cup corn meal (i used bob's red mill)
1/4 cup honey
1 teaspoon baking soda
1 teaspoon salt
1 cup 2% greek yogurt
2 eggs, beaten
1/2 cup roasted corn (I use trader joes frozen)
---
Instructions
Preheat oven to 400 degrees. Spray a mini muffin tin with cooking spray (i used TJs coconut oil spray) and set aside. In a medium bowl, combine all ingredients but corn until full combined. Then fold in corn until just evenly distributed. Scoop batter into your mini muffin pan until it is level with the top of the pan (see photo). Bake for 10 minutes or until a toothpick inserted comes out clean. Enjoy with a big bowl of chili!!
We are participant in the Amazon Services LLC Associates Program, an affiliate advertising program designed to provide a means for us to earn fees by linking to Amazon.com and affiliated sites.