Linzer Cookies
Valentines day is approaching.  It is time to start immersing yourself in all things heart shaped and pink.  Many people think of v-day as a "hallmark holiday" or think you should treat your loved ones special everyday not just one day!  Well I think those people just don't appreciate a nice heart shaped cookie.  The good thing about these cookies is that you can make them any shape you like, so everyone can be happy! These crispy cookies have a wonderful blend of almond, lemon and cinnamon flavors that are guaranteed to make you smile! (and possibly spill powdered sugar down your shirt…)  First you have to make your dough and chill it in the fridge for a bit.  Then take your dough and roll it out.
 You will need 2 different sized cookie cutter of the same shape to achieve this.  Bake and let cool.
 Sprinkle powdered sugar over the tops.
 Scoop some seedless jam into a ziploc bag, cut off the corner and pipe into a heart a little bigger than the opening of the top cookie.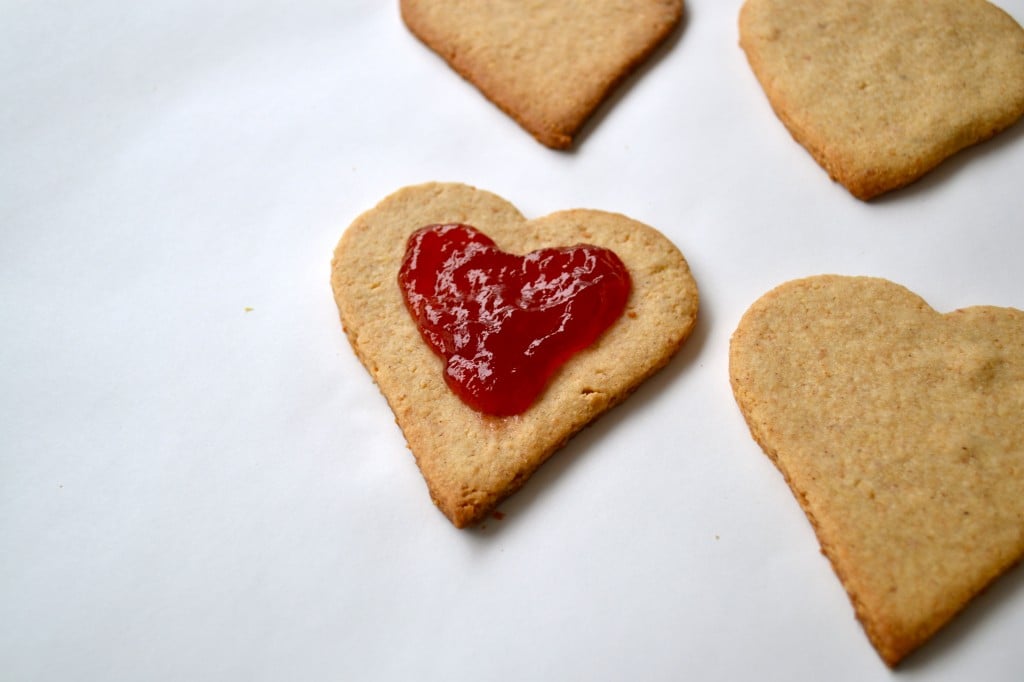 Then place the powdered cookie on top.
 Then give them to your sweetheart…. or eat them all and no one will know…
Print
Linzer Cookies
---
1 cup almonds, toasted and skinned
8 Tbls. (1 stick) unsalted butter, at room temperature
1⁄2 cup granulated sugar
1 egg yolk
1 tsp. finely grated lemon zest
3⁄4 tsp. vanilla extract
1⁄4 tsp. almond extract
1 cup all-purpose flour
1⁄2 tsp. ground cinnamon
1⁄4 tsp. salt
About 1⁄4 cup seedless raspberry or strawberry jam
Confectioners' sugar for dusting
---
Instructions
In a food processor, finely grind the almonds using short pulses. Set aside.
In a large bowl, using an electric mixer, beat the butter on high speed until fluffy and pale yellow. Add the granulated sugar and beat until combined. Reduce the speed to low. Add the egg yolk, lemon zest, vanilla and almond extract and beat until blended.
Sift together the flour, cinnamon and salt into another bowl. Add the ground almonds and stir to blend. Add the flour mixture to the butter mixture and beat on low speed until blended. The dough should be soft. Turn the dough out onto a work surface, divide into 4 equal portions and wrap each in plastic wrap. Refrigerate until chilled, about 1 hour.
Preheat an oven to 350°F. Lightly grease 2 baking sheets or line with parchment paper.
Remove 1 portion of the dough at a time from the refrigerator and roll out 1⁄4 inch thick on a floured surface. Using a cookie cutter, cut out the cookies. Using a small cutter of the same shape, cut out the center of half of the cookies. Repeat with the remaining portions of dough, then reroll the dough scraps as needed. If the dough becomes sticky, wrap it in plastic wrap and freeze for 10 minutes before rolling out.
Using a thin spatula, carefully transfer the cookies to the prepared baking sheets. Bake until the cookies are firm to the touch, about 12 minutes. Transfer the baking sheets to wire racks. Loosen the cookies with the spatula, but leave the cookies on the sheets until thoroughly cooled.
To assemble, spread the solid cookies with a thin layer (about 1 tsp.) of jam to within about 1⁄4 inch of the edges. Dust the cutout cookies generously with confectioners' sugar. Top the solid cookies with the cutout cookies.
Enjoy!!
Recipe adapted from Williams Sonoma
We are participant in the Amazon Services LLC Associates Program, an affiliate advertising program designed to provide a means for us to earn fees by linking to Amazon.com and affiliated sites.