Key Lime Pie
Oh Tuesdays.  I haven't quite figured out if I like you yet.  I feel like my attitude towards certain days of the week changes frequently depending on how cute my outfit is that day, or what I had for lunch.  This is probably the reason my friend/co-worker, Lindsey, and I like to try to be as fashionable as we can throughout the week.  Wearing a cute outfit can lift your mood like nothing else.  I cannot wait for you to hear all about our wonderful office wardrobes from Lindsey herself, who will be the fashion expert here at Little Bits of.
You want to know another thing that can lift your mood?
PIE!
So remember how I have 2 sisters?  And one lives far far away now?  Well the other one lives right here in Southern California with me!  We have too much fun together.  We laugh too much, we drink too much, we check our facebooks too much.  It's BANANAS!  But it is also pretty awesome.  So when thinking about what dessert I was going to write about next, I decided to get crazy.  I have a lot of great recipes in my back pocket that I have made multiple times, but one dessert I had never made was Key Lime Pie.
Have you ever been to California Pizza Kitchen and had their Key Lime Pie?  Well if you haven't you should drop whatever you are doing and go! And if you can't do that then make this recipe ASAP!  My sister's favorite dessert ever is CPK's Key Lime Pie, and I was pretty nervous to try to beat it.  Without further adieu, here is how to make the best Key Lime Pie Ever!
First you have to crush your graham crackers.  Whenever a recipe calls for crushing anything, my usual method is throwing it into a Ziploc bag and bashing it with a large metal spoon until I reach the desired crumbs.
Next I mixed them with some butter and sugar, then tossed it in a greased 9″ pie pan.  When pressing down the crust I used a vanilla bottle (you can use any kind of bottle, or just your hands), to make sure the crust was compact and even.
Pop that bad boy in the oven for about 10 minutes and it is ready.  Then the filling is just 4 ingredients!  First I put my egg yolks in the bowl and mixed them for a couple minutes, then added sweetened condensed milk.
Then I squeezed a whole bag of Key Limes and took the zest off of a regular lime, and added them to the mix.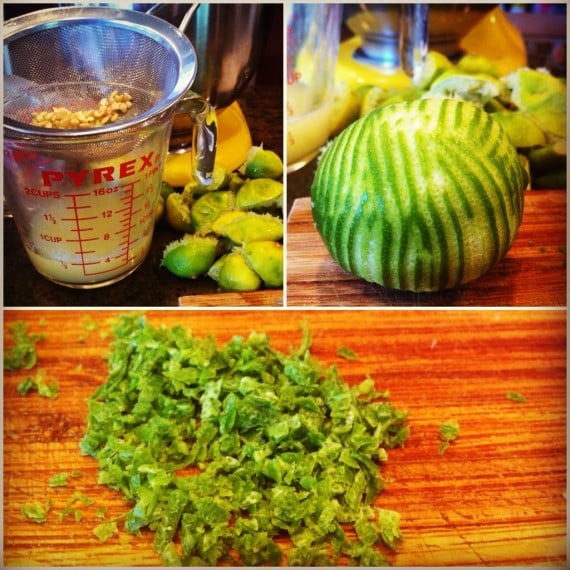 And it was ready to bake!  Just pour the mixture into your prepared crust and bake for 14 minutes!
 And guess what? My sister loved it!! YAY!!  So delicious and easy, it would be a crime not to try it yourself! 😉
Print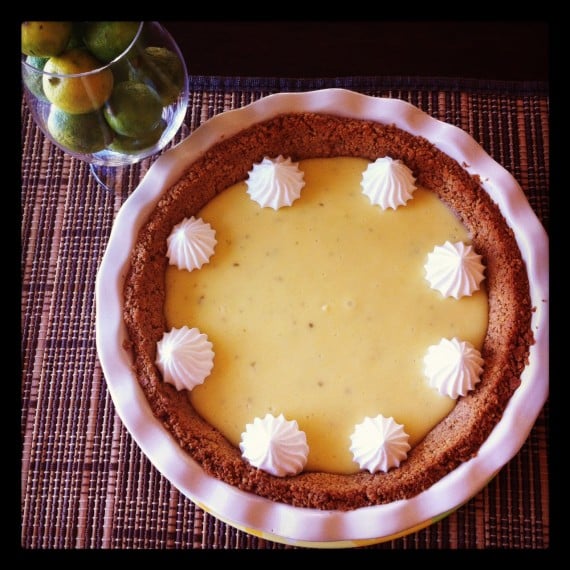 Key Lime Pie
---
For the Filling:
4 Extra Large Egg Yolks
2 Teaspoons grated lime peel
1 Can (14 oz) of sweetened condensed milk
The Juice from 12 Key Limes (or half a cup), (if you don't have key limes, about 4 to 6 regular limes will work
For the Crust:
15 Graham Crackers mashed up
3 Tablespoons of Sugar
A quarter pound of butter
---
Instructions
Take all the crust ingredients and mix them in a large bowl and then press them into a 9 inch pie plate. Bake the crust in a preheated oven for 9-10 minutes at 350 degrees (leave the oven on, you'll need it again). Then, with an electric mixer, beat all four egg yolks until they begin to thicken and turn to a light yellow. Stop mixing and add the condensed milk. Then at a low mix speed, add the lime juice slowly and gradually add the lime zest. Pour the mixture into the pie shell and bake at 350 degrees for 11 minutes. Enjoy!
We are participant in the Amazon Services LLC Associates Program, an affiliate advertising program designed to provide a means for us to earn fees by linking to Amazon.com and affiliated sites.