Iced Oatmeal Cookies
Cookies again.  I know I know… it's almost summer and you want more vegetables.  I promise that will happen eventually  but for now… embrace the simple wonder of the cookie.  It's one of those things in life that is too right to be wrong ya know? I am sure you will be going to plenty of parties and barbeques and will need a solid cookie recipe or 6 to dazzle all of your friends and family.
Now I know what you are thinking.  Are these like those wonderful little Mother's Iced Oatmeal Cookies?!  Well yes and no.  The Mother's cookies are crunchy and these are soft.  If you like soft, delicious, iced cookies?  YOU WILL LOVE THESE!!!  They are so simple to whip together and are a real crowd pleaser.
 Make your dough and roll into balls, then flatten each ball like so…
 Bake and cool completely.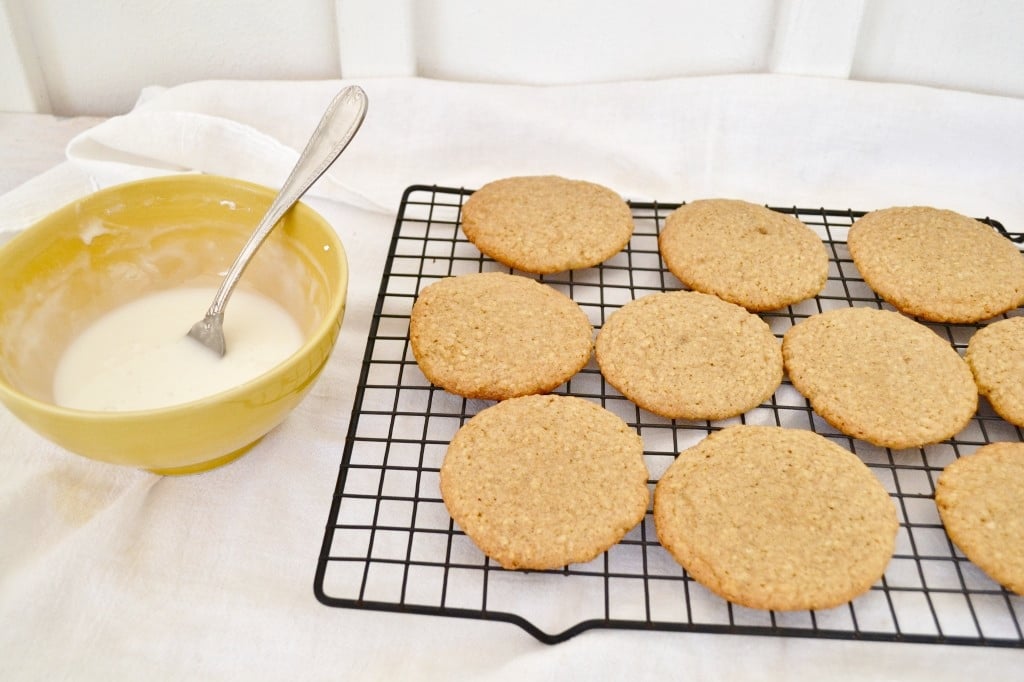 Now frost those cookies!
Print
Iced Oatmeal Cookies
---
cookies:
1 1/2 cups old fashioned oats
2 cups all-purpose flour
2 tsp baking powder
1/2 tsp baking soda
1/2 tsp salt
2 teaspoons cinnamion
1 cup butter, softened
3/4 cup granulated sugar
3/4 cup light-brown sugar
2 large eggs
2 tsp vanilla extract
icing:
2 cups powdered sugar
3 Tbsp milk
---
Instructions
Preheat oven to 350 degrees. Pour oats into a food processor and pulse until partially ground, about 15 seconds. In a mixing bowl, whisk together flour, baking powder, baking soda, salt, cinnamon, nutmeg and ground oats.
In the bowl of an electric stand mixer, fitted with the paddle attachment, whip butter, granulated sugar and light-brown sugar on medium-high speed for about 4 minutes. Add in eggs and vanilla and beat until combined. With mixer set on low speed, slowly add in dry ingredients and mix just until combined (scrape bottom and sides of bowl as needed).
Scoop dough out about 2 Tbsp at a time and drop onto a parchment paper lined baking sheet. Flatten each ball of dough slighty. Bake in preheated oven 11 – 15 minutes. Allow cookies to rest on baking sheet several minutes before transferring to a wire rack to cool completely.
In a mixing bowl whisk together powdered sugar and milk and dip tops of cooled cookies in icing and allow excess to run off by sliding on the side of the bowl. Return to wire rack and allow icing to set. Store in an airtight container at room temperature.
We are participant in the Amazon Services LLC Associates Program, an affiliate advertising program designed to provide a means for us to earn fees by linking to Amazon.com and affiliated sites.