Simple Granola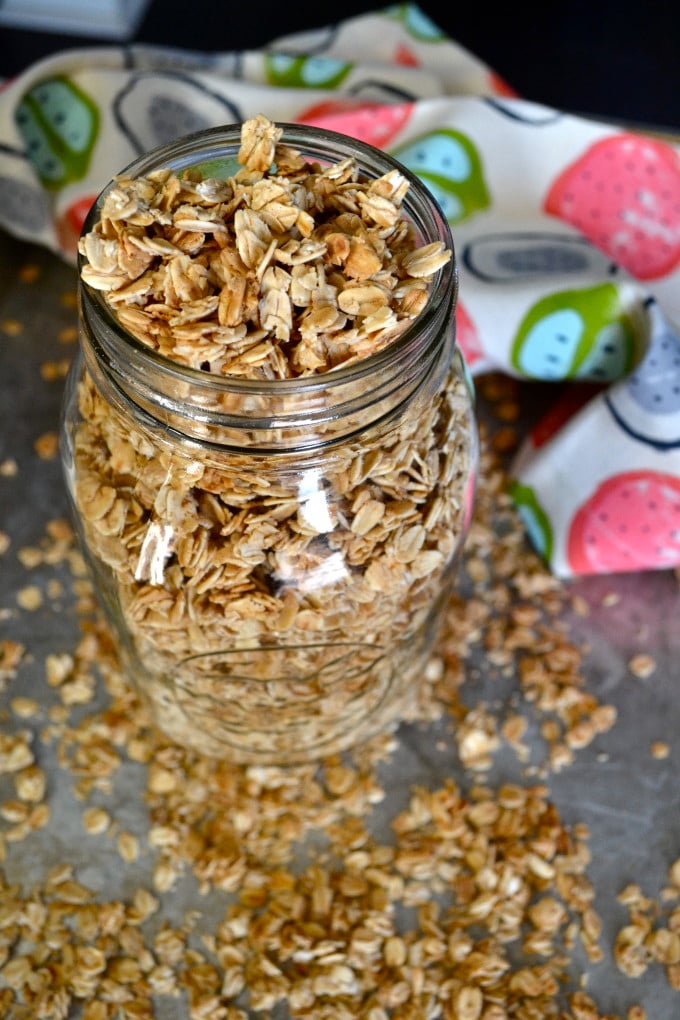 Hey there 2015!  I know I have been MIA the past few weeks but I was selfish and made lots of yummy things and ate all of them without taking pictures. (If I ever go on hiatus in the future and you are extremely worried about me, just follow me on insta!)  Did I mention I ate ALL OF THE THINGS?  Yes I enjoyed my holidays, possibly too much… but that's what January is for!  I am now trying to be super committed to eating well and working out because… i'm getting married in 79 DAYS!!!!!!!!  I'm only a little excited.  I also might be checking the weather in Punta Cana everyday (note: it's always between 82-84).   So in order to be healthy and watch my calorie intake I have to start making most of what I eat from scratch.  I know greek yogurt is super healthy but I need to eat it with granola.  Most granolas have tons of added stuff whether it be nuts or dried fruit that just add to the calorie count.  So I made this stripped down granola that is only 105 calories for 1/4 cup!  Its perfect to add to some yogurt or in a smoothie bowl! Or you can totally eat it by the handful.
Key ingredient in getting this a bit sweet and extra crispy?  HONEY!  Here is a little mix of 1/2 cup of honey and 1/4 cup of water. Microwave it until it is easy to pour!
Then pour over your oats!
Mix well, lay out on a baking sheet and bake!
Then we have beautiful crunchy granola.
Yum yum yum!  This makes 4 cups of Granola. Each serving is 1/4 cup so you come out with 16 servings!
Print
Simple Granola
---
1/2 cup honey
1/4 cup water
1/2 teaspoon salt
1/2 teaspoon vanilla extract
1/2 teaspoon almond extract
4 cups old fashioned rolled oats
sprinkle of cinnamon
---
Instructions
Preheat oven to 300 degrees. Mix honey and water in a bowl and microwave for 45 seconds or until mixture can pour easily. Add salt and extracts to mixture. In a large bowl combine oats and honey mixture. Stir until oats are fulled coated in honey mixture. Sprinkle a little cinnamon in if you please! Pour mixture onto baking sheet and bake for 20 minutes, stir granola, then bake for another 20 minutes. Remove and let cool!
We are participant in the Amazon Services LLC Associates Program, an affiliate advertising program designed to provide a means for us to earn fees by linking to Amazon.com and affiliated sites.