Double Ginger Lemon Paleo Cookies
Oh the beauty of a perfect pair!! Lemon and ginger were basically made for each other. They go well in cocktails and in sweets because they both have a zing to them that is perfect when paired with sugar. My mom is the real ginger/lemon pioneer in the family and has loved the two together for as long as I can remember. That's probably why I love it so much! Now adding them to a paleo cookie? Match made in healthified heaven!
I loaded up on Thrive Market goods last week and coconut sugar has become my lifeblood! You can pretty much use it in place of white sugar in any recipe and it has amazing flavor. I never really understood why they refine sugar so much and take all the flavor and nutritional value out of it to make white sugar. So boring and bad for you! I am also so happy to see that coconut sugar is now in big stores like Ralphs (Kroger) & Vons! The more people buy the good stuff, the easier we will all be able to get it! If it isn't at a store near you now though – you gotta get on Thrive Market and it will be on your doorstep in a few days!
Now for these cookies. I used candied ginger which I know isn't super paleo but they were dehydrated and coated with raw sugar so I let it slide. Any dried ginger would work great in these! They are double ginger because there is also ground ginger in the dough which gives you a super tasty and evenly gingered cookie! I also added lemon zest to the dough and the glaze on top? Well that is just coconut sugar and lemon juice! I melted it together in the microwave them brought it back to room temp before drizzling its goodness all over dem cookies. Let's get baking people!
Here you have your coconut flour, almond flour, baking soda and ginger, ready to be mixed with the wet ingredients.

Then the ginger and lemon zest come to play!
Flatten out that dough because it doesn't spread naturally like regular old boring cookies.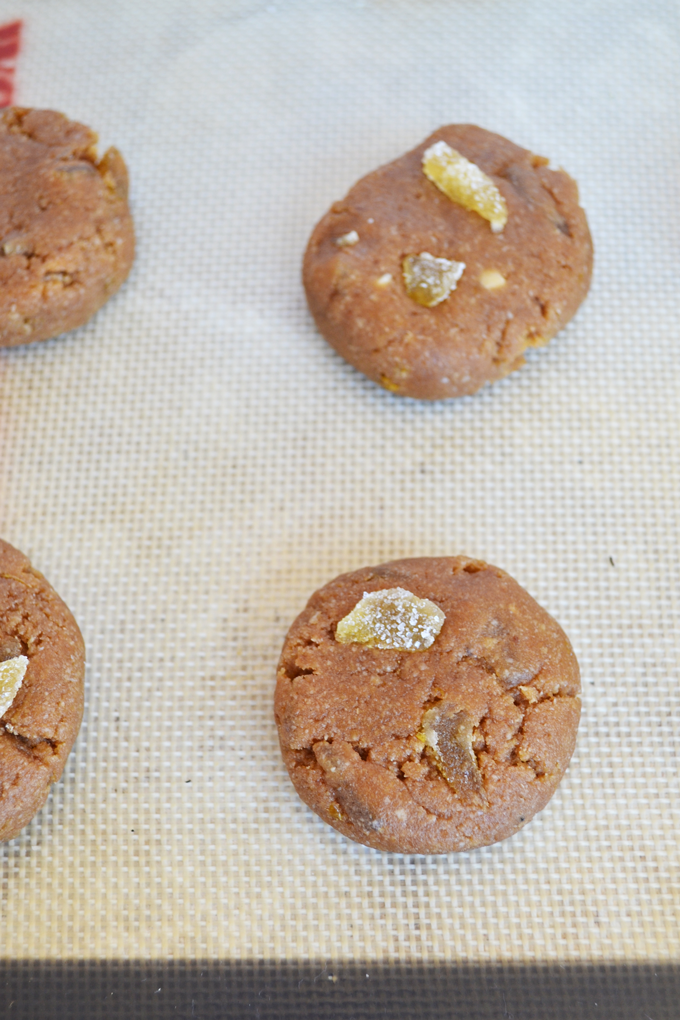 Beauties!! Ready for the drizzle.
Just a little drizzle goes a long way in the flavor & sweetness department. (my favorite departments if you were wondering)
PIN IT!!! 🙂
Print
Double Ginger Lemon Paleo Cookies
---
cookies:
1 egg, slightly beaten
1 teaspoon vanilla extract
1/4 cup coconut oil, melted and cooled
1/2 cup coconut sugar
1 cup almond flour
1/4 cup coconut flour
1/2 teaspoon baking soda
1 teaspoon ground ginger
1 tablespoon lemon zest
¼ cup + 1 tablespoon chopped dried or candied ginger
glaze:
½ cup coconut sugar
2 tablespoons lemon juice
---
Instructions
Preheat oven to 350 degrees F.
In a large bowl, add add in beaten egg, melted and cooled coconut oil, coconut sugar and vanilla extract. (Please make sure your coconut oil is cool!) Next add in almond flour, coconut flour, ground ginger and baking soda, mixing well to combine and form a dough. Fold in lemon zest and candied ginger You may need to use your hands to moisten the dough so that it sticks together well.
Use a cookie scoop or large tablespoon to drop dough onto a baking sheet lined with parchment paper or a silicone baking mat. Gently flatten the dough with your hand. Bake for 12-14 minutes, or until edges are slightly golden brown. Allow to cool on cookie sheet for 10 minutes before transferring to a wire rack to finishing cooling.
For the glaze, combine coconut sugar and lemon juice in a small bowl. Microwave for 30 seconds to dissolve the sugar. Place in the fridge or freezer for a few minutes to bring back to room temperature. Drizzle on cooled cookies!
Makes 10-12 cookies.
*Note: You probably won't use all of the glaze (and thats okay!).
We are participant in the Amazon Services LLC Associates Program, an affiliate advertising program designed to provide a means for us to earn fees by linking to Amazon.com and affiliated sites.