Chewy Coconut-Lime Sugar Cookies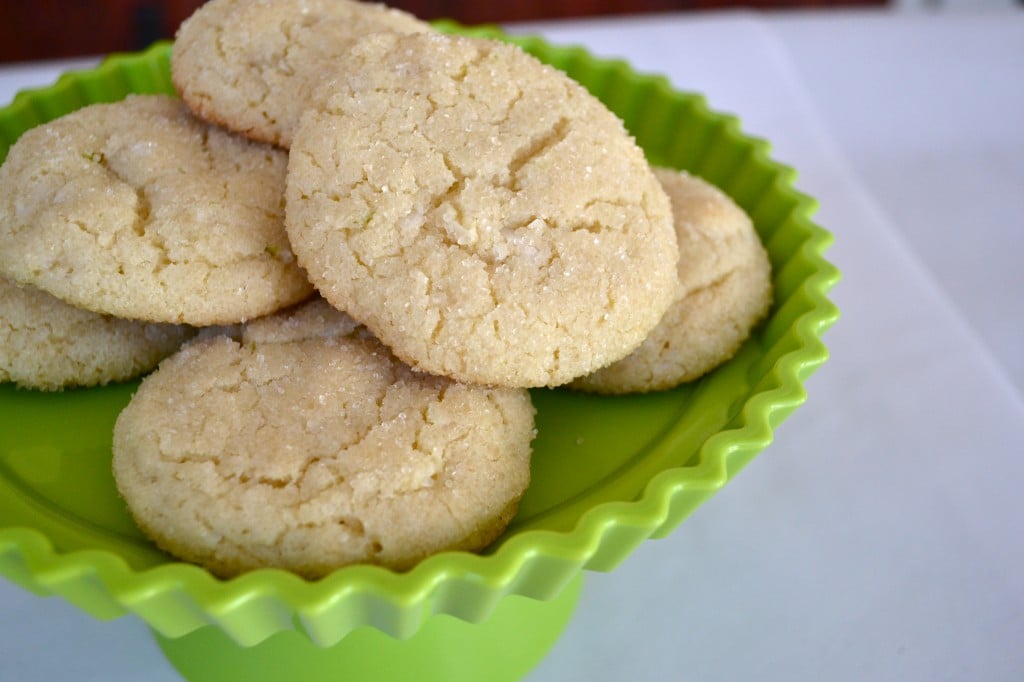 A chewy cookie with a a little crunch is hard to come by.  My friend Katie got me the America's Test Kitchen Cookbook for Christmas.  She knows me well.  This book is amazing! They explain what they are trying to make and take you through their process of testing until they reach the best of the best recipes.  They have mastered the sugar cookie and ways to change it up a bit.  The Coconut-Lime combo caught my eye because I am really into coconut right now.  Let's get started.
 Sugar, cream cheese, lime zest and butter.
 Egg and milk!
 The dry stuff.
 Roll that dough in sugar.
Bake!
Yummmm!
Print
Chewy Coconut-Lime Sugar Cookies
---
2 1/4 cups all purpose flour
1 teaspoon baking powder
1/2 teaspoon baking soda
1/2 teaspoon salt
1/2 cup sweetened shredded coconut, chopped
1 1/2 cups granulated sugar
1 ounces cream cheese, cut into 8 pieces
1 teaspoon grated lime zest
6 tablespoons unsalted butter, melted and hot
1/2 cup vegetable oil
1 large egg
1 tablespoon milk
1 tablespoon lime juice
1/2 cup pure cane organic sugar (large sugar crystals)
---
Instructions
Preheat oven to 350 degrees. Line cookie sheet with parchment paper. Whisk flour, coconut, baking powder, baking soda and salt together in a medium bowl. Set aside.
Place 1 1/2 cups of sugar, cream cheese and lime zest in large bowl. Pour butter over mixture and whisk until combined. Whisk in oil until well incorporated. Add egg, milk, and lime juice, continue to whisk until smooth. Add flour mixture with a rubber spatula until soft dough forms.
Divide dough into 24 equal pieces, about 2 tablespoons each. Using hands roll dough into balls. Working in batches, roll balls in cane sugar to coat and place on prepared baking sheet, 12 balls per sheet. Bake one tray at a time until edges are set and just beginning to brown. 11-13 minutes, rotating sheet after 7 minutes. Let cookies cool for 5 minutes and transfer to wire rack.
Enjoy!
Recipe from America's Test Kitchen Cookbook.
We are participant in the Amazon Services LLC Associates Program, an affiliate advertising program designed to provide a means for us to earn fees by linking to Amazon.com and affiliated sites.