Blood Orange Vanilla Mocktail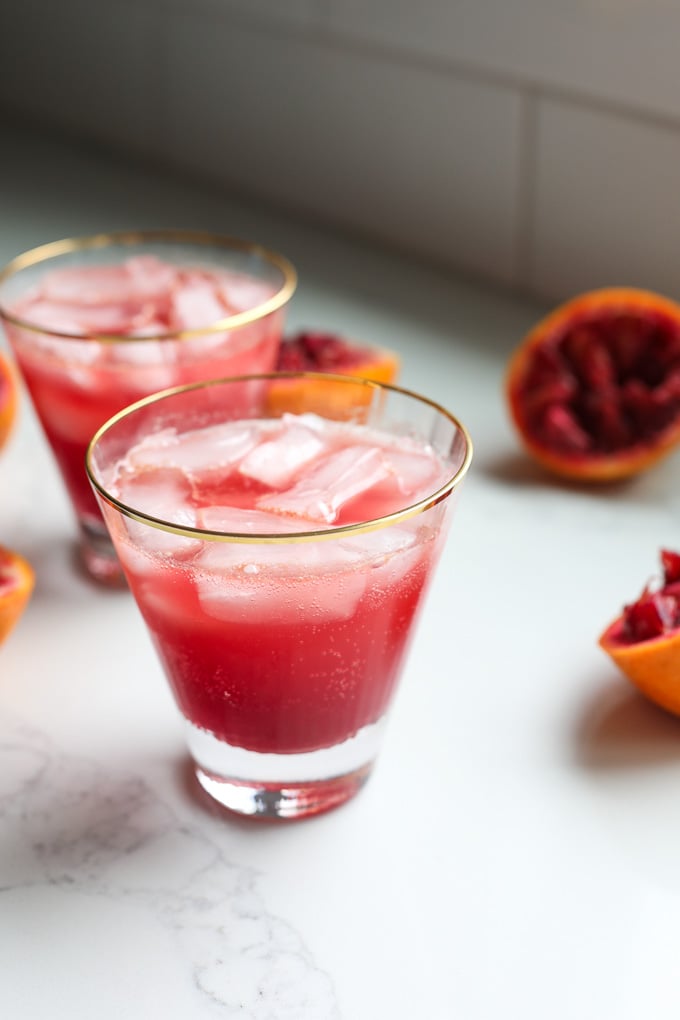 It's Blood Orange season! And most importantly it's about dang time I made a mocktail.  To be honest, not drinking while pregnant has not been nearly as hard as I thought it would be.  The only times I have wanted to is when I am out with friends but when everyone knows your prego it's not that big of a deal.  I have had a glass of wine a couple of times and it wasn't even as good as it used to be because my acid reflux has been raging!  Anyways, there is something about a saturday or sunday afternoon that screams GIVE ME A COCKTAIL… so I wanted to make a fun drink that I could enjoy and maybe add some whiskey to Matt's!  This recipe is super easy – the only hard part is juice those beautiful blood oranges.  But then you can take artsy pictures of them because the camera LOVES them! Not gonna lie, a picture of a blood orange is my iphone background right now.
So tell me, do you enjoy a mocktail on occasion? I think it's fun just to mix up your beverage game without too much sugar – besides the everyday water and la croix of course!  Comment below and let me know if you're going to enjoy this mocktail style or if you are adding tequila…. or vodka or bourbon!? Okay maybe I miss it a little!!
Blood Orange Vanilla – is there anything better!
Need a few other drinks to try out, we have you covered:
Pin the image below to save this Blood Orange Vanilla Mocktail recipe for later!
Print
Blood Orange Vanilla Mocktail
---
1 cup fresh squeezed blood orange juice
1 tablespoon honey
1 teaspoon vanilla extract
2 cups club soda
---
Instructions
Place a saucepan over medium heat and add blood orange juice, honey and vanilla to the pan.  Heat for about 5 minutes, stirring occasionally, until honey is dissolved and the juice has reduced a bit.
Remove from heat, pour into a cup and place in the fridge until cooled.
Fill a glass with ice then top with half of the juice mix and 1 cup of club soda.
Makes 2 mocktails!
We are participant in the Amazon Services LLC Associates Program, an affiliate advertising program designed to provide a means for us to earn fees by linking to Amazon.com and affiliated sites.