Balsamic Brussels Sprouts & Sausage
The perfect quick lunch or side dish for dinner this Balsamic Brussel Sprouts and Sausage is perfect plate anytime of the day.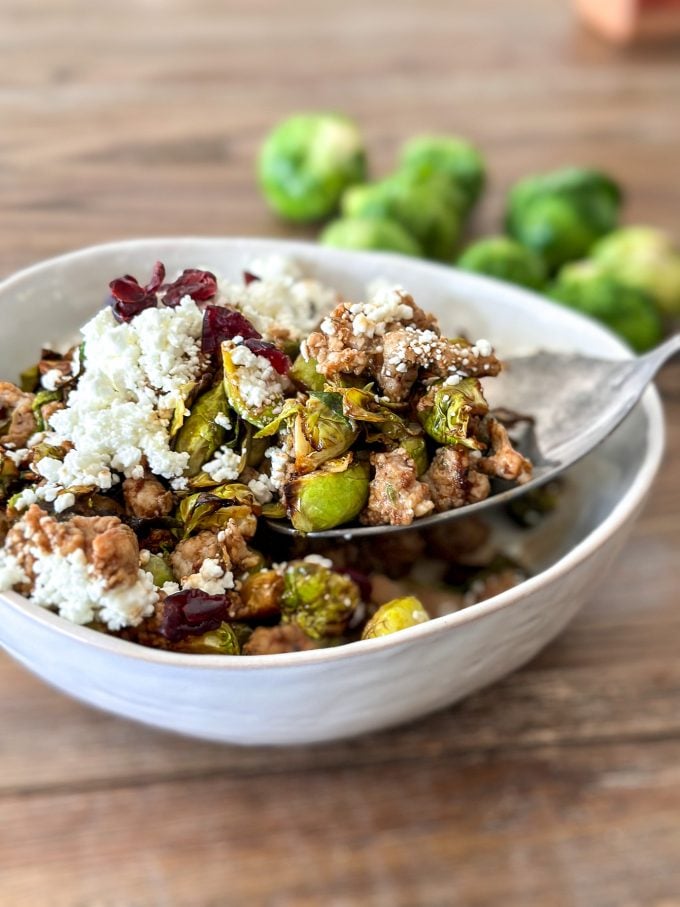 We can all agree that brussel sprouts are delicious and can get a little boring all at the same time. Luckily we have an extremely unique and quick brussel sprout dish to make when you need some greens with a touch of protein. This recipe came out of the desire to cook nutrient meals that are quick and can be all in one. Sometimes I get overwhelmed with the idea that you need to have your veggies and protein and dairy in separate dishes, like it's 1952 and I'm making a 6 course meal for my family. I certainly do not have time for that, but I do love the idea of having them all together in one dish and highlighting each component. 
The brussel sprouts are of course the main character in this dish, but they need a bit of help to jazz them up. Cooking the brussel sprouts in the air fryer gives them an almost crunchy exterior, which pairs perfectly with the balsamic dijon dressing. Tossing this all together with the cooked sausage and topping with crumbled goat cheese and dried cranberries brings all the flavors together to create the perfect quick lunch, side dish for a dinner or maybe even as leftover the next day while finishing the laundry that never seems to be finished. 
Let us know when you make this recipe and what your favorite part was, can't wait to hear what you think!!
Can I use frozen brussels sprout for this recipe?
Sadly this recipe works best with fresh brussels sprouts. Frozen brussels work great in a few other recipes including Shaved Brussels Sprout & Kale Salad with Sweet Basil Dressing or Lemon Garlic Brussels Sprouts . Frozen brussels tend to hold more water in them than fresh which makes them harder to slice and roast, they work great if you are shaving or shredding them for a recipe.
Can I use a different meat?
Feel free to use whatever protein works best for you including ground turkey, ground chicken, breakfast sausage or even chorizo. This is a great recipe to try different iteration changing the protein or cheeses depending on what you're in the mood for.
Once you have these brussel sprouts you will want a new brussel sprouts recipe every week:
Charred Brussels Sprouts & Corn Salad
Cranberry Pecan Brussel Sprouts
Balsamic Bacon Brussels Sprouts
Pin the image below to save this Balsamic Brussels Sprouts & Sausage recipe for later!
Print
Balsamic Brussels Sprouts & Sausage
---
Description
This Balsamic Brussels Sprouts & Sausage dish is a perfect 2 person lunch or dinner or can even be a side dish!
---
1 lb brussels sprouts
1 tbsp oil
1 tsp salt
1 tsp garlic powder
1 tbsp oil
2 sausage links (bratwurst or chicken sausage)
1/3 cup balsamic vinegar
2 tbsp dijon
1/2 tsp garlic powder
salt to taste
1/3 cup crumbled goat cheese
2 tbsp dried cranberries
---
Instructions
Slice the ends off of your brussels sprouts and quarter them.
Place brussels in air fryer and toss with 1 tablespoon oil, 1 teaspoon salt and 1 teaspoon garlic powder.
Air Fry for 8 minutes at 400.
While the brussels sprouts cook, place a medium skillet over medium heat.
Once the pan is hot, add 1 tablespoon of oil.  Remove sausage from the casings and cook in the pan, breaking up the meat and stirring until cooked through.
Remove sausage from the pan and set aside then return pan to the heat.
Add balsamic and dijon to the pan and whisk to combine.
Cook for 5-7 minutes or until reduced.  Add in 1/2 tsp garlic powder and combine.
Once brussels sprouts are done, add them into the pan as well as the sausage and toss to coat.
Season to taste with salt.
Top with goat cheese and cranberries and serve.
We are participant in the Amazon Services LLC Associates Program, an affiliate advertising program designed to provide a means for us to earn fees by linking to Amazon.com and affiliated sites.