Twice Baked Yams with Oat Streusel Topping
It's time to broaden our horizons and try out some new Thanksgiving recipes!  I love cooking Thanksgiving dinners for a few reasons.  I really would love to one day be the "mom that makes the best Thanksgiving dinner EVER."  I want to have a turkey day line up that is so solid that I make the same thing every year.  But until I find those gems, I must keep trying new things! There will always be turkey, mashed potatoes, and then some kind of yams, green beans, cranberry sauce and roll.  But there are tons of variations of those items.  Last year I made a sweet potato gratin of sorts.  It was delish but not life changing.  So this year I thought of these Twice Baked Yams.  Yams are so delicious and sweet and I wanted to add a crunchy topping to highlight their sweetness.  I used oats and pecans for the topping to keep it gluten free and extra tasty.  I think I may have found a new Thanksgiving staple!
Cook those yams then slice in 2.
Scoop out the insides!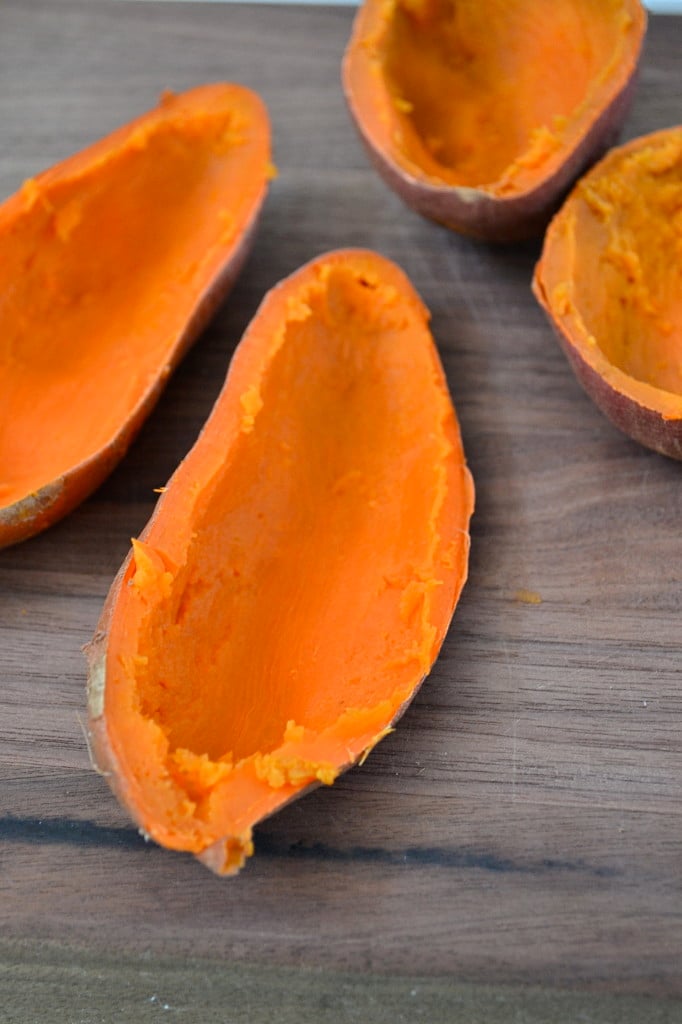 Mix in brown sugar, eggs, butter, cinnamon and evaporated milk.
Then spoon that mixture into the shells.
Then make your topping.  Oats, brown sugar, pecans & melted butter.
Then bake for 15 minutes.
We twice bake all sorts of things and we consider all of them a win, check these recipes out. 
Rosemary Bacon Twice Baked Sweet Potatoes
Chicken Pot Pie Twice Baked Potatoes
Print
Twice Baked Yams with Oat Streusel Topping
---
4 medium red yams
1 1/4 cups brown sugar, divided
1 large egg
4 tablespoons butter, softened and divided
¼ cup evaporated milk
1 teaspoon vanilla extract
1 teaspoon ground cinnamon
¾ cup oats
1/2 cup chopped pecans
---
Instructions
Preheat oven 350°. Pierce yams with a fork, and bake for 45 minutes to 1 hour or until soft. (Or you can pierce with a fork then cook in the microwave. 3 minutes on each side.) Cut in half lengthwise, and scoop flesh into large bowl, leaving ½-inch interior border. Place yam shells on a baking sheet.
To flesh, add 3/4 cup brown sugar, egg, 2 tablespoons butter, milk, vanilla, and cinnamon; mix well. Scoop filling into the shells. In a medium bowl, combine oats, pecans, remaining ½ cup brown sugar, and remaining 2 tablespoons butter (melted). Sprinkle topping over yams. Bake for 15 minutes or until topping is lightly browned and filling is hot.
We are participant in the Amazon Services LLC Associates Program, an affiliate advertising program designed to provide a means for us to earn fees by linking to Amazon.com and affiliated sites.