Spring Veggie Pasta Salad
The pasta salad that will make you want to find any party to bring it to, this Spring Veggie Pasta Salad has all the makings of a perfect bright bowl of goodness.
When I say pasta salad, what is the first thing that comes to mind, the extra mayonnaise ulta white pasta salad that you find in the deli section at the grocery store? That's what usually comes to my mind when the words 'pasta salad' are tossed around; don't get me wrong I love those grab and go options in a pinch. This Spring Veggie Pasta Salad will make your mouth water and want you grabbing another scoop at the cookout. Between the crunchy asparagus, bright citrus lemon vinaigrette and a dusting of goat cheese. 
Let's talk about the reasons we love this recipe. First off, it can be made ahead of time and assembled the day you are eating it, which my friends call the perfect dish for all your warm weather gatherings. Second this recipe is the pinnacle of versatility. Don't have bow tie pasta, no problem use penne or rigatoni or even orecchiette this is your pasta dish to bring to all the hungry children at the next neighborhood pool party so their are absolutely no rules. Last reason this is the next pasta salad for your life, homemade lemon vinaigrette dressing, this will change your perception of store bought dressing. Some people can get intimidated with the idea of making their own dressings, but this one is as easy as they come and absolutely worth it. Only 6 ingredients that I know for sure you most likely have in your kitchen. Combine in a mason jar or glass jar you saved shake vigorously and then use, if you don't use it right away just shake again before adding it to the salad. Now head immediately to the kitchen to see if you have all the ingredients to make this masterpiece!
This pasta salad will need something hearty to go with it:
Grilled Mayo Marinated Pesto Chicken
Air Fryer Maple Roasted Chicken & Sweet Potatoes
Walnut Crusted Chicken w/ Balsamic Pear Compote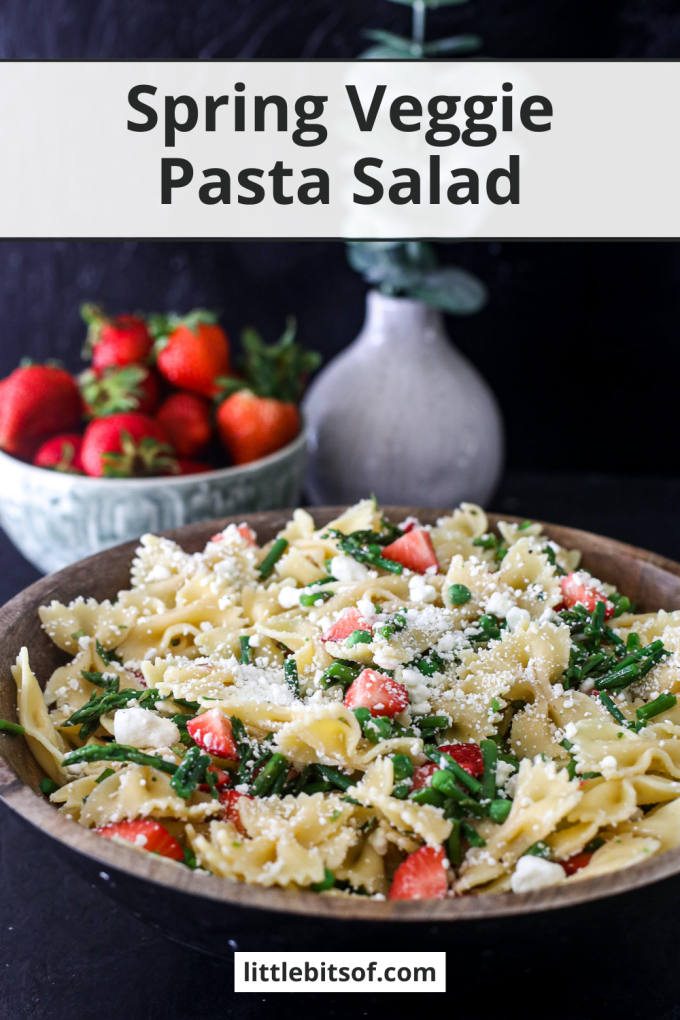 Print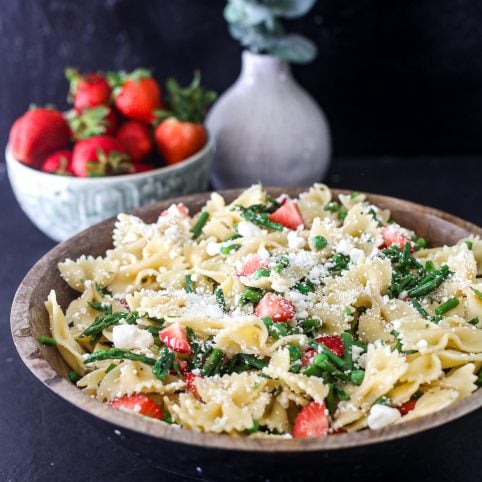 Spring Veggie Pasta Salad
---
Description
This Spring Veggie Pasta Salad is perfectly fresh and delicious, great for spring or summer!
---
1 lb pasta, any shape
12 oz bag of asparagus, chopped
1 ½ cups snow peas or english peas
6 strawberries, chopped
8 oz. crumbled goat cheese
1 tbsp chopped mint
Lemon Vinaigrette:

1/4 cup fresh lemon juice
1 tsp garlic powdder
1 tsp Dijon mustard
1 tsp sea salt, more to taste
1 tsp honey, or maple syrup, optional
1/4 extra-virgin olive oil
---
Instructions
Cook pasta according to package directions then let cold water run over it to cool it down.
Place chopped asparagus and peas in a microwave safe plate or bowl, add 1 tbsp of water and cover then cook for 2 minutes and 30 seconds.
In a jar combine lemon vinaigrette ingredients and shake to combine.
Combine pasta and veggies in a large bowl and top with lemon vinaigrette.  Toss to combine.
Add in strawberries, mint and goat cheese and toss to combine again.
This is good in the fridge for up to 4 days and it best served cold.
We are participant in the Amazon Services LLC Associates Program, an affiliate advertising program designed to provide a means for us to earn fees by linking to Amazon.com and affiliated sites.