Sausage, Apple & Sweet Potato Bake
This Sausage, Apple & Sweet Potato Bake is so easy to make and so delicious – perfect for make ahead breakfast or can be dinner too!
Happy New Year!  Instead of starting the year off with a salad, let's start with a super comforting yet healthy breakfast. Honestly this could be a lunch or dinner too but to make things easy for us, let's call it breakfast.  This sausage, apple & sweet potato bake is also perfect to make ahead the night before then just add some cheese (or don't) and reheat in the oven in the morning.  The sweet spices are obviously perfect for apple but they also pair insanely well with sausage and sweet potato.   And if you are like me, breakfast during the week can be a struggle.  This dish can be prepped on a Sunday and reheated each morning for a cozy and filling start to your day.  This new year I am focusing on movement, learning to keep my house clean, and also limiting desserts after dinner. This dish fits into that model perfectly!
Ingredient List
Green apples
Cinnamon
Nutmeg
Sweet potatoes
Breakfast sausage
Cheddar cheese
Butter
Salt & Pepper
How to make apple, sausage and sweet potato bake
Chop the apples and add them to a small bowl with the cinnamon and nutmeg and stir all together, set aside.
In a large skillet cook your breakfast sausage making sure to break it up as you go. You will want crumbled sausage at the end. When the sausage is all cooked transfer to a paper towel lined plate to drain and set aside
In the same skillet you will next add your chopped sweet potatoes and 2 Tbsp butter along with salt and pepper to taste. Cooking the sweet potatoes should take around 8-10 min or until fork tender.
Next grab a 9×13 baking dish and combine both the sausage and cooked sweet potatoes, set aside while you prepare the apples.
By this time the apples have had minute to marinade in the spices and have some juices come out, this is the perfect time to toss the apples into the empty skillet with the rest of the butter to get just slightly browned around 5 min.
Once the apples are cooked a touch toss those with the sausage and sweet potatoes in the baking dish, feel free to finish the dish off with some shredded cheese before you bake.
Bake at 350 degrees for 12-15 min.
Need an alternative ingredient? Some ideas
Sausage- Turkey sausage.  If you don't want it to be breakfast you could use any ground meat, just make sure and season it accordingly.
Sweet potatoes- yellow, red, or purple potatoes, yams. Essentially any starchy root vegetable.
Green apples- Green apples are the best because of the tartness but any apple you have will work.
Butter- vegan butter, ghee, avocado oil,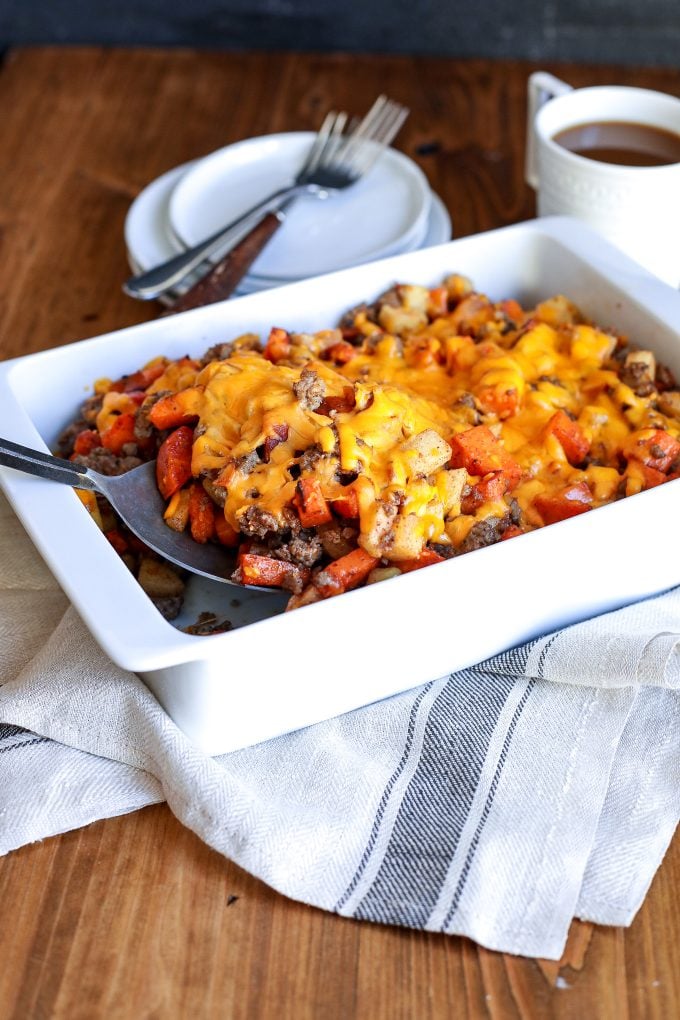 Everything baked in one dish, we love this and we have a few more:
Thai Curry Cauliflower Rice and Chicken Sausage Bake
Broccoli "Cheese" Spaghetti Squash Bake
Print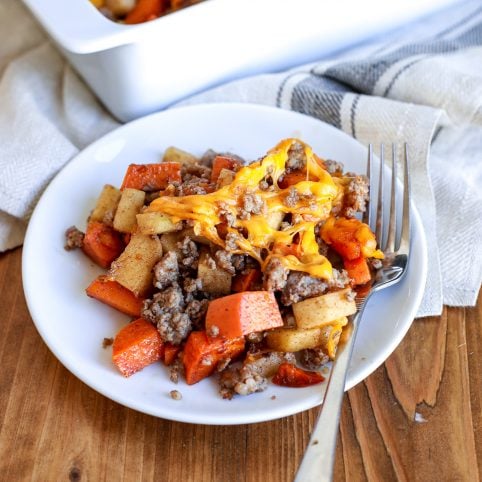 Sausage, Apple & Sweet Potato Bake
---
3 green apples
2 tsp cinnamon
1 tsp nutmeg
2 sweet potatoes
1lb breakfast sausage  (hot, regular any will work)
½ c cheddar cheese (optional)
4 Tbsp butter
Salt and pepper
---
Instructions
In a large bowl mix chopped apples, cinnamon and nutmeg, set aside. 
In a large skillet cook your sausage and crumble it as you go. Once cooked remove and place on a paper towel lined plate.
Next add 2 tablespoons butter, salt and pepper and chopped potatoes to the skillet, cook until just fork tender, 8-10 min.
Add sausage and potatoes to a baking dish, set aside.
Add your chopped apples to the skillet with remaining 2 tbsp butter and cooked until just browned 5 min. Once those have cooked you want to toss the cooked sausage potatoes and apples together in the baking dish, and lightly cover with cheese. 
Bake at 350 for 12-15 min or until cheese is melted.
We are participant in the Amazon Services LLC Associates Program, an affiliate advertising program designed to provide a means for us to earn fees by linking to Amazon.com and affiliated sites.