A Pecan-Packed Holiday Charcuterie Board
This post is in partnership with American Pecans.
Tis the season for charcuterie and this girl is PUMPED!  I am teaming up with American Pecans to bring you a pecan packed board for your Thanksgiving festivities and beyond. Pecans really do have a place throughout your holiday table, from appetizers like this to pecan pie. To prove it, American Pecans created the Pecan ThanksEverything Pie, which showcases eight holiday recipes in one pie, which you can find at AmericanPecan.com/thankseverything.
This board has the classics – cheese, meats and crackers, but is taken to another level with Maple Sage Pecans and a Honey Cinnamon Pecan Spread that you will want to slather on everything. I am also going to show you how to easily blend up some pecans with rosemary and garlic powder so you can coat your goat cheese and make it look super fancy and impressive.
The Maple Sage Pecans are such a flavorful stand and complement any variety of cheese. The best part? Pecans are a powerhouse when it comes to nutrition so they are doing big things to balance out the rest of the holiday madness. Pecans not only have the protein you know and love, but they also have fiber, beta-carotene, vitamin E, 60% DV manganese, 40% DV copper and 10% DV zinc and lots of great phytonutrients. Packs a punch right?
Plus, did you know that pecans are the only major tree nut indigenous to North America? When you cook with American Pecans, you're supporting American grower and sheller families.
I love a variety of crackers in my charcuterie boards because it adds interest to the board and everyone will want to try each kind.  I bought a mix box of crackers at Trader Joes that is perfect for this!
Oh yeah this goat cheese log is incredible! Just buy a 5 or 8 oz log from the store, blend up the toppings and roll it around!
It's beautiful and delicious! For a thanksgiving charcuterie board I love to add ing rosemary and sage around the sides for color.
This Honey Cinnamon Pecan Spread is so simple to whip up in the food processor and a real crowd pleaser.  I love to get a cracker, spread this on top, then add cheese – it's the perfect combo!
Here are a few other recipes to try out:
How to Make a Charcuterie Platter
Shaved Brussel and Spinach Salad with Apple Cider Vinaigrette
Sweet Potato Toast with Pecan Praline Butter
Cantaloupe & Salami Salad w/ Balsamic Glaze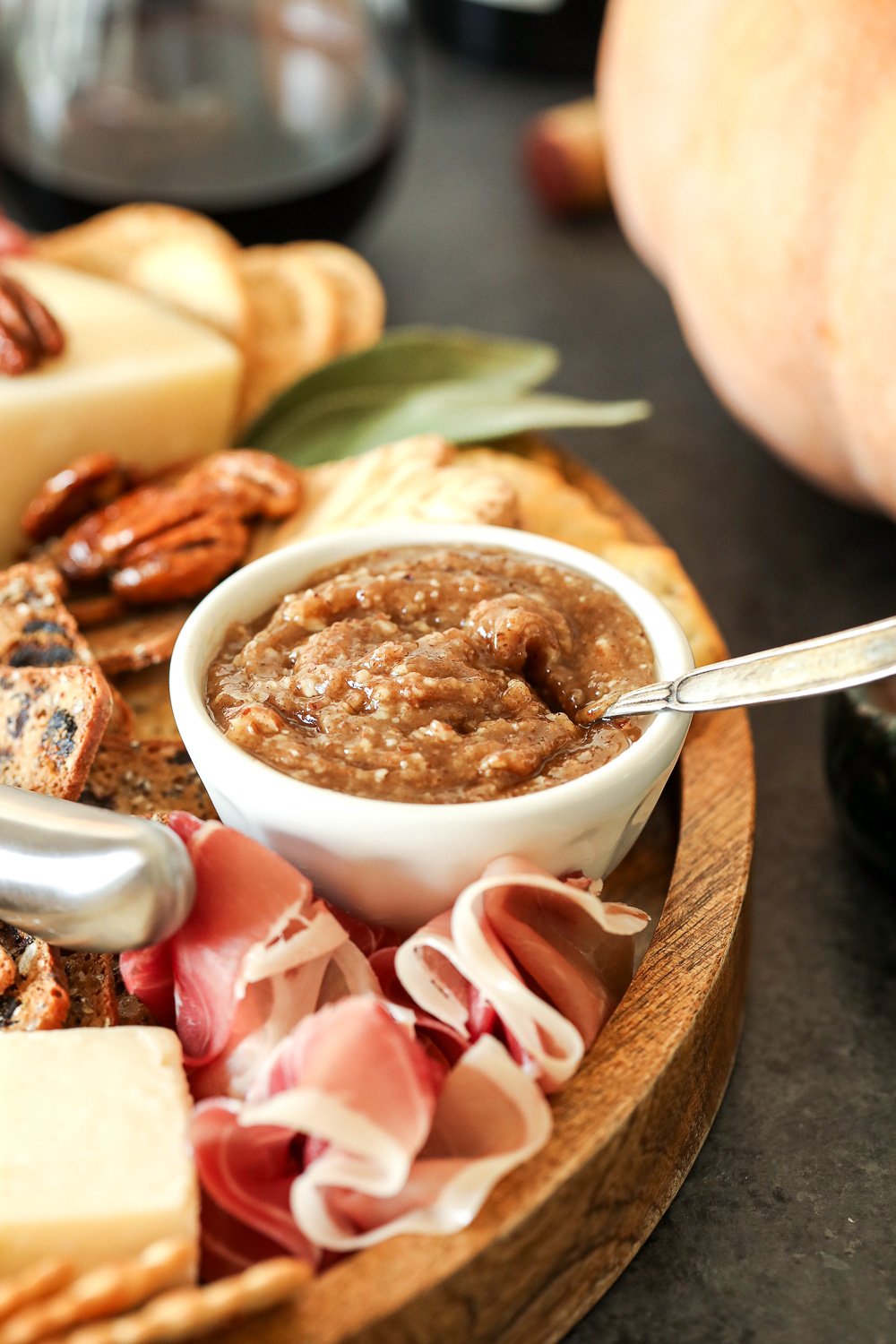 Pin the image below to save this Thanksgiving Charcuterie Board with Maple Sage Pecans for later!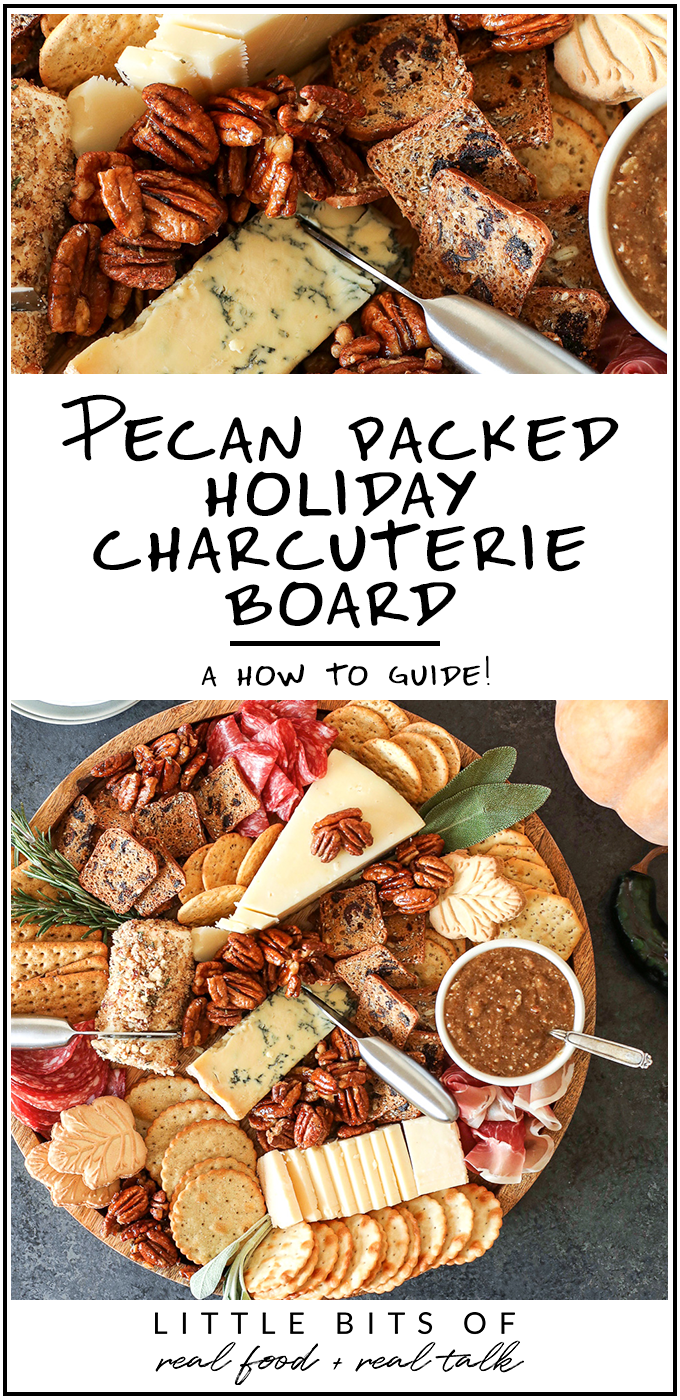 Print
Maple Sage Pecans
---
⅓ cup maple syrup
½ tsp ground sage
½ tsp salt
2 cups pecan halves
2 tsp chopped fresh sage
---
Instructions
Preheat oven to 400 degrees and line a baking sheet with parchment paper.
In a medium bowl combine maple syrup, ground sage and salt.  Add in pecan halves and toss to coat. Add in fresh sage and toss again, then pour onto the lined baking sheet.
Spread the pecans into an even layer and roast for 12-14 minutes or until lightly browned, tossing them halfway through.
Print
Rosemary Pecan Crusted Goat Cheese
---
2 tsp roughly chopped rosemary
1 tsp garlic powder
½ cup chopped pecans
5 or 10oz goat cheese log
---
Instructions
In a food processor combine rosemary, garlic powder and pecans.  Pulse until the pecans resemble large breadcrumbs (like the photo).
Pour pecan mixture onto a plate and place the goat cheese log on top. Roll the cheese in the pecan mixture, pressing it in so it sticks.
Print
Honey Cinnamon Pecan Spread
---
½ cup chopped pecans
¼ cup honey
¼ cup avocado oil
½ tsp cinnamon
---
Instructions
In a food processor, combine chopped pecans, honey, oil and cinnamon. 
Blend on high until the pecans are finely chopped. 
Serve in a small bowl on your charcuterie board.
We are participant in the Amazon Services LLC Associates Program, an affiliate advertising program designed to provide a means for us to earn fees by linking to Amazon.com and affiliated sites.