My Whole30 Experience: Week 1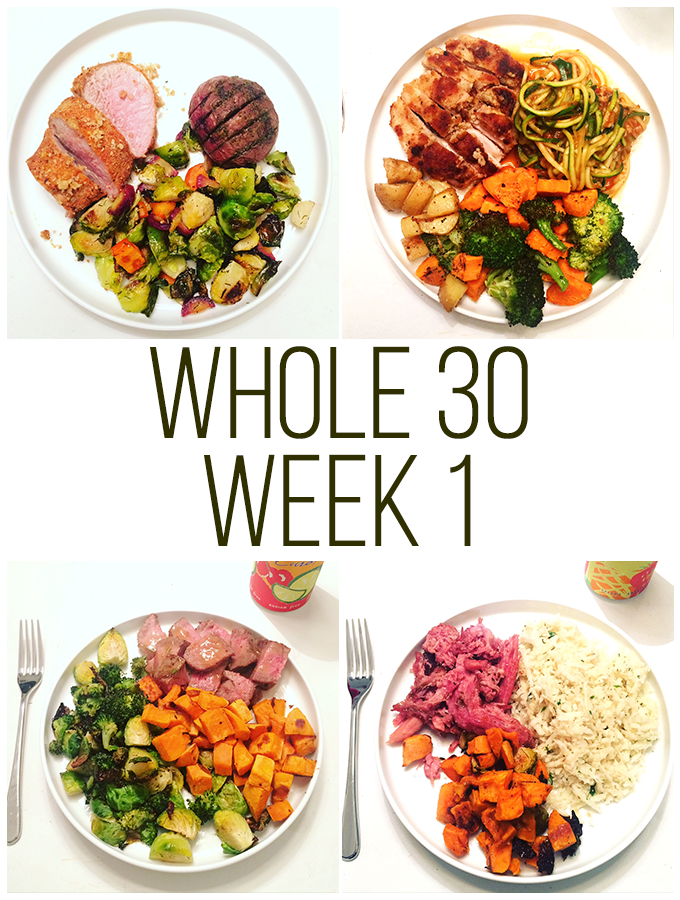 Week 1 of Whole30 is over! I thought I could put together a play by play of how my experience has been so far. Let me tell you it has not been easy. But I am so excited to be doing this! Here is how my week has been:
Day 1: The first day was New Years Day and the perfect day to get started. I was very happy I decided to stay in on New Years Eve and not drink, but the large bar of dark chocolate I had probably wasn't the best idea. We started the day with a super tasty breakfast full of crispy potatoes and a veggie bacon scramble. For lunch it was pesto chicken salad in lettuce cups followed by an apple with some almond butter to keep up full while running errands all afternoon. The whole day we would see things like in-n-out and bite our tongues or the wetzel pretzel sample guy seemingly glaring at us for not taking those sweet cinnamon sugar pretzel bits. We realized then how often we do give into temptation. On a normal day off if we had had a healthy breakfast and lunch we would have said well this fro yo at the mall isn't too bad for us… and we should grab a beer somewhere, we deserve it! But we weren't even hungry. Just our sugar cravings and habit getting the best of us. We got home and had the Walnut crusted pork loin from the Whole30 book, these Pesto Hasselback Potatoes and roasted veggies.
Day 2: This day definitely had it's challenges! I got up with a bit of a headache but it went away once I got going. I had a veggie, chicken sausage & egg scramble and headed out on the road for San Diego! My best besties were down there and we had such a fun day. First challenge was eating out for lunch. We went into little Italy and looked at a few places and decided on one with a salad that seemed good. I got a spinach & beet salad with almonds, tangerines and grilled chicken on it. The chicken was grilled and had just olive oil and salt an pepper on it! I also got just oil and vinegar on the side because their balsamic vinaigrette had sugar in it. Then for dinner we ate at my friends parents house and they made stuff that I could eat! Some grilled chicken, sautéed veggies and salad! By the time i got to my parents house that night I was exhausted and had that headache again. OH! And by this point the thirst had started. I have been so thirsty the whole first week so I have chug-a-lugged non stop.
Day 3: Wake up and the headache is still there. But I stayed at my rents because we were going to see Star Wars! My mom is doing whole30 too so it was so nice to make breakfast together. We made breakfast potatoes & a chicken sausage and veggie frittata. Then, knowing we were going to a 12:30 movie we made lunch and packed it up to eat in the theater! Who knew throwing chicken salad into a ziploc bag with a plastic fork was how you Whole30 at the theater! We also had a bag of chopped apples and some almonds. It was perf and the movie was great! We rushed home after and made yummy steak and tons of veggies. The headache continued but I felt a little thinner at this point and that is always helpful!
Day 4: First day back at work after a nice break and I was ready! I had told everyone at my office I was doing Whole30 so no one can tempt me. Although there have been cookies and cereal in the office kitchen all week. Not cool! By this day my head is still a little foggy but I almost just want to chalk that up to being at work after almost 2 weeks off. By the end of the day, Matt and I were ready to hit the gym! We jumped into the Couch to 10k program my mom and sister have been doing so we jumped on the treadmill and got a quick workout. Then after getting home late we made carnitas out of the pre-cooked pulled pork from costco! We had it with some yummy cilantro lime cauliflower rice and roasted sweet potato. Fell asleep and thought, WE CAN DO THIS!
Day 5: Started to feel somewhat normal again this day but a bit foggy. It was raining though so that was fun! Any weather other than sunshine in Southern California is an EXCITING day. At this point I wasn't low energy but still not super energized. BUT I am definitely noticing that I have a steady amount of energy throughout the day. Make sense? Lunch was leftovers from dinner the night before and dinner was lemon dill mahi mahi and roasted veg!
Day 6: Woke up feeling the best I have so far on day 6. Every morning has been a bit rough to wake up but once I am out of bed I feel functional a lot faster than usual which is nice! I am sure my body also gets going because it is excited for the yummy warm breakfasts I have been having. This day was a lot like day 5 in how I felt, better than the first few days but man I can't wait till day 17! For dinner this night we breaded some chicken thighs in coconut flour & spices, had zoodles with marinara and some roasted veggies. This chicken was so good!! I will have to share the recipes soon but it was similar to these Chicken Tenders.
Day 7: Woke up with a stuffy nose. What is this!? The toxins leaving my body still or a workplace cold going around? Either way I was ready to power through. Breakfast, Lunch & Dinner were on point but my energy was a bit down due to my headache and cold coming on. But hey! It's day 7 and I have made it through one week! By the time I went to bed I could tell my cold was in full effect. So I chugged tea and water and will cross my fingers it goes away soon!
Stay tuned for these weekly updates and more recipes! To keep up with my day to day, follow along on my instagram HERE!
We are participant in the Amazon Services LLC Associates Program, an affiliate advertising program designed to provide a means for us to earn fees by linking to Amazon.com and affiliated sites.