Chocolate Raspberry Swirl Cookies
THESE COOKIES!!  These cookies are double chocolate deliciousness with a homemade (and super easy) raspberry jam swirl on top.  This week I learned two things: making homemade, refined sugar free raspberry jam is very easy, quick and delicious, AND my dog loves chocolatey cookies.  I know I know, dogs shouldn't have chocolate (which is why she spent two days ago at an animal hospital) – but you guys, she couldn't resist these cookies!! I get it, they are delicious and the chocolatey scent wafts through the air until you just NEED one!
I think Sadie (our dog) heard me talking about a cookie exchange and she thought "with me?  Okay mom!". No no Sadie, I like exchanging cookies with humans.  In fact, would you like to participate in an online cookie exchange?  Because my friends at Cal Giant Berry Farms are hosting one!! It is a super fun way to show your cookie skills and find some new recipes for yourself.  Just click on this link and follow the instructions to submit a recipe, get 6 others and then have the chance to win $100 giftcard to the store of your choice!
Once you have entered that fun cookie exchange, try out these bad boys!  Make yourself some raspberry jam – just raspberries, lemon juice, honey, water and gelatin, and use some on these cookies and save the rest for breakfast. Let's do this!
Raspberry and chocolate is my favorite combo!!
Enter to win!
To save this Chocolate Raspberry Swirl Cookies recipe for later, pin the image below!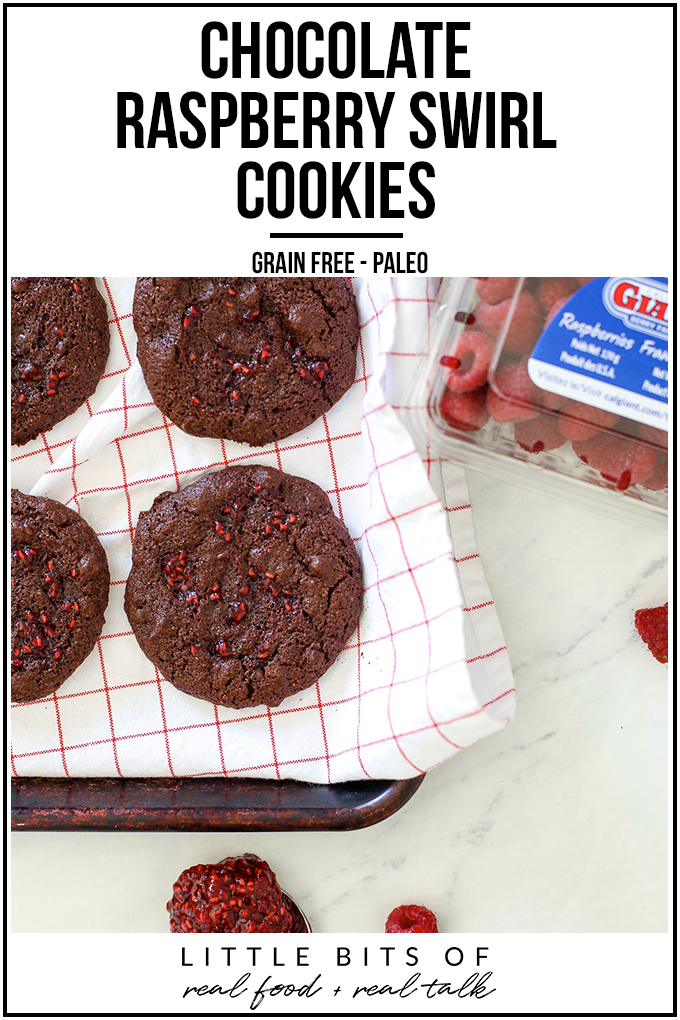 Nutrition for Chocolate Raspberry Jam Cookies
These Chocolate Raspberry Swirl Cookies are paleo, grain free, refined sugar free and so delicious! Because of all these modifications, these cookies are healthy dessert option for those with diabetes or those who are watching their overall calorie intake. One of these cookies comes in at only 106 calories and less than 4 g of fat!
Print
Chocolate Raspberry Swirl Cookies
---
1 egg, slightly beaten
1 teaspoon vanilla extract
1/4 cup ghee, melted and cooled
2 tablespoons nut butter (i used almond)
1/2 cup coconut sugar
1/2 cup almond flour
1 tablespoon coconut flour
½ cup cacao powder
1/2 teaspoon baking soda
Pinch of salt
¼ cup mini chocolate chips
Jam:
1 cup Raspberries
1 tablespoon Lemon juice
1 teaspoon beef Gelatin
¼ cup Honey
½ cup water
---
Instructions
To make jam:
Put the lemon juice in a small measuring cup and sprinkle the gelatin over.
Add the raspberries, water, and honey to a small pot over medium heat. Bring to a low boil and turn heat down to medium low.
Simmer the raspberries for 20 minutes, stirring every few minutes. They will completely break apart.
Break up the gelatin and add to the raspberries, stirring to dissolve. Cool.
Transfer the raspberry jelly/jam to a bowl and place in the freezer to gel as you make the cookies.
Cookies:
Preheat oven to 400 degrees. In a medium bowl combine all ingredients except the chocolate chips.
Once dough is combined, stir in chocolate chips just until they are evenly dispersed.  Line a baking sheet with parchment paper and scoop into 12 balls.
Flatten the balls on the sheet and make sure they are evenly spread apart.  Top each cookie with 3 little dots of raspberry jam and use a toothpick or knife to swirl the jam into the cookie.
Bake for 8 minutes and let cool!
We are participant in the Amazon Services LLC Associates Program, an affiliate advertising program designed to provide a means for us to earn fees by linking to Amazon.com and affiliated sites.