Gourmet Group- Tuscan Harvest
Here are some of my best friends sitting around the fire after another successful gourmet group!  My friend Danielle (striped shirt in the middle) asked if we wanted to start this group at the beginning of the summer because it was a tradition that her parents had been doing with friends for over 20 years.  There are 4 couples in our group and here is the basic idea.  We get together quarterly for a gourmet group dinner so each family hosts once.
Host couple: Plans the theme, decorates, makes a welcome cocktail, the main dish and a side dish.  They also send an email to the group before to tell them the theme and send links to what the other couples are going to make.
Other couple: Brings appetizer and a bottle of wine.
Other couple: Brings a salad and a bottle of wine.
Other couple: Brings dessert and a bottle of wine.
We also have a binder that Danielle made each couple, so when you are the host you print out the recipes for that day so everyone can put them in their binder and we can start a little gourmet group cookbook. AND! Danielle made us these wine glasses that the host keeps and washes then brings to the next one.
So let's talk about our last gourmet group menu – Tuscan Harvest! This was a delicious meal and we all loved every bit.  We have one vegetarian in the group which is always easy because there are so many courses she just doesn't have the meat one.  Here is the menu and if you want to make this meal and print out the menu, here is a handy PDF copy of it!
First off we made this Limoncello Prosecco Sangria that was SO good and dangerous.
Then the appetizer course was Tuscan White Bean Tomato Toasts… i mean YUM!
Next was this amazing Green Kale Salad with Tahini Dressing.  It was seriously tasty and full of flavor!
For the main course we had a Roasted Rack of Lamb that was so easy to make and so delicious! Hard to get a good shot of it once it got dark out, but man was it good.
Then with the lamb we had my Grilled Butternut Squash and Goat Cheese Flatbread!
For dessert we had a Spiced Pumpkin Tiramisu and they made it fun and spooky! 🙂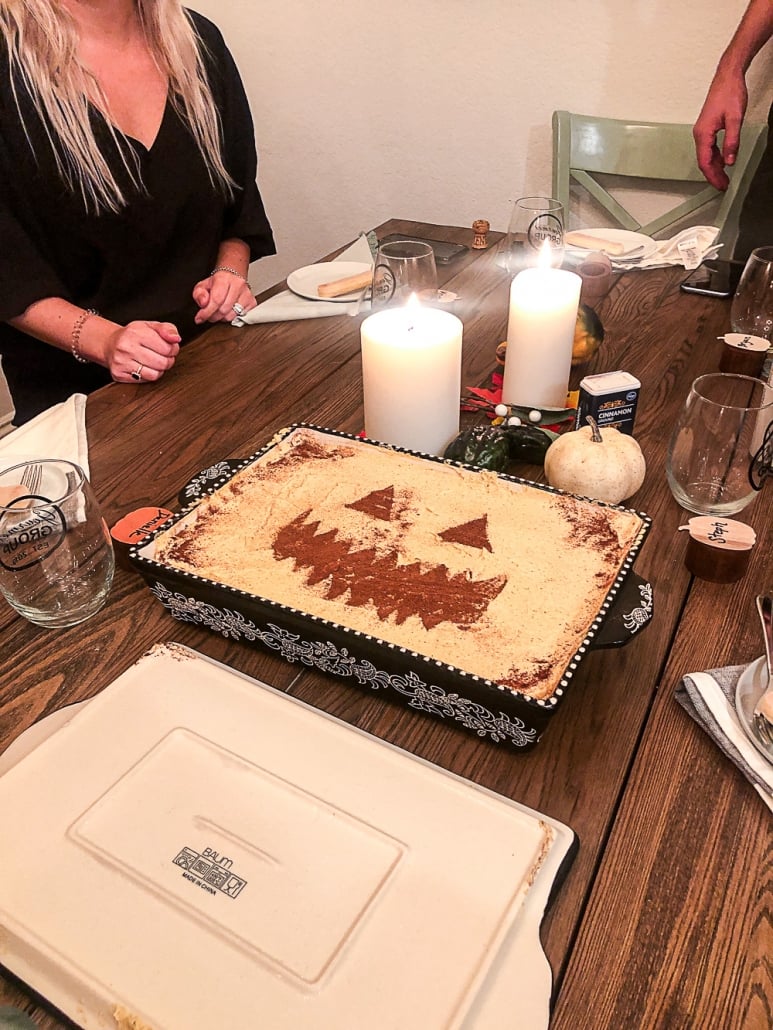 These nights are so fun because everyone is involved and we draw out a long meal with breaks in between courses and great conversation!  I can't wait to continue this tradition for years to come!
The bestest friends! 🙂
We are participant in the Amazon Services LLC Associates Program, an affiliate advertising program designed to provide a means for us to earn fees by linking to Amazon.com and affiliated sites.