Gluten Free Chocolate Chip Blondies
These Gluten Free Chocolate Chip Blondies are easy to make in one bowl and so delicious!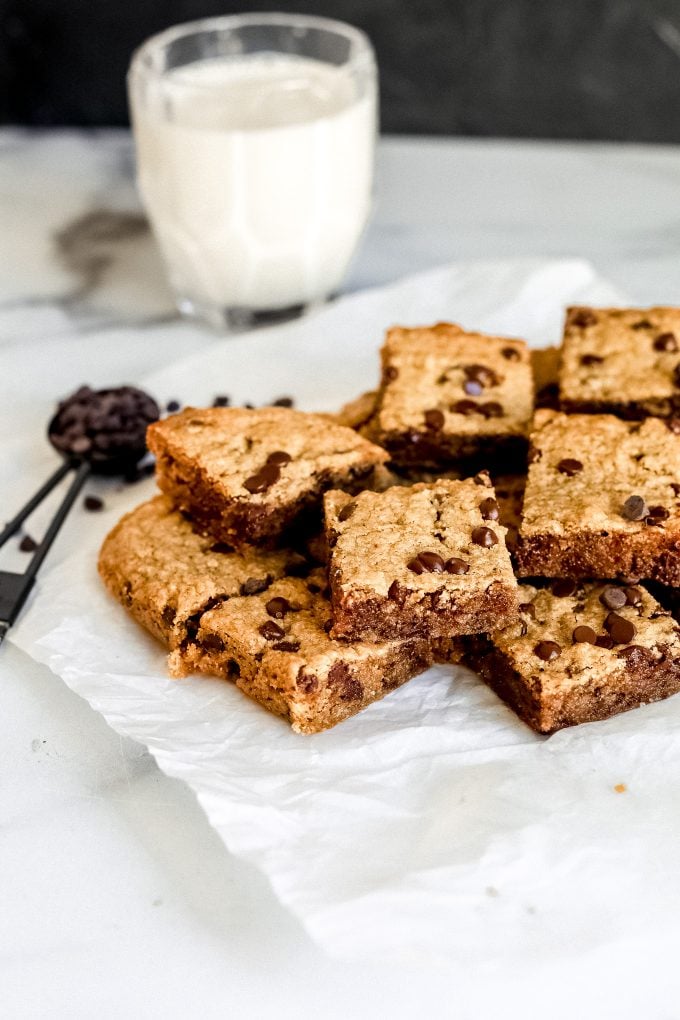 It's February and I am SO ready for it!! I also already purchased stuff for Ruth's class for valentines day which makes me feel like a super mom. BUT as I typed that I realized Milo is now a full human in a day care class too and I didn't get stuff for the babies! But alas, pouches will always be the perfect valentine for 1 year olds.  I have mixed feelings about valentine's day honestly.  Before kids it was just a day where Matt and I would say hmmm should we go out on a date?  Then remember all the restaurants are CRAZY on v-day and usually have pre-fix menus so we rarely would go out on the 14th. We also would (and still do) exchange a card and maybe some chocolates.  With kids though?
Not only is there the class gifts for everyone aspect but also that particular Pinterest pressure to make heart shaped everything for the whole week to make it *exciting* for the children. Depending on what day you talk to me I will either love doing that sort of stuff or loathe it.  So yeah, mixed feelings!! BUT today we are talking about gluten free chocolate chip blondies and those are always something I can get behind.  I even made a batch in a little heart shaped mold which was super easy to do and they were just as delicious as in a pyrex pan.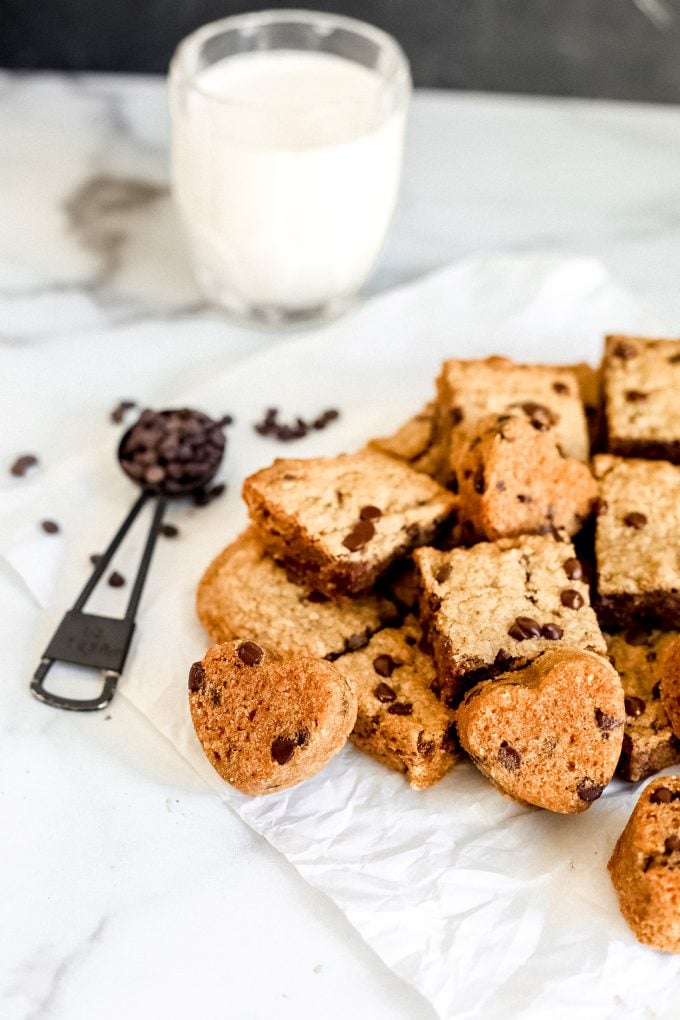 Ingredient List
Ghee- or butter
Coconut sugar
Egg
Vanilla
Almond Flour
Arrowroot Flour
Baking powder
salt
Chocolate chips
How to make Gluten Free Chocolate Chip Blondies
Pre heat your oven to 350 degrees and grease your 8×8 baking dish, set aside.
In a bowl combine your melted ghee or butter and coconut sugar, mix this with a stand or hand held mixer for at least 3 minutes. You need the time to make sure it all gets combined throughly and the coconut sugar breaks down. It should turn into a smooth brown mixture.
Next you will add your room temperature egg. If you forget to take your egg out of the fridge before this step, just pop the egg in a cup and run it under warm water for a few minutes. Once the egg is mixed in, add the vanilla and mix again.
Almond flour, arrowroot flour, baking powder and salt get mixed in next. The mixture should look like cookie dough at this point, lastly add your chocolate chips.
Spread out into the 8×8 baking dish and bake for 18-20 minutes or until slightly brown. Let cool, slice and enjoy!
If you have too many chocolate chips and need more recipe, please check below:
Pumpkin Oatmeal Chocolate Chip Cookies
Gluten Free Chocolate Peppermint Bundt Cake
Honey Chocolate Chip Granola Bars
Paleo Chocolate Chip Toasted Coconut Banana Bread
Pin the image below to save this Gluten Free Chocolate Chip Blondies recipe for later!
Print
Gluten Free Chocolate Chip Blondies
---
Author:
Total Time: 30 minutes
Yield: 16 1x
Diet: Gluten Free
½ cup melted ghee (or butter)
½ cup coconut sugar
1 egg room temp
1 tsp vanilla
1 1/2 cups almond Flour
¼ cup arrowroot flour
1 tsp baking powder
1 tsp salt
½ cup chocolate chips (regular or mini!)
---
Instructions
Preheat oven to 350 degrees.
In a bowl combine melted ghee and coconut sugar mix with a mixer or beat thoroughly by hand. 
Once combined, mix in egg and vanilla.
Add almond flour, arrowroot flour, baking powder and salt. Combine all together. 
Lastly add chocolate chips and stir to combine. 
Pour into a parchment paper lined 8×8 baking dish and add a few more chocolate chips on top. 
Bake blondies for 18-20 min.
Prep Time: 10 minutes
Cook Time: 20 minutes
Category: Desserts
Method: Oven
We are participant in the Amazon Services LLC Associates Program, an affiliate advertising program designed to provide a means for us to earn fees by linking to Amazon.com and affiliated sites.