Fig and Sage Roasted Broccoli Salad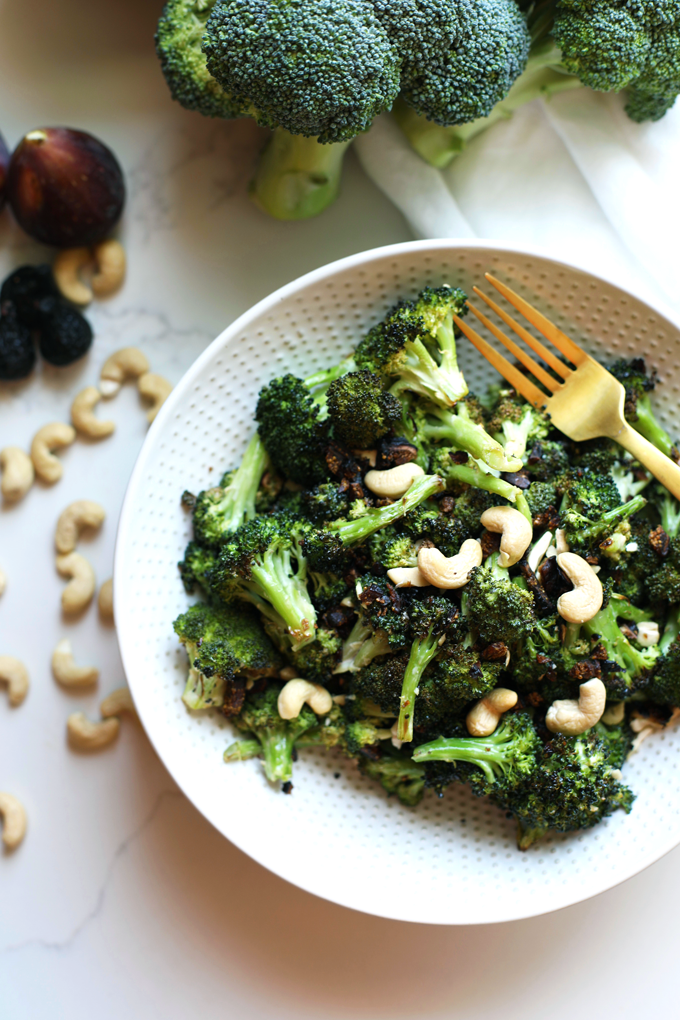 How have I never made a broccoli salad on this blog?!  Broccoli salads have always been a favorite of mine – the one at Souplantaion (my favorite restaurant when I was a kid) – was so good and made me love broccoli.  That salad was packed with bacon, raisins, cashews and a super sweet dressing – so I made a version that adult Kelsey is super into!  Dried figs instead of raisins and the dressing has sage and fennel which I feel gives it a sweetness without adding sugar.  I first thought to make this – not because I had a hankering for Souplantaion, but because I have been roasting lots of vegetables!!
I am SO excited to say that my new Ebook called "Love Your Veggies!"  is going to be released at the end of the week!  If you want to make sure you get notified about it – make sure to subscribe to my email list so I can fill you in!  I am going to show you how to roast, grill and saute 15 types of vegetables – broccoli being one of them – as well as lots of fun sauces and dressing to drizzle on top of them.  I have been working for a few months on this and am so excited to share how I get all my veggies crispy and seasoned well – aka – the best way to enjoy them.  I would love to hear in the comments below what you favorite types of vegetables are!  This ebook will cover my favorite Summer and Fall vegetables so you can get cooking with what is in season now!
OH and quick side bar – HAPPY BIRTHDAY DAD!!! 🙂
Okay back to this roasted broccoli salad – it is epically delicious!!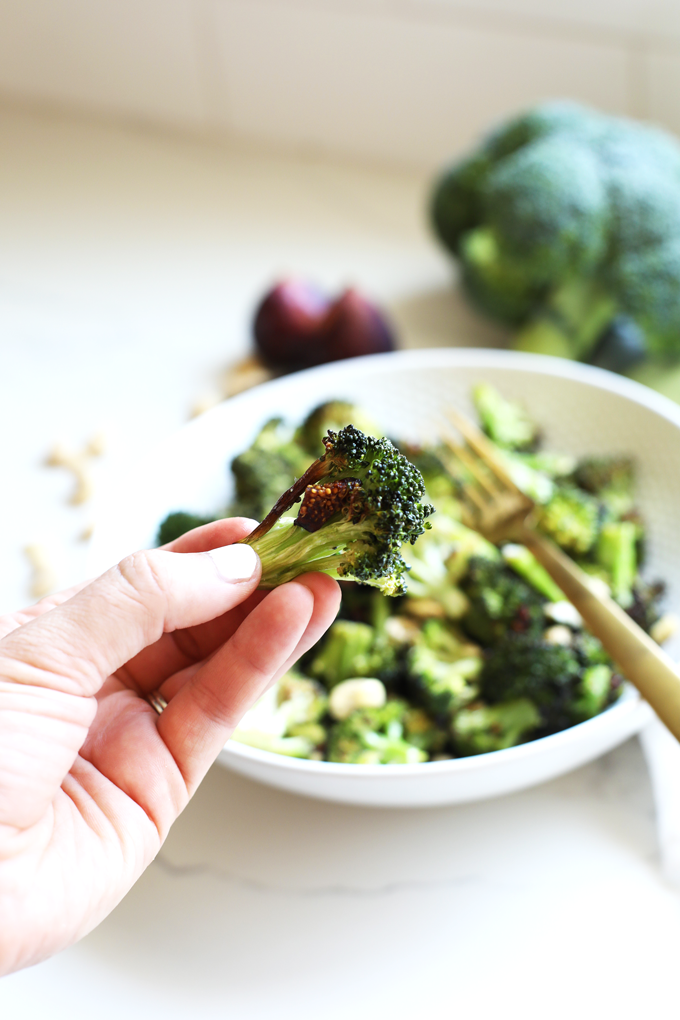 I love to eat this warm but it also works at room temperature!
Need more Broccoli goodness:
Broccoli & Cauliflower Veggie Patties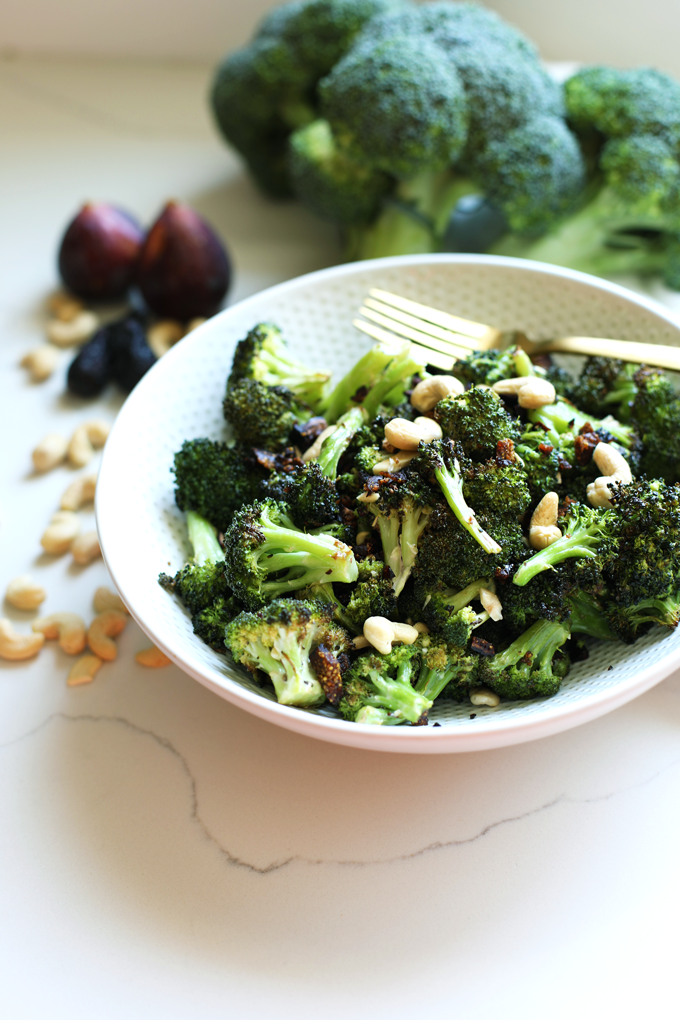 Pin this Fig and Sage Roasted Broccoli Salad to save for later!

Print
Fig and Sage Roasted Broccoli Salad
---
Author:
Yield: 8 side servings 1x
24 ounces broccoli florets (about 14 cups)
1 tablespoon avocado oil
½ teaspoon salt
¼ teaspoon pepper
¼ cup clean mayonnaise (like Primal Kitchen)
1 tablespoon red wine vinegar
1 teaspoon dried crushed sage
1/2 teaspoon ground fennel
Salt and pepper to taste
½ cup chopped dried figs
¼ cup chopped roasted cashews
---
Instructions
Preheat the oven to 425 degrees. Line a baking sheet with parchment paper or foil and place the broccoli florets on top.  Drizzle with oil and toss to coat, then sprinkle on salt and black pepper and toss to coat again.  Place in the oven and roast for 15 minutes, stir then cook for 10-15 more minutes or until fork tender and crispy around the edges. Remove from oven and set aside.
In a small bowl combine mayonnaise, red wine vinegar, sage and ground fennel.  Season with salt and pepper to taste.  
Place roasted broccoli in a bowl and pour the sauce in and stir to coat.  Add in dried figs and stir to combine.  Season to taste again if more salt is needed.
Top with chopped cashews!
We are participant in the Amazon Services LLC Associates Program, an affiliate advertising program designed to provide a means for us to earn fees by linking to Amazon.com and affiliated sites.