Broccoli & Cauliflower Veggie Patties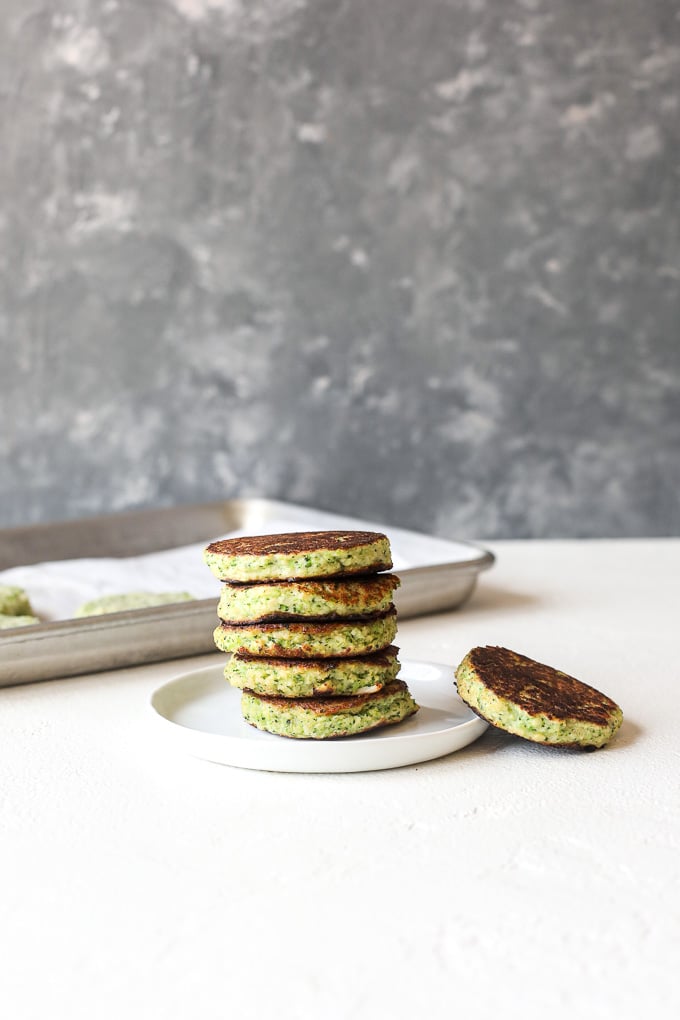 Finally getting this Trader Joe's copycat of their Broccoli & Cauliflower Veggie Patties recipe in your hands!!  I love their patties because they are frozen little discs you can always have on hand in the freezer, then just cook them up on the stove top.  Ruthie, like most toddlers, doesn't love veggies.  I try to get them into things like mixing cauliflower rice with regular, blending them into smoothies, or making these patties!  They are almost all veggie and thanks to some potato, they aren't overwhelming with broccoli & cauliflower flavor but it is still in there.  I love that these are baby friendly, but these Broccoli & Cauliflower Veggie Patties are super adult friendly too!  I love them for a quick side dish on a weeknight when you don't seem to have many veggies in the fridge.  So stock your freezer with these patties and fill the whole fam with veggies!
They freeze perfectly in these size patties!
I love how these hold together so well!
Here are a few other recipes you can use with the leftover Cauliflower and Broccoli:
Fig and Sage Roasted Broccoli Salad
Did you know?
Broccoli is a great source of Vitamin K, Vitamin C and Folic Acid
Cauliflower is naturally high in B Vitamins and Fiber
Both broccoli and cauliflower are in the cruciferous vegetable category and are known for being high in antioxidants and phytonutrients that can protect against cancer. Other vegetables in this category are: Kale, Brussels, Bok Choy, Turnips and Cabbage
Cauliflower also has trace amounts of choline  which is essential for learning and memory health
Broccoli reduces inflammation and allergic reactions; research has shown the ability of kaempferol which is found in this vegetable to lessen the impact of allergy-related substances. Broccoli has significant amounts of omega 3 fatty acids, which are well known as anti-inflammatory agents.
Pin the image below to save these Broccoli & Cauliflower Veggie Patties for later!
Print
Broccoli & Cauliflower Veggie Patties
---
Author:
Yield: 9 patties 1x
2 cups roughly chopped broccoli
1 cups cauliflower rice
2 cups frozen hashbrowns, defrosted
1 tsp garlic powder
½ tsp onion powder
1 Egg + 1 egg white
1 tbsp arrowroot powder
1 tsp salt
1 tbsp oil
---
Instructions
In a food processor combine broccoli, cauliflower and hashbrowns and pulse a few times until the broccoli is cut into small rice sized pieces.  Add in garlic powder, onion powder, egg, egg white, arrowroot powder and salt and pulse a few more times to combine.
Line a baking sheet or plate (whatever fits in your freezer) with some parchment paper.  Scoop batter into balls on the parchment paper and lightly flatten into discs with your hands.  Freeze for a 4-8 hours or until completely frozen then transfer to a large freezer bag for storing.
When you are ready to eat the patties, place a large skillet over medium heat and add oil to the pan.  Cook patties as needed for 4-5 minutes per side until browned on the outside.
We are participant in the Amazon Services LLC Associates Program, an affiliate advertising program designed to provide a means for us to earn fees by linking to Amazon.com and affiliated sites.