Creamy Ham & Potato Soup
Is is freezing where you live? Feeling extra lucky these days to live in a place that rarely drops below 60 degrees because the rest of the country seems to be covered in snow!! But it is in the 60s here which still means soup weather for this Southern California native.  This is the perfect soup for you to make right now no matter where you live because it is SO easy to make!  It is also thick and creamy even though there is no dairy – the only thing that makes it creamy is the potatoes.  I always forget how sautéing some onion and garlic can add so much depth and flavor to anything.  My wonderful sister and new recipe developer made this recipe for us and when I first saw it I thought hmm seems to easy to taste that good.  WELP what was I thinking – it's delicious!!  This soup is Whole30 compliant and will easily fill you up on its own, but if you aren't on a Whole30, it is also delicious with a hunk of bread on the side to dip in it. Just sayin!  I hope you make this soup and it love it.  I also think it's a perfect soup recipe to save for that day after easter when you have lots of leftover ham and no idea what to do with it.  Because somehow easter is only a month and a half away!  This year seems to be flying by with this newborn who I can't believe is already 8 weeks old. Okay it's soup time!
We have more soup to keep you warm and use up that produce in the fridge:
Instant Pot Italian Turkey Meatball Soup
Instant Pot Artichoke Chicken Soup
Print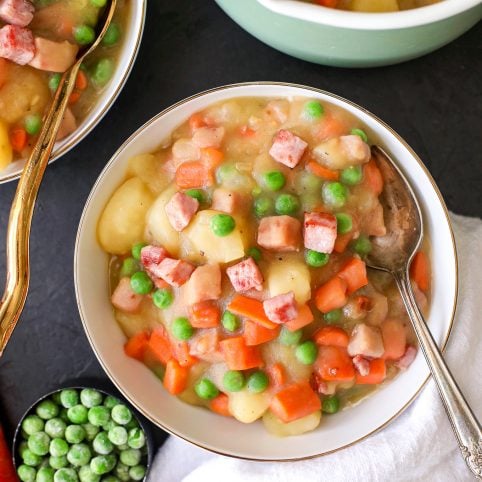 Creamy Ham & Potato Soup
---
2 tbsp avocado oil
1 cup chopped onion
2 tsp garlic
1 ½ cups chopped carrots
1 cup cubed thick cut ham
3 large russet potatoes peeled and chopped
3 ½ cups stock
1 cup peas
Salt and Pepper
---
Instructions
Place a stock pot over medium heat and oil to the pan to heat.
Add onion, garlic and carrots and saute for 3-5 min.
Add cubed ham and continue for cook for 5 minute stirring occasionally. 
Remove the onion, garlic, carrot and ham mixture and place in a bowl.
Then add chopped potato and stock to the pot bring to a boil, then reduce heat to a simmer and cook potatoes for 20-25 minutes.
Once potatoes are fork tender, turn off the stove.
With your immersion blender, blend around half the potatoes to create a thick soup while leaving some chunks of potato.
Add onion, carrots and ham back into the pot and add peas. Season with salt and pepper to taste.
We are participant in the Amazon Services LLC Associates Program, an affiliate advertising program designed to provide a means for us to earn fees by linking to Amazon.com and affiliated sites.