Cherry Almond Crumble Bars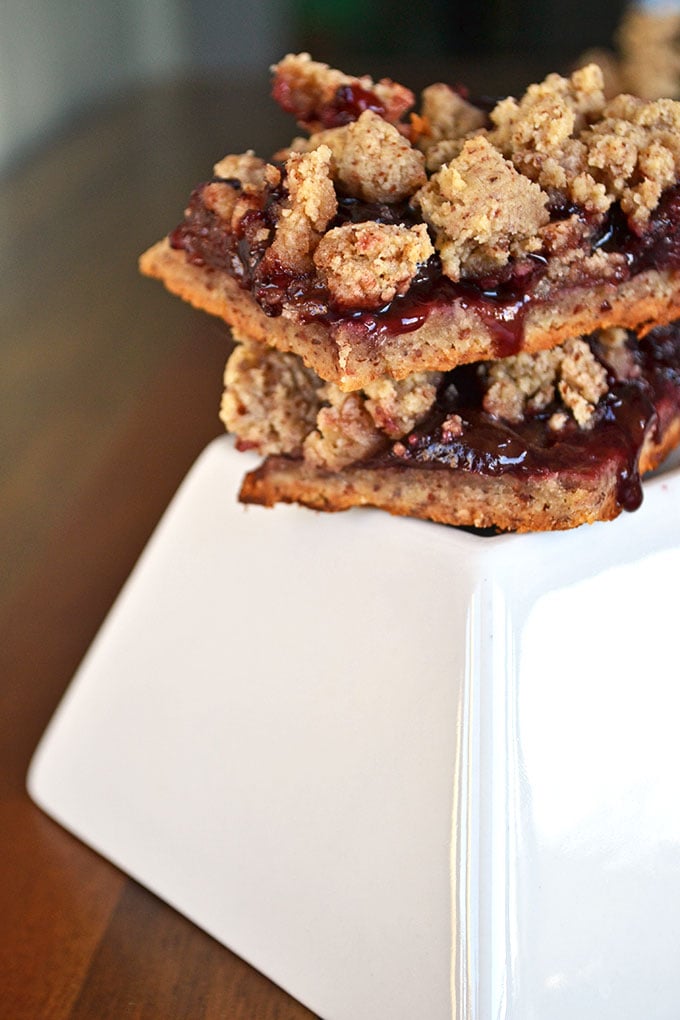 CHERRY! ALMOND! Two wonderful flavors are about to enter your life in perfect harmony.  This recipe came to fruition as most do.  Almond meal in the pantry and cherries in the freezer!  Those 2 things combined with my need to make baked goods was the perfect storm of TASTY!  The hardest time of year for me and probably most people to eat healthy and stay on track is right now.  Thanksgiving was indulgent and all you seen in the near future is holiday parties and cookies galore!  So I have learned to not limit myself and say no sweets or no baked goods… that only ends with my face in a bowl of Pfeffernusse.  ** Note: I love pfeffernusse and will try my hardest to stay clear of those powdered sugar puffs of goodness this year!  But I'm not making any promises. ANYWAYS.  I now have learned to make super tasty and healthy baked goods that I can eat and bring to parties and everything and not feel like the weirdo bringing healthy treats. The cherry flavor in these is subtle yet perfectly tart and sweet at the same time.  And guess what?  No one needs to know these are gluten free and use only whole and healthy ingredients!  All they need to know is they are tasty and they can have seconds.  Almond extract is the winner in this dish and I think organic almond extract is totally legit in this real food life.
The simple and beautiful crust!
Eat these bars the same day for best texture and flavor!
I might have eaten 2 right after taking these photos.  It was one of those, gosh I hope these are good, turned into – OMG THESE ARE SO GOOD I CAN'T STOP EATING THEM.  Or something like that.
If you love these Cherry Fruit bars we have more recipes for you to try: 
Grain Free Strawberry Crumb Bars
Chocolate Chip Cookie Dough Cashew Cheesecake Bars
Print
Cherry Almond Crumble Bars
---
Filling:
3 cups frozen cherries
1/4 cup water
zest & juice of 1 lemon
2 tablespoons maple syrup
1 tablespoon cornstarch or arrowroot
Crust:
3 cups almond meal
1 egg
1/4 cup coconut oil (at room temp)
1/4 cup maple syrup
1 teaspoon vanilla extract
1 teaspoon almond extract
1/2 teaspoon salt
---
Instructions
Preheat oven to 350 degrees. In a food processor combine all crust ingredients until it comes together in a sticky ball. Grease an 8×8 inch pan with coconut oil and press 2/3 of the crust mixture into the bottom of the pan into an even layer. Bake crust for 10 minutes and then set aside.
In a medium saucepan combine cherries, water, lemon juice, zest and maple syrup. Bring to a boil then lower to a simmer for 15 minutes, stirring occasionally. Add in cornstarch and let simmer for another 5-10 minutes or until thickened. Pour filling onto the crust in an even layer. Crumble remaining dough in little pieces all over the filling. Bake for another 15 minutes. Let sit for at least 30 minutes before cutting and removing bars from the pan.
**To make vegan: replace egg with 1/4 cup of ground flaxseed mixed with 2 tablepoons of water.
We are participant in the Amazon Services LLC Associates Program, an affiliate advertising program designed to provide a means for us to earn fees by linking to Amazon.com and affiliated sites.